Anger over lack of consultation with Stanford, Corringham, Fobbing and Chadwell St Mary residents by Highways England as it continues to drive Lower Thames Crossing plan forward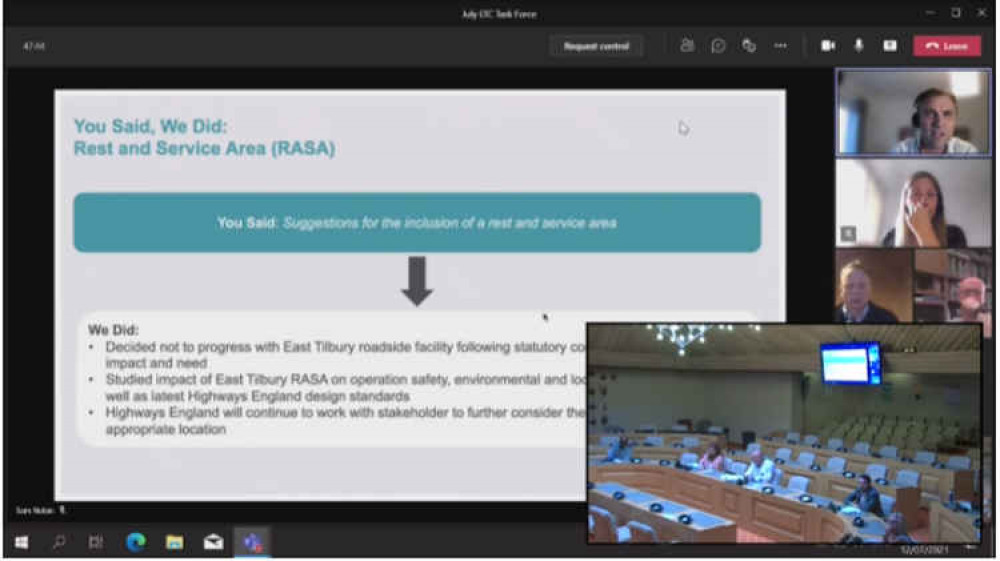 'You said, We did' was part of the presentation to the task force - but councillors are far from happy with what the agency has done regarding consulation.
REPRESENTATIVES from Highways England took a bit of a pasting from borough councillors for leaving large areas of the borough affected by the planned Lower Thames Crossing out of the latest round of physical consultation events.
The agency has been forced to undertake more consultation to beef up its bid to win a Development Consent Order (DCO) for the scheme from the government, having withdrawn its initial sub-standard presentation and delayed its resubmission after getting hints that it was far from acceptable.
At this evening's (Monday, 12 July) meeting of Thurrock Council's Lower Thames Crossing Task Force its members were given an update on progress from Tim Wright the crossing project's DCO and Planning Manager and he walked into a wall of criticism from councillors for not giving many residents the opportunity to attend consultation events in their own neighbourhoods.
In particular councillors from Stanford-le-Hope and Chadwell St Mary expressed their anger and disappointment.
Stanford Homesteads ward councillor Gary Byrne left Mr Wright in no doubt about his fury, saying: "Why do you continue not to give Stanford-le-Hope, Corringham and Fobbing a consultation event? It seems you don't know they exist.
"This scheme has a massive impact on East Thurrock but we have no consultation events. You missed us out before, now you are doing it again. Do you know where Stanford-le-Hope is?
"You don't want to hear from us. You totally don't give us any respect. Why are we not part of this?"
Mr Wright said the agency was having consultation events 'along the line of the works' but not in Stanford-le-Hope because it 'is away from the scheme' though he conceded there would be 'impacts' on the town and its residents.
He said residents who were concerned could attend events elsewhere.
Another Stanford-based councillor, Terry Piccolo, also said he was angry that there was no local consultation in the east of the borough, saying: "I would like to reiterate what Cllr Byrne said. I have complained before about the lack of consultation in the Stanford, Corringham and Fobbing area.
"Whatever happens on the A13 is going to affect us, It is going to have a profound impact on Stanford and Corringham."
And Cllr Piccolo brushed aside comments from Highways England officers who said that they were restricted in what they could do in the coming months because of Covid-19. That cut no ice with Cllr Piccolo who pointed out that all restrictions are due to be lifted next week and said: "To use Covid as an excuse is a little bit pathetic."
Councillors in Chadwell St Mary, which is very much 'along the line of the works' said they were baffled why Chadwell also had no consultation events that residents could attend locally.
Cllr Sara Muldowney said: "Please will you consider putting on a consultation event in Chadwell? We are one of the most affected areas.
"It's going to have all sorts of impacts on Chadwell. We are one of the most widely impacted areas on the route and we have no consultation. You need to come to Chadwell to consult.
"It is very important that we have an event here." Fellow Chadwell Cllr Adam Carter echoed her concerns and also criticised Highways England for attempting to use Covid-19 as an excuse for not holding consultation events. And Cllr John Kent said there were other areas affected by the route who were not being given the opportunity for a physical consultation event and he also wanted to know why information packs about the scheme will not be ready for the start of consultation next week. He said: "It is ridiculous that you haven't included Chadwell, Stanford and Corringham from the start. If I was a resident of Stanford and Corringham I would be confused why you haven't included them in your impact statements. "I am disappointed you are launching a consultation without having the literature ready to support the consultation. Why is that it you don't have anything ready to go at the start of the consultation?" He didn't get a coherent answer! However, Mr Wright appeared to concede that the councillors had valid points about physical consultations and offered some hope of arranging additional events, saying: "We will look to see what we can do over Covid. Let's take those two areas on board and we will come back to you." Task force chairman Cllr Fraser Massey said he hoped that Highways England would be able to arrange the additional consultations and asked that the agency report back to the task force as soon as possible.
MP has reservations but welcomes consultation
The public events that are currently scheduled in Thurrock are:
Saturday 24 July: Civic Hall, Blackshots - 12 noon to 6pm
Monday 26 July: Orsett Hall Hotel, Orsett - 2pm to 8pm
Thursday 29 July and Thursday 26 August East Tilbury Village Hall - 2pm to 8pm
Friday, 6 August and Tuesday 24 August: Linford Methodist Church 2pm to 8pm
Saturday, 7 August: Grays Town Centre High Street 10am to 4pm
Wednesday, 1 September: Brandon Groves Community Club, South Ockendon - 2pm to 8pm