Angry words on either side as leading councillors clash over cash situation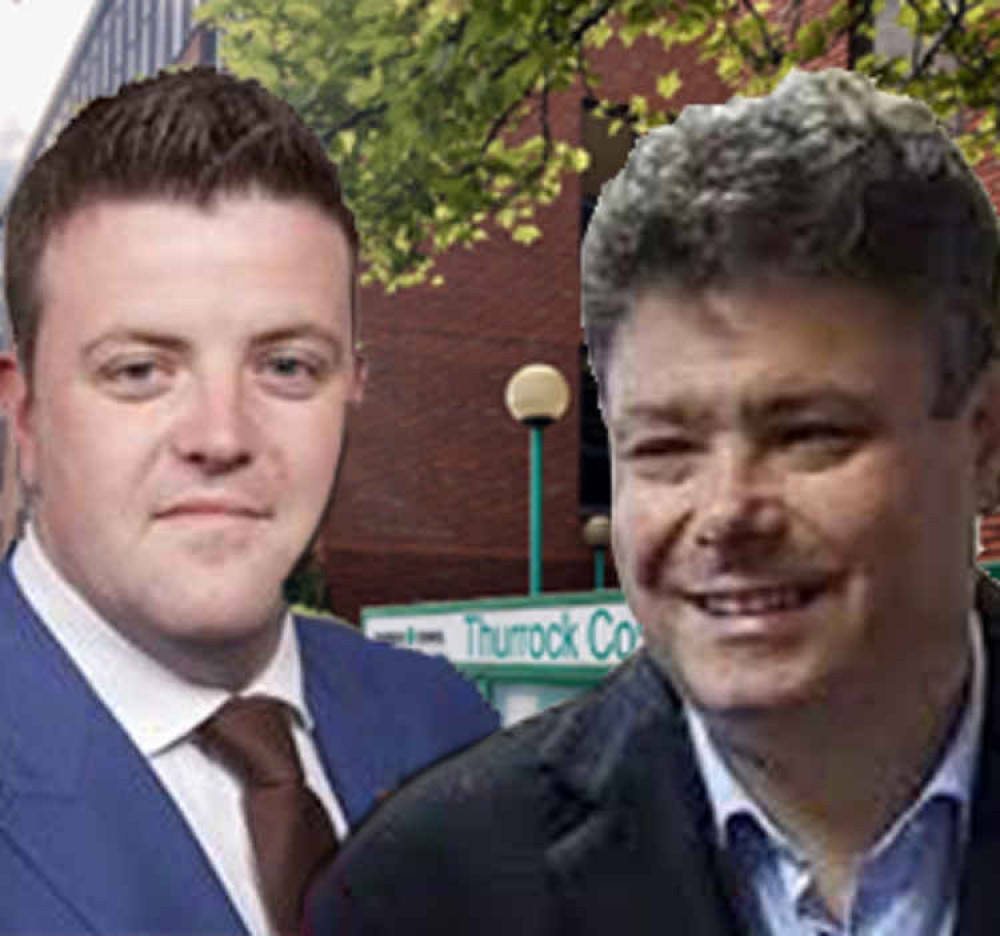 Cllrs Shane Hebb (left) and John Kent.
THE leader of Thurrock Council's Labour group has been accused of 'naked political posturing' by one of his chief rivals.
Cllr Shane Hebb, the Conservative portfolio holder for finance and his group's deputy leader who was described as "bold, ballsy and bullish" in a recent awards nomination when he was short-listed as one of England's leading councillors, certainly lived up to that reputation as he didn't mince words when responding to a statement by Cllr John Kent.
Labour's leader spoke up last week criticising the council's management, saying it was suffering from "poor decision making, weak management and a lack of transparency, coupled with complete indifference from the Council's Conservative Leadership".
That prompted Cllr Hebb to hit back with a damning indictment of his own, saying: "We need ask ourselves, what drives the leader of the opposition to keep attacking an approach that he voted for personally three times since 2017, and even claimed credit for himself for, just last year?
"An approach that was agreed by all political parties, for three years consecutively; when there was no majority party in overall control?
"An approach that helped reverse the £30m financial black hole Labour left this council – with departments slashed to the bone and unable to even do the basics like clean the streets and cut the grass?
"An approach that enabled us to reform services considerately over a period of time, and fund extra services above what is required of a council?
"At best? It is just naked political posturing."
Cllr Hebb went on to explain what he saw as the flaws in Cllr Kent's criticism, adding: "The Leader of the opposition predictably neglects three key points: the difference between gross and net debt (something a previous Finance Cabinet Member should know), and that the committee were advised that borrowing had actually dropped since the last report by £77 million.
"Also, that at the same meeting, councillors were informed that the council has just received the best opinion possible on its financial accounts and value for money approach, from an international, well-regarded external auditor. This is now the sixth time Thurrock has secured this rating.
"Members unanimously agreed the approach back in 2017 – and since them, it has helped Thurrock rank at the higher end of league tables for street cleanliness, win numerous national awards, and fund public priorities such as extra police, improved green spaces and supporting our most vulnerable – and importantly, gave us time to reform services.
"Every time Labour claim a false fury about the investment approach, they damage the services the council provides to its residents, which lead into a need to wind down the approach quicker than planned.
"It is time Labour to stop the obvious and transparent flag-waving politics. Labour voted for the approach - and the borrowing levels - three times, as we all did.
"Whilst Labour will never say it – they clearly now back an approach of cuts, cuts and cuts at a faster pace, rather than supporting the plan they signed up to for three years, and giving councillors time to reform services at a more considerate pace."
It may be unfortunate timing, but Cllr Hebb's comments come in the wake of a formal, if unattributed statement from the council, saying that many of those keynote polices he referred to may be cut because of the financial state the council finds itself in.
In his statement last week Cllr Kent said: "Thurrock Council's Standards and Audit Committee was told that the council's debts are currently an eye-watering £1.4 billion.
"These debts are spiralling out of control, with the council now borrowing huge amounts of cash from one source to pay off other debts.
"Poor decision making, weak management and a lack of transparency, coupled with complete indifference from the Council's Conservative Leadership has led Thurrock into a very precarious financial position.
"Instead of being preoccupied trying to shift the blame, Council leader Rob Geldhill and Conservative councillors, now have to step up, take responsibility and explain how the council racked up so much debt on their watch, and, what they intend to do about it."
This is not the first public clash of words between the two councillors recently - they both came out with strong views last month when news broke of another huge loan - of £125 million - taken out by the council.