Council's senior finance officer warns that the authority is on brink of financial precipice and clock is ticking but it appears no decisions can be made about finance issues including massive borrowing implications until December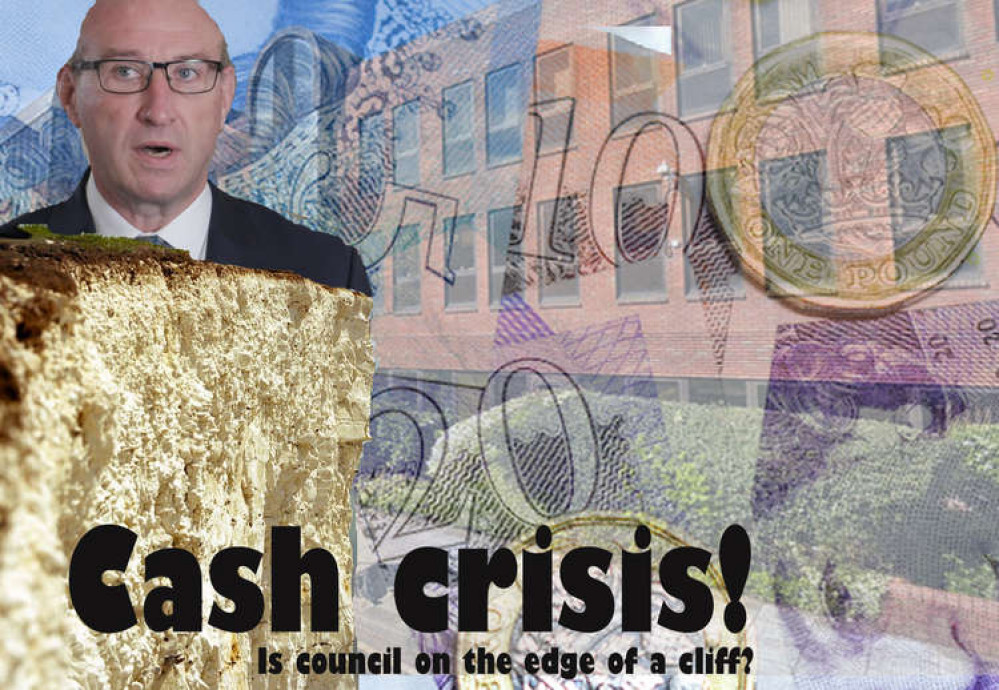 Council finance chief Sean Clark opens up on the state of the problems facing Thurrock.
Exclusive
AFTER almost two years of bullish talk about the benefits of Thurrock Council's borrow-to-invest policy, its chief financial officer has now briefed councillors that the strategy will have a negative impact on the council's financial position in coming months and years and will 'make the council's financial position worse'.
In a briefing to members, the council's corporate director of resources and place delivery, Sean Clark, warns members of the council that very tough times lie ahead.
While he falls short of suggesting the council may have to join the ranks of at least three councils that have had to go cap in hand to the government after declaring a s114 Notice (which means they will need to spend more to maintain a minimum level of services than they will have in income) he declares a bleak picture that infers Thurrock sits on the edge of a financial precipice.
The authority has already declared it needs to make cost-saving measures - including job cuts - but in the face of some internal pressure appears to be trying to make an U-turn on its previously declared position.
However, Mr Clark's August briefing to members is stark in its appraisal of the council's position - he currently forecasts the council may fall £3 million short of balancing its books in the immediate financial accounting term.
He has told members: "I thought it prudent to write to you all setting out the background to the financial position and the related challenges that the Council faces.
"I hope that this information will be useful for your understanding ahead of further reports, overview and scrutiny consideration and ultimately the full council budget meeting in February 2022.
"The first point to make is that Thurrock Council is not unique in this position.
"Councillors will be aware that there have been three s114 notices served by other authorities in the last two years (Northamptonshire, London Borough of Croydon and Slough) and that a number of other councils have requested support from the through capitalisation directives as short term support, often to avoid the need for an immediate s114 notice.
"The Local Government Association is again forecasting a black hole in local government finance and the long running debate of how to fund adult social care continues."
While Mr Clark has acknowledged the impact of Covid-19, he says that is not alone in being the cause of potential financial woes.
He says to councillors: "Whilst the Covid-19 pandemic has highlighted the fragility of local government finance, it is clear that the system has had challenges for some time in terms of being able to be self-sufficient - with local tax and business rates not being fully determinable by local government and the allocation of central government funding.
"There are a number of work streams within government at the moment that are considering local government finance but the timing of any decisions and the subsequent impact on Thurrock Council is unlikely to be known until mid-December or worse, potentially pushed back into later years.
"It is doubtful though that there will be any significant increase in funding for local government."
Mr Clark then goes on to outline some of the reasons why Thurrock has financial problems.
He says: "It is clear that the council's financial base – its tax levying base + retained business rates - is very low and this is borne out by a few simple statistics:
Thurrock Council has the third lowest Band D council tax of all 53 Unitary Authorities;
Whilst that is one side of the calculation for the level of council tax collectable, the other side is how many properties you have and the bandings with which the properties have been assessed. For Thurrock Council, 70% of properties are in bands A-C and so can only be billed between 67% and 89% of the band D amount;
These two factors result in a lower amount collectable than the majority of other authorities – for instance, Southend Council was able to account for an additional £15.6m than Thurrock last year;
Calculations show that council tax income from Bands A to C do not cover the per property proportional costs of social care and environmental services and therefore increase the net cost to the council; and
Thurrock Council's spend on adult social care is a higher percentage of the council's net budget than the majority of other councils.
"Each one per cent increase in council tax, on the current number of properties in the borough, only raises £711k additional income. Based on the current referendum limit of a maximum two per cent increase, this will raise an additional £1.4m next year.
"This then needs to be seen in the context of spending pressures that requires growth in the annual budgets. Simply, and this is the case every year and has been for the last 20-30 years, unavoidable growth in budgets is always higher than the amount that can be raised through local taxation."
Mr Clark reveals that the expectation is that Thurrock Council will be able to raise £119.064 million in the next financial year.
That is going to be several million pounds less than the council needs to spend – just to stand still. Unless the council can cut costs or find additional revenue sources, it will run at a loss of more than £21 million in 2022/23 and more than £12 million in the following financial year.
The council appears to be on something of a wing and prayer to see if it can break even in the current financial year!
Mr Clark warns councillors: "I appreciate that there are a number of difficult messages. I wanted to provide some additional context and clarity.
"The size of this challenge does not lend itself to simply reviewing services or top slicing directorate budgets when considering that the largest spending areas also carry significant statutory functions."
Looking back on spending, he says: "The highest category by far was staffing costs at £98m and this is an area where there is discretion. However as members will recognise, officers are delivering services so by reducing staffing levels there will be a reduction in service delivery.
"The next two biggest overall budgets at £40m and £30m respectively are Adults' and Children's Social Care placements.
"Historically an area that is difficult to reduce and where national benchmarking shows we are already low spenders compared to most other upper tier local authorities."
Having reviewed the council's statutory obligations Mr Clark turns attention to the controversial borrow to invest strategy – something he has led and championed.
He says: "The next highest budget was debt interest payment circa £16 million.
"This is interest payable on borrowing for core capital programme debt but also on investments that provides a net income after these costs towards the delivery of services. This will reduce over the medium term as the council's investments mature but a higher level of investment income will also reduce, actually making the council's financial position worse."
Mr Clark reveals that the council is committed to a minimum repayment of at least £9m just to cover interest on borrowing. He says: "Little can be done on historic minimum revenue provision and so the only option is to reduce further capital programme expenditure to avoid growth in this budget."
He goes on to focus on the issues tht have been discussed in recent months as the council seeks to balance its books, which include staff job cuts, disposal of assets and cuts to services which include home to school transport, social care placements, education related services, reductions in refuse collection frequency and a number of 'service specific efficiencies'.
He concludes: "Despite these proposals, the report still shows a deficit of £3 million next year that needs to be resolved over the coming months and that assumes that all proposals are agreed and delivered and the remaining staff related reductions for next year are achieved."
He also warns that the pending cuts to council jobs need to be managed on a strict timescale – and the clock is ticking!
The finance chief says: "In terms of timing, a number of proposals relating to staff and some services requires periods of consultation and, where necessary, periods of notice.
"To impact the budget for 2022/23, proposals have to be finalised in the early autumn to meet these timescales.
"This consultation also includes relevant overview and scrutiny committees where the proposal requires a cabinet decision. Cross cutting and update reports will be submitted to the corporate overview and scrutiny committee."
However, despite the fact that Mr Clark points out that the clock is ticking and proposals have to be 'finalised in the early autumn' the agenda for the next corporate overview and scrutiny committee, which meets on Tuesday, 7 September does not include any relevant agenda item.
The next scheduled corporate overview and scrutiny committee is on Tuesday, 16 November. That means the cabinet will not get to debate Mr Clark's revelations and any response until its pre-Christmas meeting on 8 December – hardly the 'early autumn' that Mr Clark warns is essential.