Green light for Tilbury FC's new ground and 112 new homes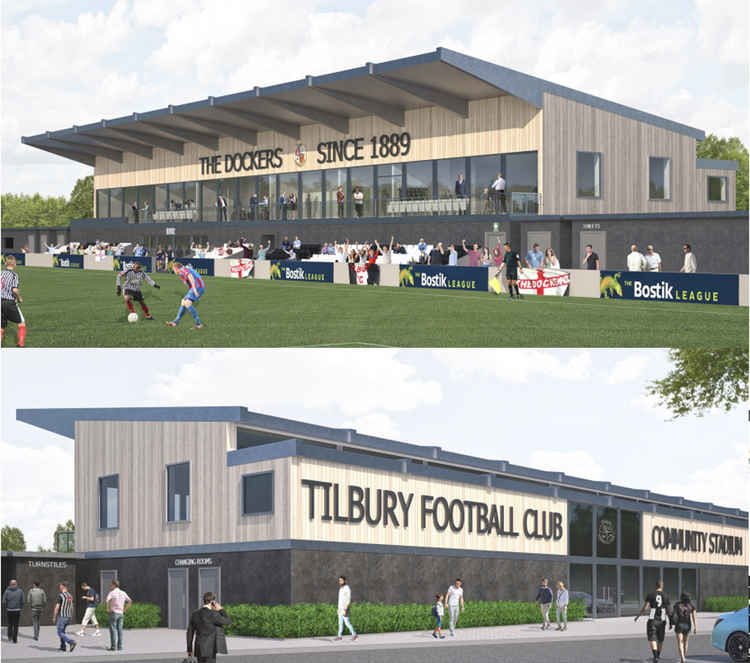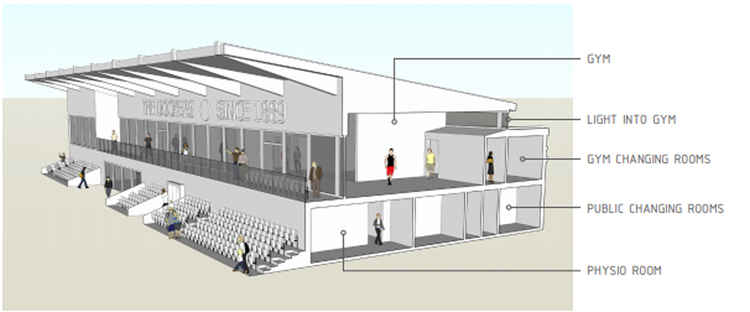 A NEW stadium for Tilbury Football Club has been approved by councillors this evening.
It will still take a month for the approval to be rubber-stamped at the next meeting of the committee, but it is likely to a formality raised because officers had recommended refusal - though they conceded it was a 'finely balanced' issue. It may also be called in by the planning inspectorate or secretary of state, subject to monitoring by the council's legal team.
The new ground approval given tonight (Thursday, 7 January), which would see the stadium built on the North Field site off St Chad's Road, comes with outline approval for 112 new homes on the existing Chadfields ground, which has been the club's home since 1950.
Senior planning officer Matthew Gallagher outlined details of the plan to the committee and while he said he and colleagues were bound to oppose it because there was harm to the green belt, but it was a close call.
He said: "There are fine balances here and we should weigh them but we have to recommend against it because that's what we are paid to do.
"If it is finally balanced then there is not a clear gap between benefit and harm and it fails the green belt test."
Cllr Angela Lawrence was first up to support the proposal and said: "This is the only place it could be to keep this club going.
"With a commitment to support a local gym (The Martial Academy) it brings health and welling benefits for the community.
"Tilbury people want this, this is going to uplift the Tilbury area and we councillors want to make Tilbury a better place to live."
She also said that if the scheme didn't happen, she believed there was a possibility an adjacent Traveller site could expand onto it, saying: "This could be the new Buckles Lane."
Cllr Sue Shinnock said: "This is an excellent project for the people of Tilbury. It's about time they got a nice football stadium and some houses. This is a great project for the people of Tilbury."
Cllr Mike Fletcher said: "This demonstrates a flaw in the green belt thinking. As the officers have said, it's only just green belt, but 'only just' automatically gets 'causing significant harm'.
"It's not the same kind harm that we see in other some applications."
He outlined the reasons why the scheme should be approved and questioned the weight officers had given them in reaching their recommendation. Sufficient weight has to be given to other points. For example it has been stated by Thurrock Council that its hope is that all four clubs in Thurrock have a decent home.
"This sits in light with this strategy and deserves more than the little weight given by officers.
"The community benefits from this by health and wellbeing, to give it moderate weight underestimated that.
"This aligns totally with our strategy of getting people out and about."
Cllr Gerard Rice backed the scheme and said it was good that the scheme was self-financing because "this council hasn't got the money to build a new stadium because it is almost bankrupt.
"There are enough reasons for it. We have to look after the residents of Tilbury, they don't have a lot going for themselves."
Non-voting member Steve Taylor, who represents the Campaign for the Protection of Rural England, said: "In principle I have to agree with refusal.
"And I do not agree that it is 'only just in the green belt'. I can't subscribe to that argument that means the next bit will only be on the edge of the green belt.
"But I think this is something positive for the borough of Thurrock and people of Tilbury. In principle though I have to object, I don't because it is long overdue."
Cllr Sue Sammons said: "I fully support this. The people of Tilbury deserve to have a nice stadium. The club has been there for years and there is another good thing, many young people play there."
Cllr Gary Byrne said he supported the idea of the scheme, but he had concerns about the fact that the scene was going ahead without a commitment to affordable houses.
Committee chair Cllr Tom Kelly addressed Cllr Byrne's concerns and said that house prices in Tilbury are low - "so that had to be taken into account. And these houses are likely to be reasonable in their cost because of the location of Tilbury." Cllr Colin Churchman said: "Having lived in Tilbury, I think this will be a complete asset." Ward councillor Steve Liddiard addressed the meeting to say: "Tilbury people have strong sense of community. Tilbury has suffered economic downturn and football facilities in local parks have gone. "Tilbury has lost its sports centre. The local health statistics show that Tilbury residents' life expectancy is seven years less than in some nearby wards. "My conclusion is that Tilbury needs this facility. Tilbury FC, otherwise known as the Dockers, is at the heart of this community." Despite Cllr Liddiard's assertion that the scheme had 'overwhelming support of local people' there was some objection with a resident representing Spindles, a street of houses adjacent to the current ground, detailing reasons why the scheme should not go ahead, particularly raising the issues of anti-social behaviour, a loss of water pressure and parking. Those concerns were echoed by Cllr Kelly who said he was concerned that issues surrounding the new houses were being overlooked and he had fears that the number of new homes was too dense. "Its not ideal. it's too dense and there are parking issues. We have to think of the residents of the Spindles who are not going to be happy with this," he cautioned councillors. "Can we put a condition in that there is more parking, we don't want people from the new estate parking on the Spindles and on St Chad's Road?" Councillors voted unanimously to support the new stadium and homes plan, saying all the benefits of the scheme to the local community outweighed harm to the green belt.