Minister and MPs pour scorn on supercouncil 'secret' plan but local leaders press on with it and ask government for cash to develop idea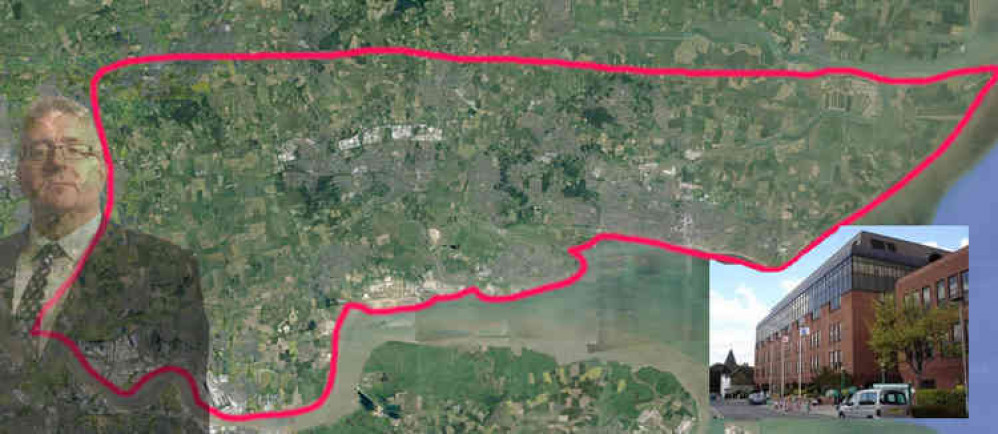 Thurrock Council leader Rob Gledhill is backing plans to create a new super council
Story by Neil Speight and Steve Shaw (Local Democracy Reporting Service)
______________________________ A GOVERNMENT minister has poured cold water on plans for a combined new council run by an elected mayor across South Essex. The scheme,
which has been championed by Thurrock Council leader Rob Gledhill,
has been opposed in many places and four regional Conservative MPs have said they want no part in it. However, that news has not stopped backers of the scheme submitted a bid to the government for cash to develop the proposal. In a submission to the government today (Friday, 31 July) the Association of South Essex Local Authorities (ASELA), sent in a prospectus saying the project could help bring greater prosperity and vital infrastructure to South Essex and enable it to achieve its potential as an economic powerhouse. Chair of ASELA) is Thurrock Council leader Cllr Rob Gledhill, who said: "We are making clear to Government that Basildon, Brentwood, Castle Point, Rochford, Southend-on-Sea and Thurrock councils are working together, that South Essex works and that it works for the whole nation. We are a natural economic corridor encompassing three international ports, an international airport and currently contribute £17.9bn to the national economy. "We are asking the Government for a significant amount of taxpayers' money to be invested in South Essex to tackle the infrastructure deficit we have had to live with for decades and for the powers to make decisions locally that will improve the lives of our residents, now and in the future. "This increased funding will allow South Essex to play a leading role in the country's post COVID-19 crisis recovery by improving the wealth of the nation by attracting significant private sector investment in new employment opportunities. "The ambition outlined in the prospectus will see South Essex contribute an additional £15 billion to the UK economy and create 100,000 new jobs by 2050. "We are not looking at taking powers away from any of the six local authorities and local sovereignty will be maintained. Member councils will not give up the powers to make vital local decisions, like planning. Instead we are looking at the best way we can work together to ensure that we can have a significant positive impact on residents' lives in the future and that some powers are devolved from Westminster to South Essex. With local government reform being a big part of the national recovery process, it means the time is now and the place is South Essex." In a letter seen by the Local Democracy Reporting Service, the minister for regional growth and local government, Simon Clarke, appears to dismiss the combined authority before negotiations have even begun. He said: "I will always judge every proposal on its merits. However, it is not clear to me on first sight that south Essex would be the right geography for such an arrangement, and I would be happy to discuss this further." He went on to say the organisation behind the plan known as Association of South Essex Local Authorities (ASELA) should delay the plans until the autumn when the Government will publish plans for "empowering our regions by devolving money, powers and control from Westminster". And the plan finds little favour with MPS John Baron, who represents Basildon and Billericay, James Duddridge of Rochford and Southend East, Mark Francois of Rayleigh and Wickford, and Sir David Amess of Southend West, who say they told council leaders last week that they are completely opposed to the plans. The MPs said the plan for a combined authority would only lead to "another layer of bureaucracy" and hit out at council leaders for making the plans in secret. On behalf of the four MPs, Mr Francois said: "None of us are convinced that this white elephant would be of benefit to our constituents in Essex. "This unnecessary layer of bureaucracy has unfortunately been dreamt up over two years, in private, by six council leaders and six local authority chief executives, none of whom really had a mandate, from either from their backbench councillors, or the wider public, for their secret scheme. "The minister's letter pours cold water on south Essex being the right geography for such an arrangement and, moreover, confirms clearly that Essex County Council, who are on the record as opposing the idea, effectively have a veto – so this flawed idea is now very unlikely to ever become a reality."