Seven months after issuing damning criticism of Thurrock's ruling Conservatives, Independents' group leader and his deputy - who wanted to quit council - sign up to the local Tory flag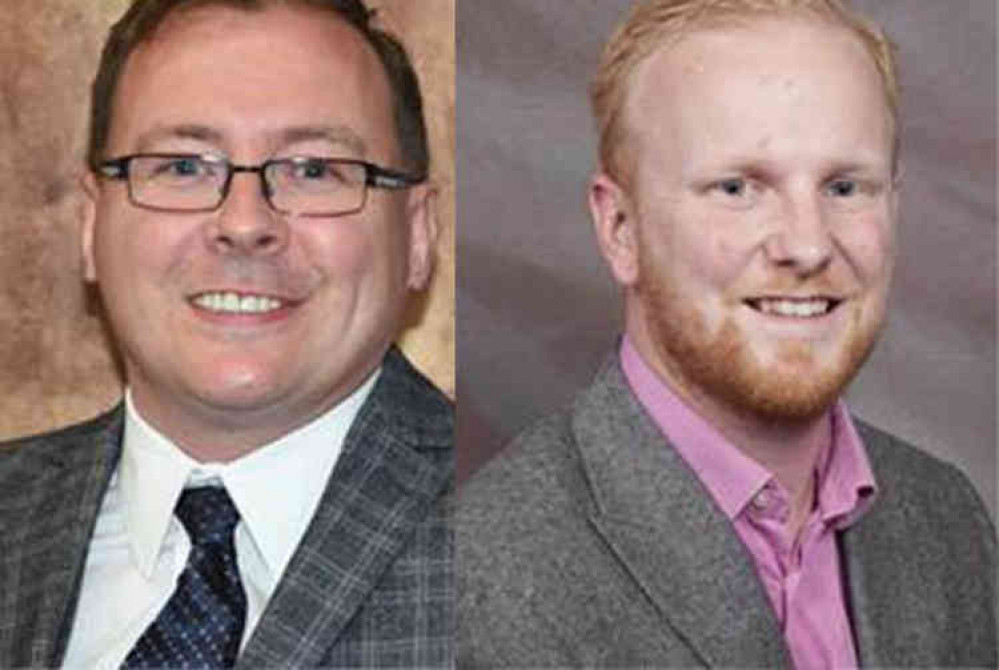 Cllrs Luke Spillman, left, and Jack Duffin
TWO of Thurrock's independent councillors, both of whom were going to step down had elections taken place last week, have signed up to join the Thurrock Conservative group.
Because the elections were called off, both Cllr Luke Spillman (Aveley & Uplands) and Jack Duffin (Stanford East & Corringham Town) will get an extra year in office.
Effectively they had become 'lame duck' councillors last December after they declared their decision to quit the council and abandon the dream of the Thurrock Independent party they both helped found.
Cllr Spillman was its leader and Cllr Duffin the deputy leader.
But they will pick up close to £10,000 in allowances for their extra year and the Conservatives have welcomed them to their ranks, with group leader Cllr Rob Gledhill expressing his delight at acquiring their support which has swelled Tory ranks to 28.
Mariages of political convenience
Of those 28, eight were elected under a different political banner after opting for marriages of political convenience rather than submitting themselves for re-election.
Cllrs Allen Mayes (Tilbury Riverside and Thurrock Park), and Shane Ralph (Stanford East and Corringham Town) were elected as Independent Party members - Cllr Mayes in a ward that before his defection has never boasted a Conservative councillor - while Cllrs Angela Lawrence (Belhus), David Potter (Ockendon) and Sue Sammons (East Tilbury) were, like Cllrs Duffin and Spillman, elected as UKIP members.
Cllr Abbie Akinbohun (South Chafford) defected from the Labour ranks earlier this year.
The switch by Cllrs Spillman and Duffin leaves just three members of the Independent Group left. They are Cllrs Garry Byrne (Homesteads), Chris Baker (Belhus) and Jennifer Smith (Stifford Clays).
Recently Tilbury St Chads councillor John Allen announced he was forsaking the Indepenent group whip to stand as a 'genuine' independent while Cllr Fraser Massey (East Tilbury) was elected as an unaligned independent. As it now stands the Conservatives have 28 members, Labour 16 and there are four independents. Had there been no defections Cllrs Spillman and Duffin would have effectively been able to hold the balance of power through the Independent group. Cllr Gledhill says: "We welcome both Cllr Duffin and Cllr Spillman to the group which brings our number to 28, equal of the Conservative victory in 2004 and the largest majority group at the council since 2006 when I was first elected. "Their skills and views will help boost those already within our group and we all look forward to working together to take Thurrock forward." Cllr Spillman, in a eulogy to the current government's government politics but with no mention of the Tories' local track record, said: "Thurrock faces an unprecedented challenge as a result of Covid-19. We have both come to the conclusion that we must all work together to chart a safe path out of this crisis. The age of cheap party politics and opposition for opposition's sake is over. Thurrock requires and deserves a strong and united administration to guide us through these uncertain times. "To that end we have made the decision to join the Conservative group. "We hope that our different skill sets, knowledge and experience will be of value and support to the portfolio holders within the cabinet. "No peace time UK government has ever faced such an intense crisis. We have been hugely impressed by the scale and scope of the intervention this government has made in order to protect the health and well-being of its citizens. The furlough programme has been a life line to so many. "We both initially became involved in politics to help secure and win a referendum on leaving the European Union. "No one can question that the Conservative Party are now the true party of Brexit. "We have been greatly heartened by the commitment to Brexit this government have demonstrated. "We have also been impressed by the government's 'level-up' agenda. "The government have made a clear commitment that regional inequality is a priority that must be addressed. "We greatly welcome this commitment and look forward to delivering upon it within Thurrock."
'This Conservative administration have squeezed any democratic accountability and scrutiny out of the system. Competence has dropped to unprecedented lows.' - Luke Spillman in September 2019
Cllr Spillman's comments show a remarkable u-turn on his appreciation of Thurrock's local Connservative administration. In September last year
he slammed the Conservative administration
, after announcing the results of his group's online survey which asked Thurrock residents if they agreed or disagree with this statement
'Thurrock Council understands the needs of residents and is doing a good job.'
Cllr Spillman said: "The immediate response to the poll was phenomenal. In the first 12 hours alone, we received 700 replies. "The results were a shocking indictment of the relationship between Thurrock Council and its residents. Of those surveyed 94% of respondents disagreed with the statement, with just 6% in support. "These results can come of no surprise to anyone. This Conservative administration have squeezed any democratic accountability and scrutiny out of the system. "We are seeing disastrous decision after disastrous decision being made. Competence has dropped to unprecedented lows." It's been a day of change at Thurrock Council - with John Kent returning to take over the Labour leadership.
Read story here.
New thurrock Jobs Section Launched!!
Vacancies updated hourly!!
Click here: thurrock jobs