Water mystery. Council keeps cards close to its chest over Stanford-le-Hope flooding but emphatically states that it has nothing to do with A13 widening project.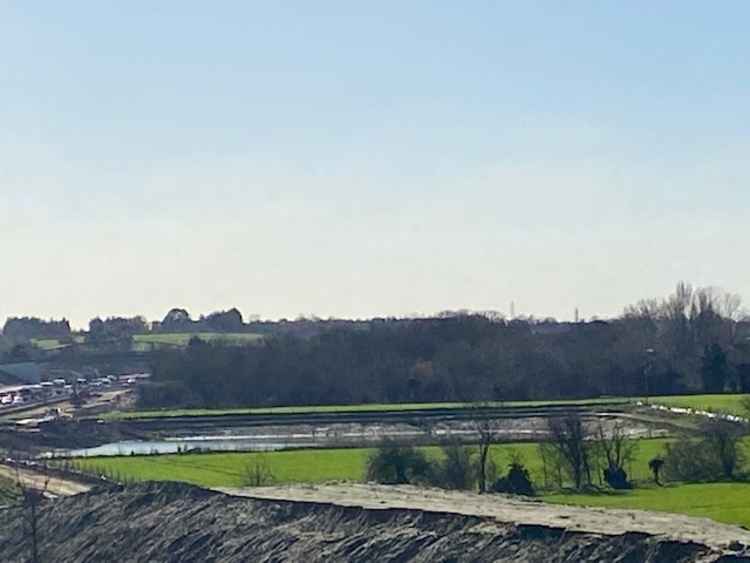 The huge new pond adjacent to the A13. It was created to allow work on an underground pipe to take place says Thurrock Council.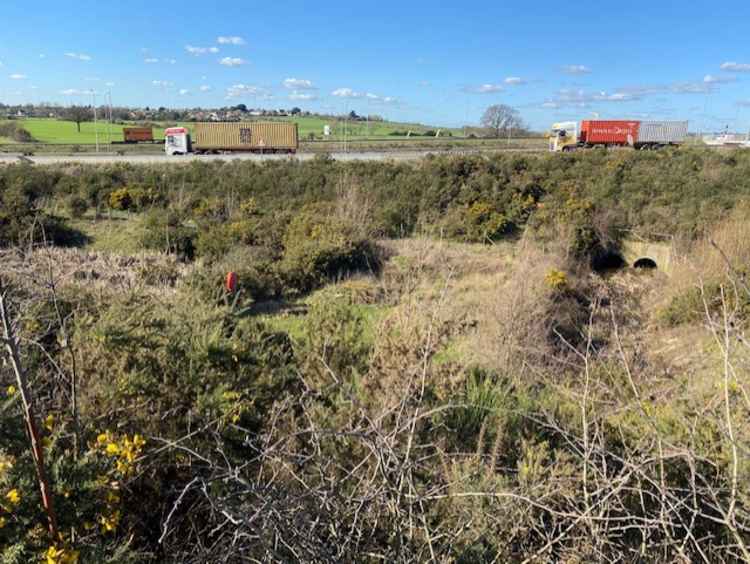 The pond created when the Manorway roundabout was widened is now dry.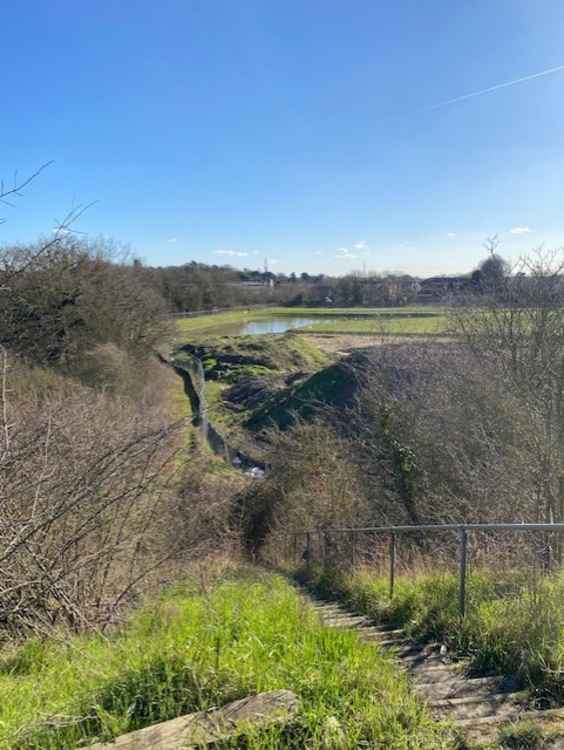 Overflow point. This pond built by Persimmon adjacent to their new Stanford Meadows development flooded over its banks during January's rains.
CONCERN and a degree of confusion remains about a number of issues following the flooding of Stanford-le-Hope in January – including an apparent contradiction between councillors and officers.
Local councillors, including the borough mayor and a senior cabinet member, called for investigations into the causes of the flooding that saw homes flooded, cars submerged and damage done to industrial property as well as considerable disruption to daily life in the town.
And Thurrock Nub News – after publishing a series of films and reports reflecting widespread concern in the town, have also been pressing the council for answers. To date we have had little more than brush-offs and no significant assurances that the causes of the flooding have been identified and there won't be any further problems.
The Environment Agency has confirmed that the council is responsible for managing the risk of flooding fromsurface water and this includesplanningfor and respondingtosurface waterflooding.
Despite that the council has declined even to confirm it is looking at the problem, never mind the urgency caused by the fact it is unlikely we are done with winter storms and heavy and consistent rainfall.
Ward councillors Terry Piccolo (the borough mayor) and cabinet member and deputy leader Shane Hebb have been far more forthright than council officers. They say an investigation was instigated and is ongoing but they too have little idea of timescale or depth of any investigation, though Cllr Hebb did tell Nub News: "We can confirm that we are aware that investigation works are well underway, and that we are aware that all the relevant public bodies are being – and have been - brought into their respective areas – Environment Agency etc., etc.
"The investigation work isn't completed or finished yet, as it is wide ranging – ranging from sluice gates, Stanford brook, and many more topics. Obviously that work needs concluding – and as ward councillors, we continue to represent concerns raised by residents affected, and will follow through. We have to avoid another issue like this, however we can."
It would appear from the councillors' comment that they believe nothing, including the A13 widening project, has been ruled out and in discussions with Nub News they have acknowledged concerns about drainage issues around the A13.
However, despite the fact that knowledgeable local councillors say the investigations are not concluded – and several outside agencies still have to report - the council has given a slam dunk denial that the A13 is any part of the problem.
Many residents have contacted Thurrock Nub News about what they believe might be causes of the flooding – with many fingers pointing at recent housing developments and in particular the much delayed and botched A13 widening programme – where even the council have conceded issues around drainage and utilities have been a significant problem causer.
But recently a brief statement to Nub News from the council says: "The flooding experienced in Stanford-le-Hope in January was not related in any way to works on the A13 road widening project."
Nub News had asked the council about waterflows from the A13 and Stanford Meadows housing estate projects and highlighted the fact that a huge new area of standing water has been created at the side of the A13 which was completed recently and immediately filled up to a depth of many feet.
We have been contacted by a number of residents who have expressed a number of opinions and theories which we attempted to encapsulate in this question posed by editor Neil Speight.
It read: "A huge new drainage pond by the side of the A13 roadworks was opened up and connected to the drainage system. It filled up extremely quickly with a significant depth of water.
"Given that it has not rained for many days, that begs the question where did the water come from?
"It is not from the old drainage pond on the other side of the A13 which remains almost empty (as indeed it was at the height of the floods which suggests it has been blocked off by the widening works).
"The large pond created by Persimmon on the Stanford Meadows site is also quite full and its water level has not changed in several days.
"I am no engineer, but it would clearly appear that water has been sitting somewhere and it appears extremely unlikely that the A13 road widening was not something to do with it as this large pond was clearly known to be needed, otherwise it would not have been built.
"Would it be right to surmise that because the pond wasn't ready in time for the winter, the displaced water it should have been retaining instead ran into Stanford and was a cause of the pressure on the local water drainage system?
"The flooding in Runnymede where several houses suffered flood damage was all caused by water coming up through the water drains and that water didn't appear to come from the Hope, it would appear, as it was quite clean - the flood water at Daybreak Windows, Bell-Reeves Close and Ellie Close to the rear of Butts Road and Poley Road was muddy."
The council have responded with the following statement: "The reason the pond adjacent to the A13 has been recently filled is because the A13 project redirected water from elsewhere into this location in order to carry out works on a nearby underground water pipe. This activity would have no bearing on water levels in Stanford-le-Hope.
"Allegations that the ongoing work on the A13 project, including the pond, could have contributed to the flooding in Stanford-le-Hope are incorrect."
Nub News has asked if the huge pond will be drained and filled in when the underground water pipe work is completed? As yet we have had no answer. We also asked the council if it considered there was cause to revisit its policies for allowing developers to build on or close to flood plains. This time we did get an answer. It was: 'No.'
Many more questions remained unanswered but if we get any, Thurrock Nub News will share them with local residents.
New thurrock Jobs Section Launched!!
Vacancies updated hourly!!
Click here: thurrock jobs