Will there be housing on station car park site? Can a bus really turn round here? And why can't council give any guarantees that budget won't be bust again?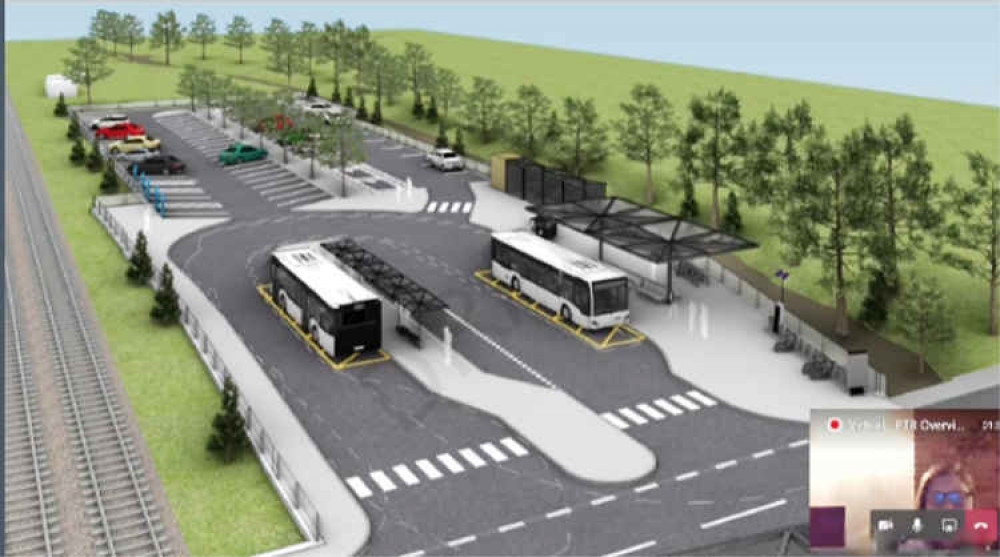 Thurrock Council's image of how the new car park will look
A MEETING of Thurrock Council's planning, transport, regeneration overview and scrutiny committee this evening (Tuesday, 9 February) discussed the planned redesign of Stanford-le-Hope rail station when a remarkable drawing of the proposed new car park and bus turning circle was brought into the public domain.
The artist's impression of the redesign showed a level surface where there are currently drops of up to 15 feet, green grass and trees running alongside the River Hope where there are currently industrial buildings, a bus turning circle that looks impractical at first sight and what appears to be less parking spaces than the people of the town have been promised.
And, when asked about what it is all going to cost, the assistant director for transport infrastructure said she could give no guarantees it would not smash through the council's already over budget figure of £19.6 million.
And to add further mystery over the whole scheme, the assistant director, Anna Eastgate (who is about to quit the council) could not deny that the council is in discussions to build new homes on part of the site!
Tonight's meeting was expected to be difficult for the council, under pressure from opposition councillors – and some members of the ruling Conservative group – but it turned into something of real debacle with Ms Eastgate becoming agitated under pressure and snapping back at councillors.
Also looking somewhat shell-shocked as the meeting unfolded was the council's director of place, Andy Millard – who is also due to quit the council and take up a new life, reportedly in the south of France later this year, well away from the trials and tribulations of Thurrock planning!
He was also unable to answer councillors' questions about guarantees on finance.
Discussion on the Stanford rail station came after another, almost shambolic debate on the massively over-budget and much-delayed A13 widening project which also left more questions unanswered than answered - and councillors and council taxpayers still not knowing how much out of pocket they will be when the scheme is finally completed.
A separate report on Thurrock Nub News about the A13 will follow.
Tonight's debate on the Stanford rail station started with chairman Cllr John Allen asking how much the scheme was now likely to cost.
He didn't get an answer.
Ms Eastgate told him: "The problem in putting a figure in before going to tender is that people remember that figure.
"We have brought in a design team to look at this and until we test the market we don't know where we are against the cost of the scheme and the budget.
"We have learned the lesson of the A13 so we are waiting for a sufficient level of detail before we go to tender."
Cllr Martin Kerin pressed the issue of cost saying: "So when I want told in full council that it can't go over £20 million that was something I shouldn't have been told? Are you saying councillors should not be given any figure at all?"
Ms Eastgate answered: "It is not appropriate for me to comment on what members have said in a council meeting. We know what our budget envelope is. If it doesn't work when we get the tenders back we have to look at getting the scheme back within the budget envelope."
Cllr Allen then stepped to the fore again and asked: "Can you give me any assurance that the budget will not be exceeded." He was told: "No, I cannot."
Ms Eastgate then presented drawing of the new station development, firstly a previously published version of what the station will look like but then produced a new CGI image of how it is proposed the existing car park and the Daybreak Windows site that the council has bought at a cost of more than £4 million, will be developed.
It is a remarkable perception of what is currently reality and clearly surprised some of the councillors. Though Conservative Stanford East and Corringham Town member Alex Anderson said he was impressed, saying: "Thank you for the pictures. It looks really positive. Thank you for your report."
Cllr Allen then asked Ms Eastgate about the practical issues surround the image that had been put before him, questioning the disparity in height between the current car park and the Daybreak site, the danger of flooding and the number of car parking space. He also questioned the bus turning circle. Initially it was projected to be on the other side of the road, but was found to be impossible to implement because of the turning circle of buses. The new drawing appears to show buses being asked to turn in the same circle.
The new station and car park designs have been drawn up after the intervention of an outside agency, brought in by the council at a cost of £590,000. Ms Eastgate's former employers Mace Ltd took over project management for the station.
Cllr Allen quoted a recent Thurrock Nub News report which showed the Daybreak site several feet deep in water when the river Hope flooded but Ms Eastgate brushed his question aside and said it wasn't something she was particularly knowledgeable about and that it was a Port of London Authority issue and with regard to flooding 'the Port of London Authority is responsible for some of that."
And then, in something of a bombshell, Ms Eastgate was forced to concede that she couldn't deny that the council was looking at the possibility of building homes on part of the site.
Cllr Allen asked if they could build on it, and Ms Eastgate conceded: "There may be potential - there have been discussions". She said it was possible houses could be built on the site with access to the town via a footpath over the river.
Related stories include: