'Bent councillor' slur in heated and controversial debate over green belt bungalows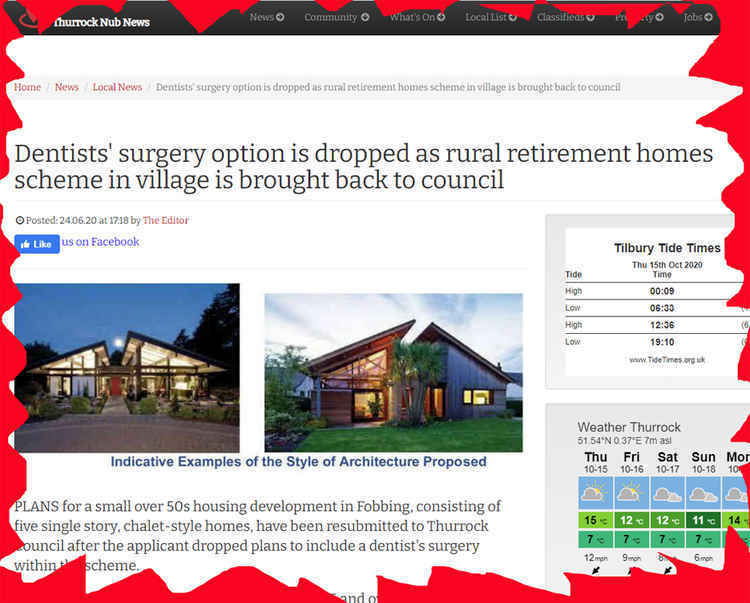 THE spectre of 'bent' planning councillors was raised at tonight's meeting of Thurrock Council's planning committee with a fiery clash of opinion between members.
Debating an application to develop five homes in the green belt for over 55s in Fobbing this evening, councillors Gary Byrne and Angela Lawrence swapped opinions in a feisty exchange.
At a meeting in October a majority of councillors went against officer advice and granted permission for the development, which has failed in several other previous guises to get through.
Under the council's constitution it has to come back for a second consideration and in the preamble to debate Cllr Byrne quizzed officers about the importance of the fact that the new homes were being designated as for over 55s.
Cllr Byrne wanted to know 'if that is worth the paper it's written on' and he questioned planning officer Lucy Mannion about what would happen 'if someone moved in who wasn't over 55'. He said: "The over 55 label is meaningless because people of any age could move in there." And added: "Can we enforce this?"
Ms Mannion said she said she wasn't sure, adding: "It's difficult for me to answer - I wouldn't like to say we could definitely cover over 55s in perpetuity."
Cllr Byrne wouldn't let it drop and said: "Is it a con to get planning - is it law or is it just a little carrot to get planning through on the green belt?"
Ms Mannion said: "You need to take your own view on that." Her planning colleague Matthew Gallagher interjected and said in his opinion it could be most appropriately brought about as a planning condition, it would not be normal to make it a legal requirement.
He added: "But members will well be aware because we present applications before them that applicants then ask for conditions to be varied, after having secured a planning permission. I am not saying it will happen here, but an applicant could apply to vary that condition some way down the track."
And that prompted Cllr Lawrence to speak up and she called on Cllr Byrne not to labour the point, saying: "We are going round in circles. We know it's not going to make any difference, he is just holding up the meeting, we know how he is going to vote.
"Whatever conditions are put forward that's the way to go ahead. If you think negatively about planning applications you could think the same about any planning applications."
Cllr Byrne, who later said: "Did all these councillors who are supporting this have 'protecting the green belt' on their election leaflet", took offence and indicated he felt the same way about Cllr Lawrence's opinion and he questioned the reasoning behind the councillors who wanted to approve the application, saying: "We know what this is about. We know that's a bit bent don't we."
An angry spat followed with both councillors critical of each other and they both demanded an apology for the comments made.
Cllr Lawrence was particularly angry saying: "I am not having him say that on me. I want an apology" with Cllr Byrne responding by asking if there was any point in him being at the meeting if he wasn't allowed to make his points.
In a bid to smooth the waters committee chair Cllr Tom Kelly then intervened and said: "You are both valid members, it's a bit of tit for tat. You are both incredibly important.
Cllr Byrne then gave way, saying: "I apologise if I said something wrong. We are both a bit fiery. I listen to the law and officers, which not a lot of people on this committee do."
When debate resumed, Cllr Kelly advised members there were risks associated with the application, adding: "I don't hold with going against officers' advice on development in the green belt."
Non-voting committee member Steve Taylor who represents the Campaign for Rural England gave a reasoned argument against the development, but his opinions were ignored by Cllrs Gerard Rice, Cllr Lawrence and Cllrs Sue Shinnock, David Potter and Sue Sammons who voted against the officers' recommendation to refuse, with Cllrs Kelly, Byrne and Mike Fletcher being outnumbered in a bid to block the development.
Cllr Rice then put forward a number reasons, including lack of aged housing, the borough's housing supply shortage, and the lack of a local plan why the plan should go forward. "Year by year the council fails on its housing target by the government, these are substantial reasons," he said.
He said the officers' assessment should be cast aside but the council's Interim Assistant Director for Planning, Transport & Public Protection, Leigh Nicholson, said he was not clear that there were substantive reasons. He insisted members come up with more substantive reasons before he was even prepared to consider drafting a document encapsulating their argument.
The debate continued though with more clashes of opinion. Cllr Lawrence summed up her views when she said that in her role as a councilor she had found a big demand for people wanting more houses. "People are more important than green belt" she said.
Cllr Fletcher urged the supporters of the scheme to come up with reasoned arguments, saying: "There's no bloody point in going round the houses, just find some facts to get behind your argument."
In a bid to draw the application to a conclusion, Mr Nicholson summed up Cllr Rice's arguments, and highlighted 'the facts' before asking them to commit to the fact they gave 'significant weight' to all their arguments and acknowledged the development would cause significant harm to the green belt. A compromise on wording was eventually thrashed out and the application approved.
It may still be referred to the planning inspectorate or secretary of state when the application has been considered by the council's own legal and monitoring team to check if it is legitimate and lawful. Mr Nicholson said his professional view was that the reasons put forward by Cllr Rice and his colleagues did not have the sufficient weight that was required.