Aveley primary school plan fails to win favour with councillors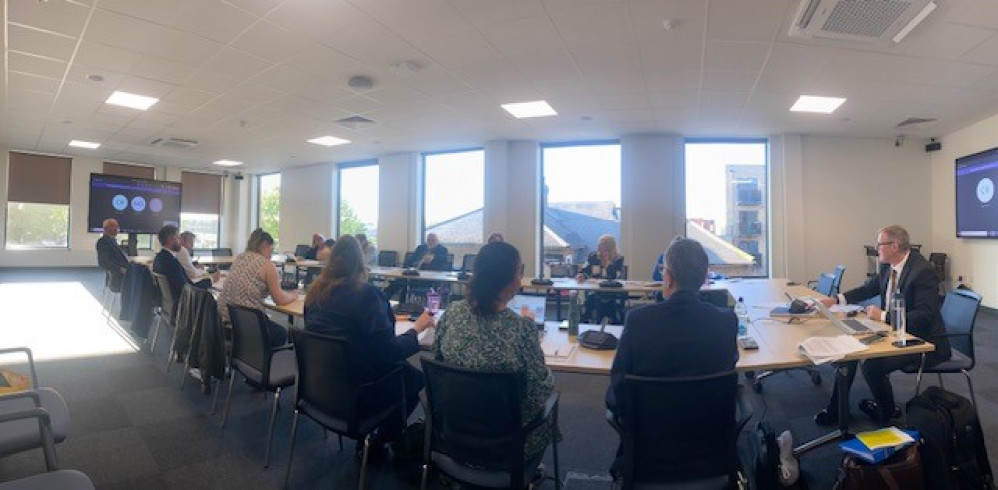 Tonight's planning meeting.
MEMBERS of Thurrock Council's planning committee formed a cross party alliance this evening (Thursday, 21 April) and unanimously agreed not to bow to government pressure and rush into rubber-stamping a controversial plan for a new primary school in the borough.
Three years after the idea was agreed in principle for a new primary free school in Aveley plans were submitted in January this year to develop a site for the 'Harrier Primary School' on land adjacent to A13 and Love Lane.
The proposal met with considerable local opposition, but nevertheless came before the council's planning committee today when council officers recommended its approval.
However, local councillors were not swayed and spoke of being 'railroaded' by the government into supporting plan that not only failed to meet local standards, but was also a blight on the green belt and would consume prime agricultural land. In addition it failed to meet the council's design expectation.
They decided not to bow from pressure from council officers and approve the plan, but instead decided to defer it and give its backers the chance to come up with an improved scheme for the site.
Concern about the proposed scheme was led by Conservative councillor James Halden, a former education portfolio holder, who believed the scheme was being rushed through without due deference to the needs of the local community.
Discussion at tonight's meeting began with the expression of concerns that local residents had been advised they were not allowed to attend the meeting – and a visit to the council's website revealed why as there was misleading information. On first reading the council's website gives the impression that it has pulled the shutter down on public attendance, saying: "We are currently unable to host meetings at our Civic Offices or provide live webcasts online."
Further investigation into the web platform does indicate that tonight's meeting was open to the public, but many local residents felt an attempt had been made to keep them away.
However, councillors were in no mood to acquiesce to officer directives,
Cllr Halden was in the vanguard of concerns about the new project and said he believed the statistics supporting the idea of a new school did not stand scrutiny and that the inaccuracy of suggestions that a shortage of primary school places in Aveley was a good enough reason to support the schookl plan was all important.
He said: "It doesn't seem that time is a tremendously urgent factor right now. In that area at the moment we are talking about a few dozen unfulfilled places, not hundreds. I am not clear on the sense of urgency.
"This was a proposal for a free school close to half a decade ago, so why are we now in a sprint?"
His concernd were echoed by Conservative colleague Cllr Sue Little who was angered by the lack of an education department officer in person at the meeting and who criticised the lack of detailed planning for the school, in particular the absence of a dedicated travel plan. She said: "Why is there not one put before us?"
And she referred to council rules that dictated that a travel plan was an essential part of a school planning application, but said: "It seems ridiculous we have to have a travel plan before we can pass this, but they don't have a travel plan.
"I am concerned and a bit annoyed about the speed this is going though, particularly as it doesn't meet the standards for a public building in Thurrock."
A lengthy debate followed about the merits of the scheme, with officers keen to impress that the council should meet regulatory deadlines imposed last year by the government but councillors were not swayed and, despite risking the threat of sanctions, legal costs and anger from the government which is promoting public sector building projects, they unanimously agreed to defer the application to allow more time for the school's backers to liaise with council officers and come up with a more acceptable scheme.