Blue is the dominant colour as Tories enjoy a night to remember in Thurrock Council elections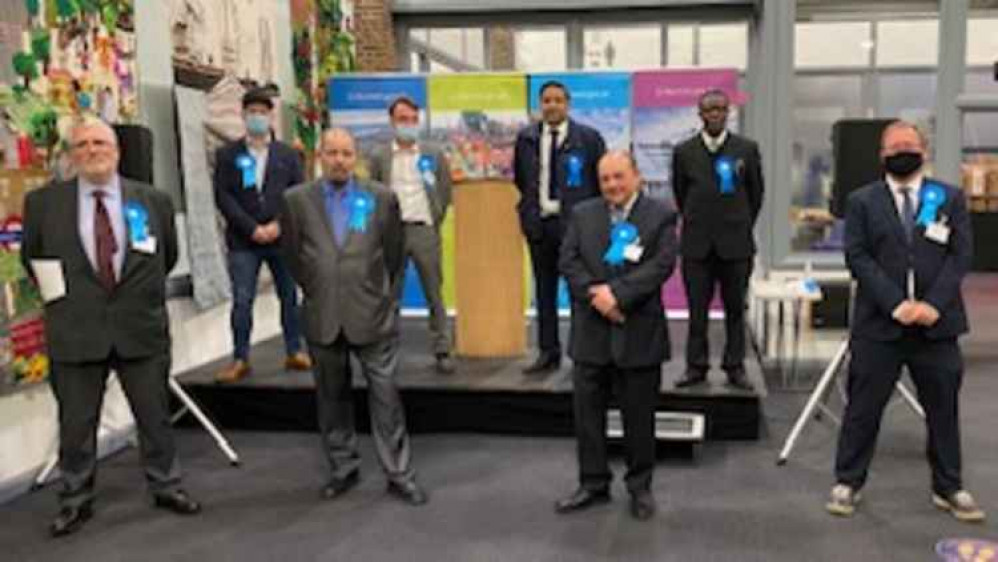 Thurrock's successful Conservative candidates
THERE was a blue dawn over the borough in the early hours of Friday, 7 May as Thurrock Conservatives celebrated success after success at the polls – holding all their seats and even taking a significant victory in Labour's heartland of Chadwell St Mary.
There was a low turnout in the poll for 17 seat5s across the borough, less than three in ten of the borough's eligible voters could be bothered to mark their cross where it mattered.
Against background of potential landmines like the £41 million plus overspend on the A13, the Stanford rail station fiasco, a billion pound borrowing strategy that has been widely condemned and could yet cost borough taxpayers tens of millions and an ongoing strike by the borough's bin collectors, it seemed that the Tory dominance of the council would be sorely tested.
But in the end a mixture of returning veteran former councillors and some politically skillful repositioning saw the Tories extend their overall majority.
Young Tory Adam Carter sprang the evening's major shock by winning by 118 votes in the seat vacated by Labour veteran Gerard Rice.
Former borough mayor and Labour party administrator Carl Morris looked a surefire bet to return to the civic chamber via Chadwell St Mary but he foundered badly, ending up well behind his rival in a big turnaround that was greeted with huge cheers and leaping in the air by an ecstatic Tory grouping at the count.
Two former leaders of the Independent Group on the council, which suffered as disappointing a night as Labour, are back representing the Conservative banner they spent years condemning, showing there is nothing as fickle as a politician unless it's the voter.
Former UKIPers Graham Snell and Luke Spillman, who were founders of the Independent Group, are back representing Corringham & Fobbing and Ockendon respectively.
A third former Kipper and Independent Group stalwart, Jack Duffin, also survived to serve another term under his third set of colours with a significant majority of 741 in Stanford East & Corringham Town – dashing the high hopes of independent group candidate Gbenga Olajugbagbe who came third behind Labour.
Neighbouring Stanford West also saw Independent Group hopes buckle as Mayor Terry Piccolo brushed aside the challenge of Ross Byrne.
And a dagger blow to the heart of the Independent Group came in another Stanford and Corringham seat, The Homesteads where incumbent Tory Gary Collins delivered a crushing 991 majority win against John Fox who also had to settle for third behind Labour's Mark Hurrell.
If there was any joy for Labour it came in Tilbury St Chads where Kairen Raper defeated non-aligned independent John Allen by 115 votes.
And there were smiles for Labour's frequent bridesmaid Lee Watson who finally got elected in West Thurrock .
Were there a ward where an independent gain appeared most likely it was in East Tilbury where another councillor to have served under three flags, Sue Sammons, set the tone for the Tory evening of success with the night's smallest margin of victory, finishing just 34 votes over non-aligned Neil Speight.
Elsewhere in the borough some long-serving Conservatives made a return. Georgette Polley is back for civic service after winning Belhus while another former Mayor, Maureen Pearce made a return to political life, retaining theAveley & Uplands seat for with a big majority. Cllr Pearce was mayor in 2009-10.
Sue Little retained her Orsett seat with some comfort and another big Conservative hold came in Little Thurrock Blackshots where Joy Redsell had a thumping win.
The council's longest serving councillor, Labour leader John Kent will serve at least another three years (this is a foreshortened term because of coronavirus meaning the postponement of last year's election when all the seats were due to be up) in Grays Thurrock.
Labour veteran Tony Fish also stays in office, holding his Grays Riverside seat.
Among the newcomers are James Thandi who produced a big Conservative win in [L] https://thurrock.nub.news/n/chafford--north-stifford-result [L+]Chafford and North Stifford and Augustine Ononaji who capped a great night for Tories with his victory in South Chafford.