Chizzy bangs the drum for Grays and is recognised for his dedication and courage in coming through battle with covid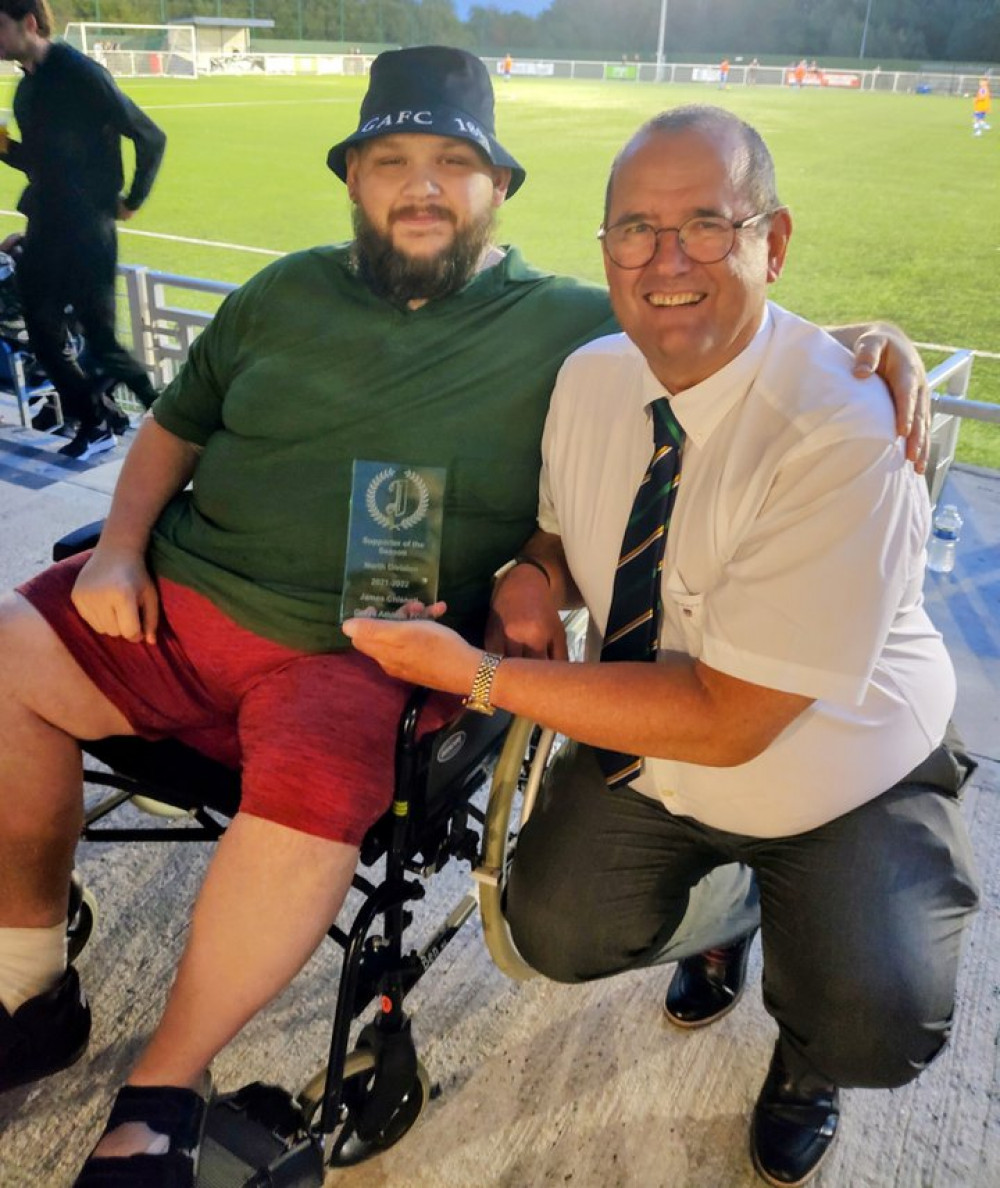 League chairman Nick Robinson present the award to Chizzy Chisnell
A GRAYS Athletic Football Club supporter who literally bangs the drum for his favourite club has been honoured for his efforts.
At the end of last season, the Isthmian League asked all of its clubs to nominate supporters for the Supporter of the Year Awards, and they gave an award for each division.
Winner of the North Division honour was the Blues' James 'Chizzy' Chisnell and at the recent home match with Maldon & Tiptree the league's chairman, Nick Robinson, presented the award.
The nomination from Grays, which saw his service recognised, reads: "Chizzy Chisnell is our club drummer and has been for a number of years. He has attended all home and away games for many seasons and is an integral part of our club's supporters group.
"Chizzy unfortunately caught covid in the middle of December last year and due to his underlying medical condition became very ill. He was in hospital in a coma for a number of weeks but thanks to the superb medical team at Basildon Hospital, he was able to make an amazing recovery, supported by the many messages he received from the players, management and all his friends at Grays Athletic FC.
"Upon his release from hospital he attended the next few games in a wheelchair, and was subsequently able to continue his position as club drummer.
"He is a remarkable young man and has shown a great resilience in being able to overcome the COVID pandemic and also resume his fantastic support to the club."
A statement from the league after the presentation says: "Many congratulations James, and thanks for your dedication to your club."