Council rejects thousands of names on petition calling for debate in bid to save the ThamesideTheatre. Councillors are described as 'cowards'.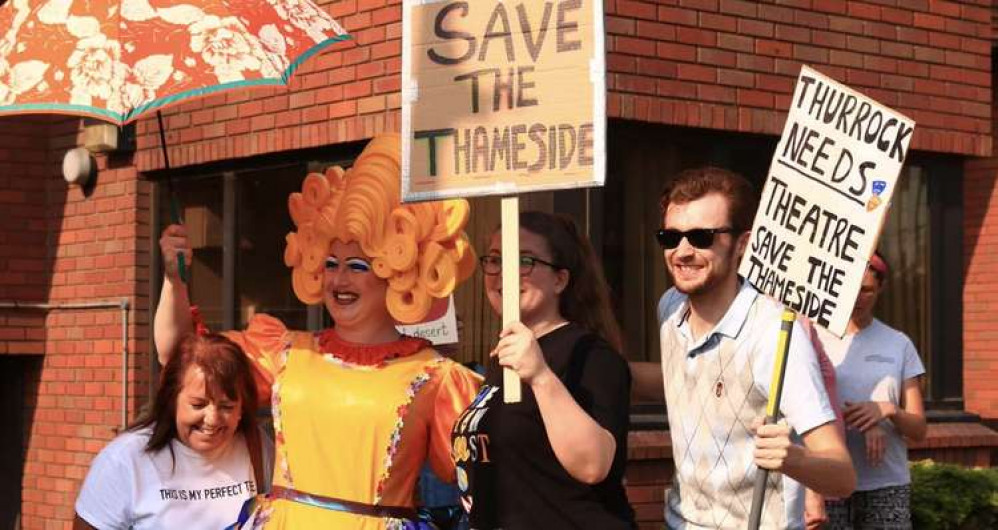 Councillors were lobbied as they arrived for lasat week's meeting.
THURROCK Council has rejected names on a petition signed by thousands of people calling for the authority to think again about closing the Thameside Complex, including the Thameside Theatre, in Grays.
At last week's meeting of the full council a paper petition containing around 100 signatures and links to an online petition containing more than 4,000 names were handed in by local campaigners, who made an impassioned plea to councillors.
Campaigners lobbied councillors as they arrived for the meeting last Wednesday (21 July) and a small number were allowed in the chamber to present the petitions and make a statement.
However, the council has now informed members of the Save The Thameside Complex campaign group that the petition has been disregarded because it does not fulfil their criteria – even though it has been created on the internationally recognised Change.org platform.
Undaunted, campaigners plan to press ahead and are now planning to take to borough streets and obtain personal signatures on a new petition to press home their point.
One of the key movers in the campaign is community stalwart Madeleine Emmerson who says the spirit and determination of the campaigners remains strong.
She says: "We were warned by five councillors that this administration will do anything to avoid debating, but it was urgent we at least let them know a protest was on the cards."
The council's refusal to accept the petition has been condemned by many supporters with the feelings summed up who described the ruling councillors as 'bloody cowards' who were scared of public debate.
Thurrock Nub News has asked the council, its Conservative leader Cllr Rob Gledhill and the portfolio holder with responsibility for the arts, Cllr Deb Huelin, to comment on the rejection of the petition. as yet we have had no response to the 'urgent request' for a comment. If and when we receive one it will be published immediately.