Duo back council in secrecy row and rubbish claims that officers acted without consultation as billion pound borrowing was racked up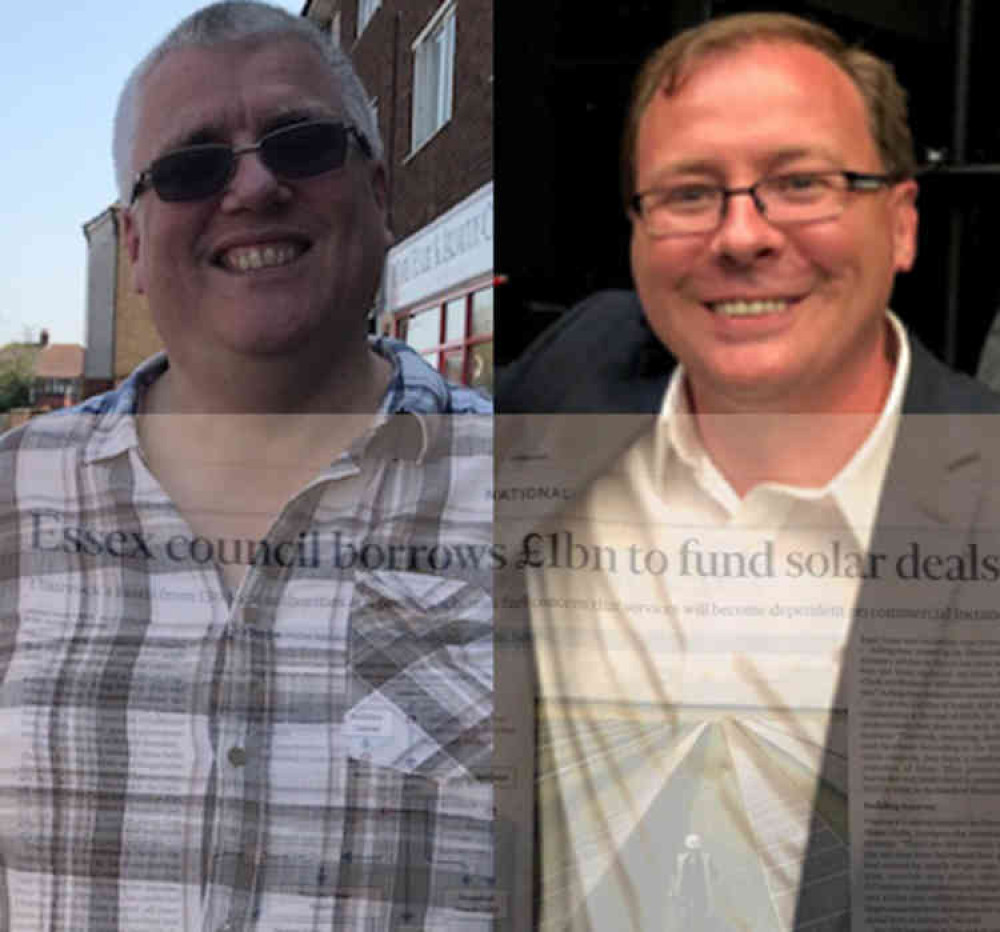 Independent leaders turned Tory: Former councillor Graham Snell and Cllr Luke Spillman.
TWO leading former independent councillors who led the opposition group on Thurrock Council before signing up for the Conservative party have rounded on the Labour group and backed the Tory administration as it defends itself against claims a one billion pound borrowing project was carried out in secret.
The Financial Times expose and a detailed investigation by the Bureau of Investigative Journalism were published on Friday (22 May) and the council responded with an unattributed rebuttal on Sunday.
In the wake of the investigation, Labour group leader Cllr John Kent says the whole borrowing and investment process has been carried out in secret, with little or no consultation with elected councillors – particularly the opposition groups.
And he was backed up this morning (Tuesday, 26 May), by his predecessor as Labour leader, Jane Pothecary, who said she had been kept out of any information loop.
However, the credibility of their argument has been undermined this evening by former independent group leaders Graham Snell and Cllr Luke Spillman.
Mr Snell represented Stifford Clays as a councillor between 2014 and 2018, initially as a UKIP representative, then forming the Independent Group. He was beaten by Tory Elizabeth Rigby, a member of a party he had called a 'failed administration' in 2018.
A year later he was back on the hustings – having joined the Tories who he represented in Stifford Clays in 2019 but he was beaten again, by his former Independent Group colleague Jennifer Smith.
Mr Snell was succeeded as Independent group leader by Cllr Spillman, who himself defected and joined the Tories earlier this month.
Both men were contacted by Thurrock Nub News and have responded by criticising Labour – and say that there was briefing about the council's borrowing and investment policy – but Labour chose not to attend meetings.
"I was always appreciative of was how open the council and leadership were when it came to financial matters"
Mr Snell says: "Frankly, I am surprised at the Labour response to Thurrock Council's investment strategy, it's not as if any of it was secret!
"One of the things I was always appreciative of was how open the council and leadership were when it came to financial matters and the budget review process – started under Labour and continued under the Conservatives – was an extremely important part of that openness.
"Of course, I attended every meeting I could as did members of the leadership group of both other parties, although I do have to say that Labour's attendance was patchy with very little, if any, engagement between 2016/17.
"Naturally, when it came to discussing potential investments, I and the other leaders, deputies and cabinet members were consulted and I recall meetings leading up to the 2016 'Swindon' deal and also the 2017 deal where we all met to discuss whether, or not, the Council should invest.
"It's fair to say we spent a lot of time discussing both and there were many questions asked and many points argued over. Throughout this period, officers were regularly reporting back with updates and new information as it became available. Ultimately, in both cases, and after multiple meetings, the decision was made to go ahead.
"I always understood that, as group leader, it was my job to make sure my group understood what was on the table and I had discussions with them about both deals and we came to a consensual view on the way ahead. I would expect that the other leaders did the same. At no stage did I feel, as group leader, that I was being excluded from important decisions.
"As far as I was concerned, all political groups supported those large investment opportunities, which is why I am a surprised that Labour now appear to be trying to infer that this all came out of the blue."
There is evidence of Mr Snell's knowledge of the borrowing process.
In the 2018 budget setting meeting, he wanted to take some of the credit for the borrowing and investment strategy, supporting part of the local spending package by saying: "I do support this spending.
"Indeed, it is possible that none of it would have been possible without the support of UKIP during all of the many discussions and meetings that took place regarding investment strategy over the last year.
"Whilst the Tories are quite keen to crow about their success with having a budget surplus, they should be reminded that, in a Council with no overall control, they couldn't do it on their own."
Thurrock Nub News wrote to Cllr Spillman and a number of other leading councillors on 29 April with concerns about secrecy and the council's policy of not answering questions. We questioned the level of collusion between officers and councillors over the repeated, willful and consistent contempt of the media through a managed news blackout.
Cllr Spillman did not respond but today the defector turned Tory councillor was equally keen as his former colleague Mr Snell to comment and back up his new party's position, saying: "We've always had updates within the regular CSR (Comprehensive Spending Review) meetings. These updates would come whenever there were large scale investments being discussed.
"All leaders and deputy leaders were invited to these meetings. Unfortunately, Labour's attendance at these meetings has been consistently appalling. I got the impression that they were boycotting them.
"I was very surprised by Labour's sudden objection to the investment strategy at the last budget meeting. Up until this point they have been consistently supportive of the investment strategy, both publicly and privately.
"I just assumed that this U-turn was simply naked electioneering."
New thurrock Jobs Section Launched!!
Vacancies updated hourly!!
Click here: thurrock jobs