Labour's leader calls on his Thurrock Conservative counterpart to condemn the Prime Minister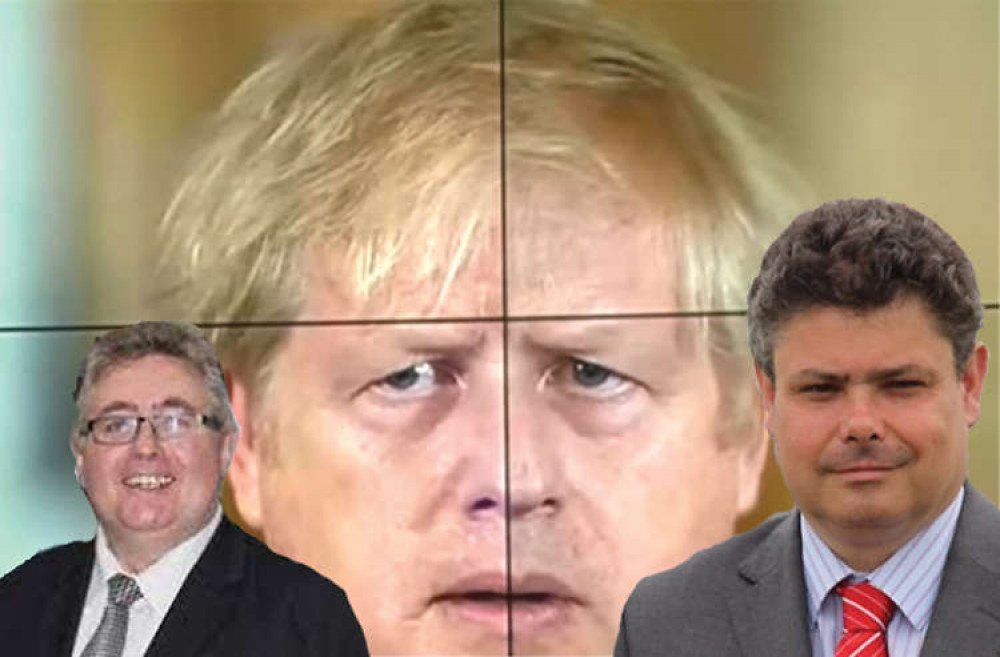 Boris in the crosshairs. Cllr John Kent, right, has called on his Conservative counterpart Rob Gledhill to condemn the Prime Minister.
THURROCK Council Labour group leader Cllr John Kent has challenged his Conservative counterapart and council leader, Cllr Rob Gledhill, to publicly condemn the Prime Minister and his team for the drinks event held in the Downing Street garden in May 2020, as the country remained in lockdown.
In the letter, Cllr Kent said that "it is behaviour that needs calling out, no matter political persuasion", and cited the anger that residents of Thurrock are feeling as a result of the party.
He says despite Boris Johnson's "apology" at Prime Minister's Questions earlier this week many things remain unanswered.
Speaking after a number of Conservative MPs have called on Mr Johnson to resign and have filed letters of no confidence in him, Cllr Kent said: "People across Thurrock pulled together to protect lives and livelihoods as we came through some of the darkest months of the pandemic.
"Bereaved families, our key workers and all those that diligently followed the rules have been mocked by Boris Johnson.
"Cllr Gledhill must choose - are they on the side of those who followed the rules to protect the NHS and save lives, or the out of touch Tory Government who treat them with contempt."
Cllr Gledhill has courted controversy himself over personal decisions made during lockdown.
In December Thurrock Nub News reported the comments of his former girlfriend, who told how Cllr Gledhill had stayed with her at her Norwich home the previous Christmas, commuting backwards and forwards to Thurrock by public transport, at a time when guidance in force prohibited unnecessary travel and many Thurrock families spent Christmas separated from their loved ones.
The text of Cllr Kent's letter to Cllr Gledhill is below:
As you're aware from the leaked emails from the Prime Minister's office, staff were invited to a "bring-your-own-booze" drinks event in the Downing Street garden during the first lockdown in May 2020.
We now know the Prime Minister did indeed attend the drinks party which he is still arguing "could be said technically to fall within the guidance". Boris Johnson continues to take the British public for fools.
At the time this party took place, key workers on the frontline were working round the clock to keep us all safe. People suffered loneliness and loss in unimaginably tough circumstances, and for the majority of the country our freedom was limited to a daily walk.
The Prime Minister is being called on to resign by his own party. He's lost his authority and is too distracted to fulfil the duties of his office.
I'm writing to urge you to condemn the Prime Minister and his team's actions, in public. This contemptible behaviour needs calling out, regardless of political persuasion. I hope you'll agree that this is the least residents of Thurrock deserve.