Port will be buzzing for community open day as Jubilee Pageant is recreated to wends its way through town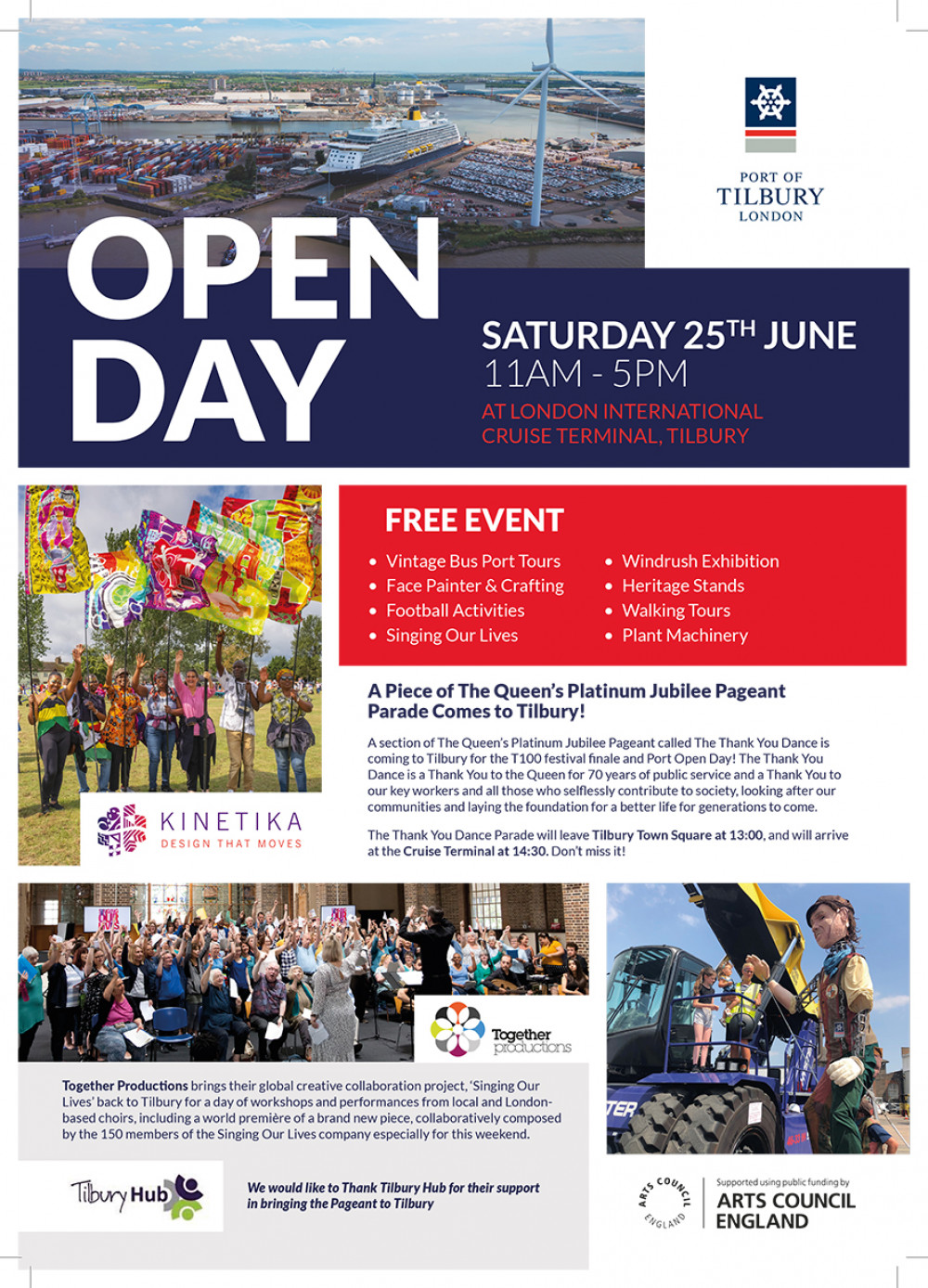 AFTER a gap of more than two years due to the global pandemic, the Port of Tilbury will open its doors for a community Open Day and celebration on Saturday (25 June) from 11am until 5pm at the London Cruise Terminal.
Residents from across the region are invited to enjoy a free programme of events for all the family that will run throughout the day and will include:
· Vintage bus tours of the port;
· Historical walking tours of the cruise terminal;
· Dance and singing performance by Singing our Lives;
· Port of Tilbury Police activities;
· Beat the goalie, face painting and kids carnival rides;
· Windrush exhibition;
· Café and heritage displays
As part of the day, a section of the Queen's Jubilee Pageant parade will come to Tilbury for a Thank you Dance procession through the town starting at 1pm in Anchor Fields Park. The parade will move through the streets with over 200 performers carrying colourful hand painted silk flags designed by local communities in Tilbury, Grays, Purfleet-on-Thames and Milton Keynes.
The parade will arrive at the London Cruise Terminal at 230pm for a performance finale.
Paul Dale, Asset and Site Director from The Port of Tilbury said: "It is wonderful to be able to welcome the local community, our port team and their families back into The Port of Tilbury on Saturday, 25 June. We always enjoy hosting community events at the port and on the 25th June we get the chance to let people inside the port and enjoy a day together. There are a lot of activities planned which will suit all ages and I hope that everyone is able to come along and join us."
Chair of Tilbury on the Thames Trust Stuart Wallace, said: "It will be fantastic to see the Thank You Dance parade on Saturday in Tilbury. The flags were created for the brilliant 2019 carnival and it was a special moment to see them and their flagbearers as part of Her Majesty's Jubilee Pageant in London recently.
"The performances on the day are a fitting thank you to our key workers and all those who give their time to help the local communities, particularly during the challenges of the past few years. I hope everyone enjoys the parade and the Open Day at the port."