Takeaway heroes are hailed for supporting emergency services and local community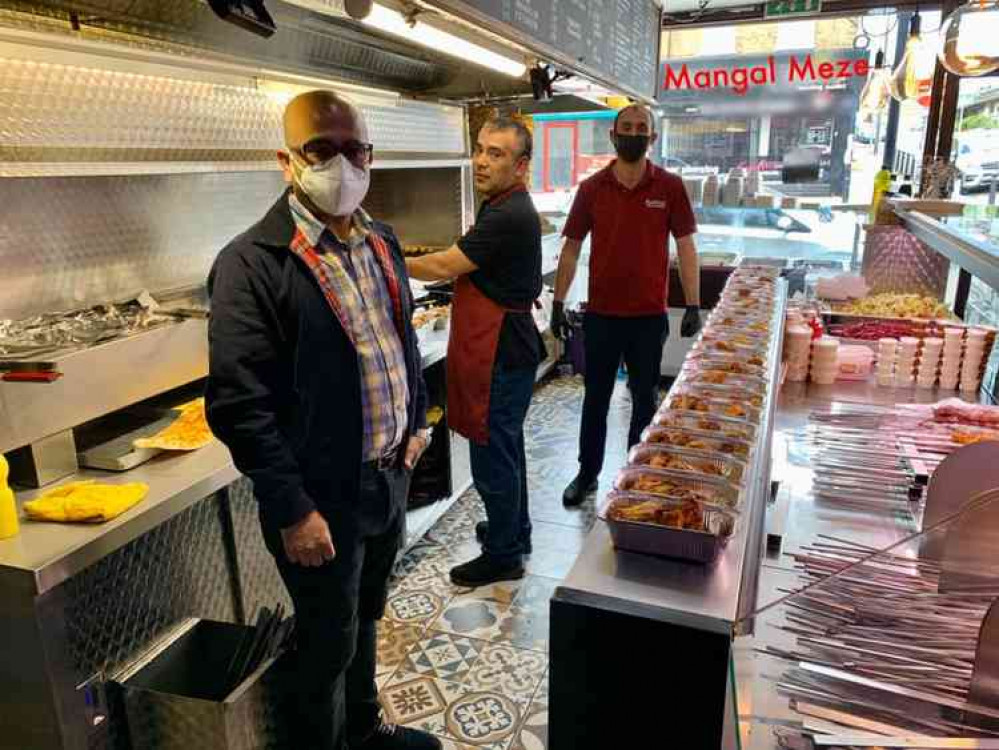 Cllr Qaisar Abass with Nihat Demir and Mr Ali
THURROCK'S takeaway heroes are being celebrated for going the extra mile to help their communities during the Coronavirus pandemic.
The 'Good Deed Feed', launched by Just Eat, heralds the hardworking and dedicated restaurant and takeaway businesses which have stepped up to look after those in need during this unique time.
Heroes include Nihat Demir and Mr Ali at the Mangel Meze on Orsett Road in Grays who have provided Thurrock Police with 40 meals, which were delivered to Grays Police station by local councilor Qaisar Abbas, and 42 for local residents in need.
Mr Demir says: "When we knew the meals are for vulnerable residents and key workers, we decided not to take money. This is a time to help and support each other and not to make profit."
Cllr Abass said: "Our police officers who are doing a wonderful job in such difficult circumstances and this is such a nice gesture by the Mangel Meze."
Just down the road Abdul Bashir at the Desi Indian Dining Club is another who has been showing compassion to those in need.
Abs and his team had wanted to make a donation of food to the NHS but when that proved a problem logistically, they made a donation 450 meals to those in need in the local community. See story here.
The gift of food was welcomed by many in the local community, summed up by Vicky Brown on behalf of her family who said: "Thank-you so much for the lovely free food, we also distributed some of your pots of food to a couple of people in need who are self-isolating and unable to leave their houses.
"They should give you the S off Superman's chest"
"A big thank you for all you and Desi do for the community, they should give you the S off Superman's chest. Superheroes all round, well done it was really appreciated and enjoyed by all of us."
They are just some of the businesses that Just Eat, which has launched the 'Good Deed Feed' to shine a light on the restaurant and takeaway businesses across the country which are going above and beyond during the COVID-19 crisis, wants to highlight.
With more than 35,700 restaurant partners on its platform, Just Eat is using its network to share stories of local takeaway #foodheroes in towns and cities across the nation, to champion the businesses involved and help inspire and encourage others who want to help their communities too.
The 'Good Deed Feed' is the latest in a series of steps Just Eat has taken to support the sector at this challenging time.
It follows the delivery apps's £10 million emergency support package to help small independent restaurants partners maintain their operations and support staff.
As well as the emergency support package for independent restaurant partners, Just Eat is also offering financial support for qualifying couriers who fall ill as a result of Covid-19 or may need to self-isolate.
Andrew Kenny, UK managing director, Just Eat, said: "At Just Eat, we're committed to supporting our restaurant partners, many of which are small, often family-run businesses.
"The restaurant operators we work with are some of the most hard-working individuals you'll ever come across.
"Takeaways and restaurants across the country are going above and beyond"
"Whether it's feeding people on the front line or delivering groceries to the vulnerable in self-isolation, takeaways and restaurants across the country are going above and beyond to help their local communities.
"To put others first during these uncertain times, shows true dedication and we want to champion that."
The initiative has been backed by the British Takeaway Campaign, whose chair, Ibrahim Dogus, added: "Takeaways and restaurants up and down the country are responding to the government's call and stepping up to the challenge of keeping our nation fed under incredibly difficult circumstances, with many funding their efforts out of their own pocket.
"We want to say thank you to them all. Their ongoing support to their communities needs to be recognised and applauded. It's a beacon of positivity during what is a very testing time for us all."
Last month, Just Eat also launched a daily discount for NHS staff, saving NHS workers and their families £250,000 in the first week alone. Just Eat is calling on the public to recognise their local takeaway heroes too. Send details of your favourite takeaway and the great work they're doing to help their local community to @justeatuk with the hashtag #GoodDeedFeed. And while you're at it – let us know at Thurrock Nub News too. Email our editor at
[email protected]
, visit our
Facebook page
or let us know via our
NUBIT button
.