The lights are on, but Christmas and beyond is looking bleak for cash-strapped and debt-ridden Thurrock Council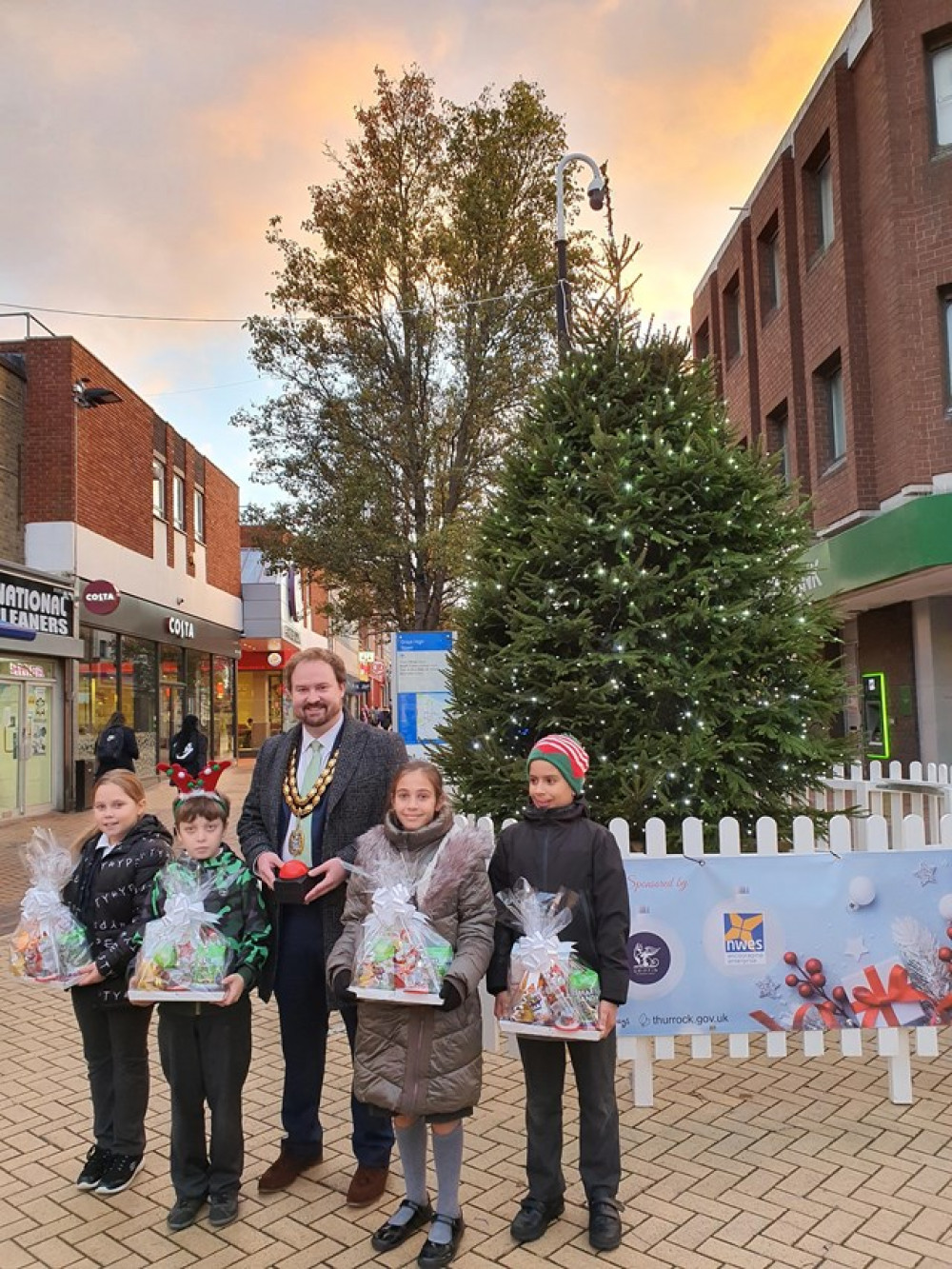 Cllr James Halden and youngsters from Quarry Hill switched on the Grays Christmas lights
REFLECTING the austerity of the times and the huge financial crisis which has brought Thurrock Council to the brink of financial collapse as it owes hundred of millions of pounds because of its failed borrowing strategy and bust budgets, there was a low key start to Christmas in the borough's civic centre.
In previous years Thurrock Council has been heavily involved in a major High Street event in Grays to turn on the town's Christmas lights..
However, this year, a release after an event yesterday (Tuesday, 22 November) appears to reflect the growing gravity of the borough's financial situation.
Less that 24 hours after borough Mayor Cllr James Halden switched on the lights in Grays with a small group of children, local councillors were being briefed on a debt mountain that means it is likely to run at an operating overspend of approaching half a billion pounds in the current financial year.
A statement released today says: "The festive period has officially begun in Thurrock as Mayor of Thurrock, Cllr James Halden, was joined by local schoolchildren to switch on the lights in Grays High Street.
"The Mayor along with local school children from Quarry Hill Academy switched on the Christmas lights in Grays High Street, lighting up a 4.5m (15ft) Christmas tree and living tree lights."
Cllr Halden said: "I'm delighted to have switched on the lights with pupils from Quarry Hill Academy and brought some festivity to Thurrock ahead of the holiday period.
"Many thanks to the Thurrock Centre for Business (NWES) and Griffin Residential Grays Estate Agents for their support in sponsoring the Christmas tree.
"Thurrock has so much to offer its residents and that starts with our many local and independent entrepreneurs and businesses. Ahead of Small Business Saturday on 3 December, I'd like to encourage everyone to support small, local businesses and stall holders at our local markets, where you can, as our thoughts turn to the festive holiday."
Quarry Hill head Mrs Samantha Wakeling said: "We had a really difficult time in deciding which children should be selected to assist with the special task of turning on Grays Christmas lights as we are so proud of all our amazing pupils! We chose four very worthy members of our school council to do the honours and we know that they will represent our school tremendously well, just as they do every day."
This winter, the council in collaboration with Thurrock Community and Voluntary Services (CVS) has supported local communities in spreading the Christmas spirit via funding provided to the Small Sparks Festive Fund. The fund aims to support an idea or project during the festive season and help bring people together across Thurrock.