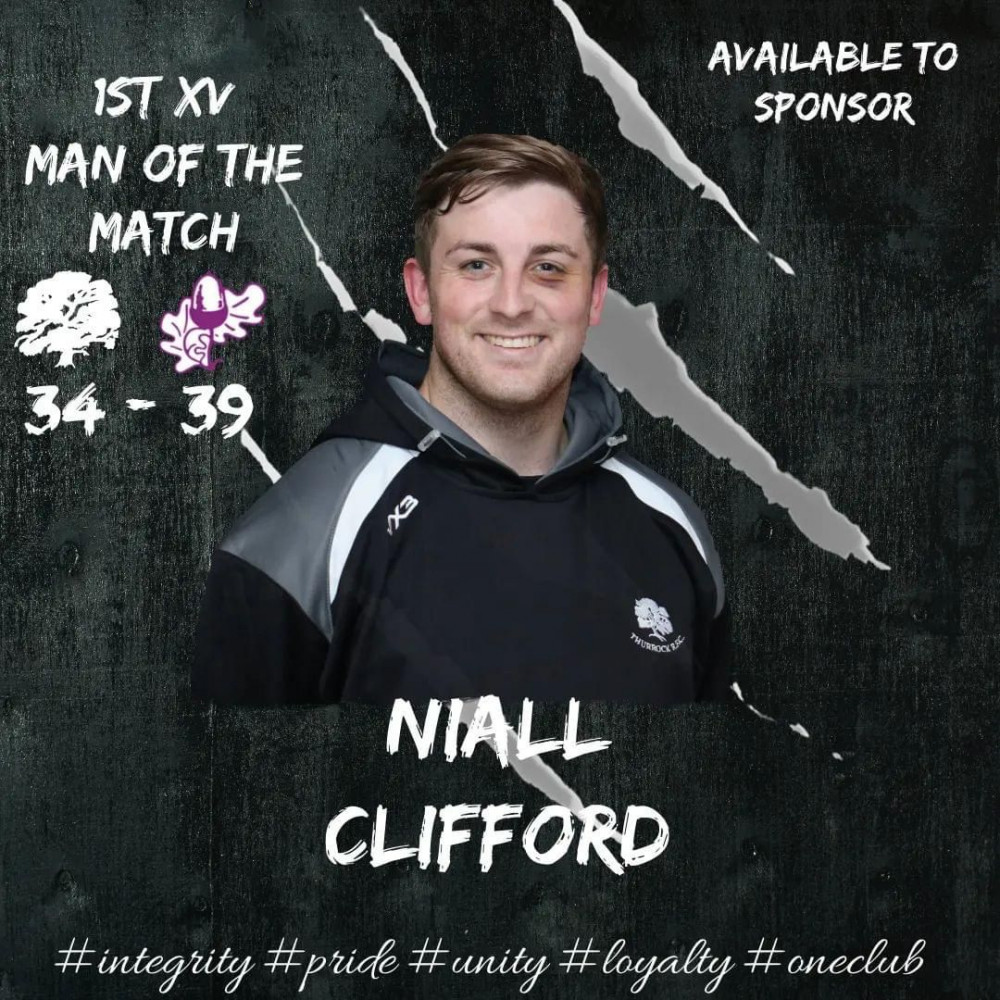 Thurrock 34, Woodford 39
THURROCK endured the most traumatic of first half performances on Saturday (12 November) at Oakfield, before a brave comeback that almost made a silk purse out of a sow's ear!
Thurrock came into this game as favourites, having hit peak form over the last month. Perhaps there was an air of complacency and expectation in the camp, but reality was a diametric opposite as the drama unfolded.
Thurrock were forced into changes with Harry Reynolds away on holiday and Rhys Cotter at the Rugby League World Cup semi-final between England and Samoa. Ahmed Aminu came in on the wing, with Callum Pluck slotting in at full back.
The game had been preceded with a tribute to those who had fallen in conflict as Rugby paid its respects over the Remembrance weekend.
However, whereas the message is always "Lest we forget", Thurrock will not want to remember an abject first half. Sure enough Thurrock started strongly and looked likely to score first, but Woodford captain, Lain Meads picked up a loose ball before accelerating through a leaden-footed defence and engineering a length of the field try!
Thurrock's recent victories have been based on outstanding defence and this was a shock that deflated the home side and galvanised their lowly opponents.
Thurrock made a quick riposte when last week's try sensation, Kye Holloway found himself scuttling under the posts following a smart interception. Dan Stone's conversion gave Thurrock the lead for the only time in the game!
Woodford soon offered the best possible reponse. Realising that Thurrock were defending narrowly, Alexander Meads continually rifled the ball to the outside where his brother fed the ubiquitous Ian Brown and Ryan McGonville. Although they ran laterally, these outside backs revelled in the freedom they were given. After a brace of tries when Thurrock were outflanked, Alex Meads brought subtlety to the occasion with a deft kick to the corner to produce another unanswered score.
It seemed as if the Thurrock defence was being exploited at every juncture. Dave Stevens made a couple of temporary changes in order to stabilise matters and just before half- time, Thurrock's "Man of the match", Niall Cliffird took up a punishing line and crashed through the defence to score a typically robust try.
Despite, being under siege for most of the half, Thurrock turned around with something to fight for!
At the commencement of the second half, Thurrock set about retrieving their pride. They put together some clever passages of play and seemed determined to give their supporters something to cling on to.
Starting the half 20 points in arrears was not so much a mountain to climb, more of a Baldwin Street in Dunedin!
Notwithstanding, the Oakfielders were buoyed by the offloading and interchanges involving Captain Timson , James Rodger and Caolan Watts-Adams. New boy, Andy McAllister was straight into the action, while Lawrence Brown was adding to his burgeoning reputation.
After a fine period of pressure on Woodford's line, Alex Jones sold the slickest of dummies before ghosting over. There had been further disruption when talismanic centre, Henry Bird, was forced off and the splendid Brown was involved in a collision resulting in a "Head Injury Assessment"!
Nevertheless, Thurrock threw everything into their comeback. The outstanding Jay Jennings crashed over on the blind-side after Alex Jones had been calling for runners for what seemed like an eternity.
Fly -half, Dan Stone kicked a couple of strategic penalties to put Thurrock in striking distance of an unlikely victory.
There is no doubting the clichè that "Rugby is a game of momentum" and there was no doubt that "the force was with them". However, a couple of errors were to reverse the direction of energy and desire. Although the tactics had been to keep the ball in hand, two misdirected kicks re-energised a flagging Woodford outfit.
Director of Rugby, Ross Boshier, a former Thurrock second Row, called for a last- gasp attack. His team were awarded a series of penalties and a scrum on the line allowed the No.8, Fraser Piercy-Farley to drive over.
Having appeared to have scored the seminal try, Farley then dropped the resultant kick off giving the Oakfielders an attacking scrum. This time, an excellent attacking set saw the ball go through several pairs of hands before full- back, Callum Pluck got over the whitewash. With Dan Stone adding a couple of conversions, Thurrock had acquired a couple of bonus points.
When Alexander Meads kicked off, Thurrock had one last chance and they sprang out of defence only to be thwarted by a knock-on. It had been a valiant come-back, but Woodford had probably just deserved this away win, courtesy of their early enterprise.
The Thurrock coaches will challenge the players around their physicality and there is no doubt that they will respond. The recent resurgence has been built on resolute defence and incredible team spirit. With a week off, the players will be raring to go as they take on local rivals Brentwood after the break.
Thurrock Ladies had another successful week, defeating Blackheath and climbing further up the Championship table.