Rugby's a funny game: Thurrock endure the slings and arrows of old rivalry to triumph
By Ralph Henderson - Nub News contributor
---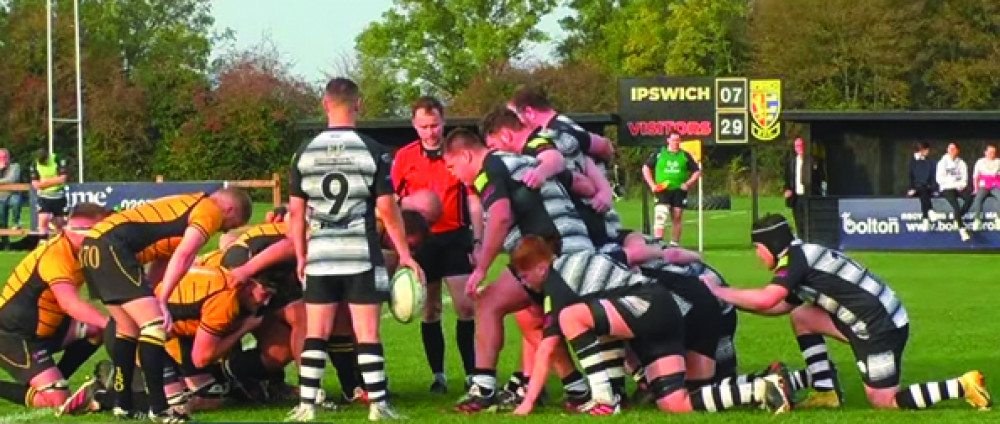 Thurrock's pack was in great form at Ipswich.
Ipswich 12, Thurrock 29
As the Home nations prepared for the Autumn series, Thurrock travelled to Humber Doucy Lane, the home of Ipswich RFC and the fourth oldest rugby team in the World. Founded in 1870, Ipswich even preceded the RFU!
The club had hosted a President's Lunch where former players reminisced about the Eastern Counties semi-final of 1975 when England triallist David Ling had fought a tremendous mid-field battle with Peter Worsfold, the brilliant ex Saracen!
It transpired that Ling's brother-in-law, Stuart Jarrold had been present that day and subsequently the former ITV presenter joined the commentary team for the day in what proved to be an incident- packed encounter.
Both teams were forced into this London & SE Division - Regional 2 Anglia match with some late changes and after some early promise, Thurrock were subjected to what resembled the siege of Ladysmith.
However, they remained resolute even after Kye Holloway was sent to the bin as he attempted an interception.
The returning Frank Wright, Sam Jennings and Lawrence Brown were putting in a mighty defensive shift, spurred on by the leadership of Niall Clifford and Henry Bird in the vanguard.
Watch the whole match:
Tani Loka and James Rodger were a real powerhouse, while Jay Jennings , Caolan Watts-Adams and Euan Thomas were outstanding in the back row.
Indeed no quarter was asked or given as Thurrock defended their line with Rorke's Drift like fortitude.
Then the inevitable happened, Thurrock having repelled countless attacks, countered. The impossibly talented Rhys Cotter lifted the siege with an explosive piece of acceleration after a side-step. Eddie Stevens almost put Harry Reynolds in at the corner, before a powerful drive saw man of the match, Caolan Watts-Adams plunge over the line.
With strong home support, Ipswich launched several attacks, before the ball reached Chandler Bonn on the outside. The winger burst inside to score a deserved try, much to the delight of his watching partner.
Now the game developed into a feisty, rugged encounter.
Rhys Cotter is excelling with his broken-field running and he started to lead the Ipswich defence a merry dance. After one sortie, he was the victim of a massive late (and dangerously high) tackle which resulted in his assailant being sent off the pitch. Unperturbed he continued to torment the home defence with his timing and skill.
From one resultant penalty, Eddie Stevens dummied his way over the line for a trademark try to restore Thurrock's lead.
At the beginning of the second half, Thurrock received a mortal blow, when Tani Loka was perceived to have presided over a second high tackle. A second yellow card was upgraded to a red and Thurrock would spend the rest of the game a player down.
Director of Rugby, Martin Jones, asked his players to "dig deep" and attack at every opportunity. There were some fine flourishes from Kye Holloway before some deft passing found Henry Bird hitting a great line and smashing clean through the cover defence.
Ipswich fought back and a muscular charge by Dontay Ward was thwarted by Rhys Cotter, who not only made a try-saving tackle, but leapt to his feet to secure a turn-over penalty!
At this stage, Dan Ulph made a welcome return to first - team rugby and suddenly found himself at No.8!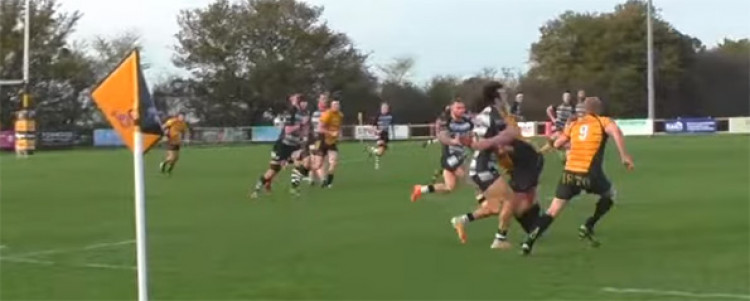 Rhys Cotter is flattened by a late tackle, one of several thumping hits he took during the match.
Thurrock were now rampant. They had "suffered the slings and arrows of outrageous fortune" and were about to become "men"! Sublime passing in their own 22 from Alex Jones and Niall Clifford released Harry Reynolds on the left. This long-levered athlete accelerated away like Christophe Lemaitre on a wide, arcing run. Feinting to go inside, he looked, to all intents and purposes, as if he would score the best try of his embryonic career only to be robbed by a cynical high tackle. The penalty try was awarded, saving Henry Bird the trouble of a conversion, before Ipswich lost the perpetrator to the bin!
Thurrock tied up the encounter when the blitz defence was undone by a beautiful chip kick set- piece by Alex Jones which enabled Rhys Cotter to speed through a gap to win the touch down. Harry Reynolds converted before Jon Ives gained an Ipswich consolation.
Ipswich has been a bastion of English rugby for 150 years and boasts some of England's greats among its alumni. Current Norrthampton captain and England star Lewis Ludlam played at the club as did one of the greatest rugby league players, Martin Offiah.
They are a proud club with almost unrivalled heritage hosting an England trial in 1937, featuring the peerless Prince Alexander Obolensky.
With such a provenance they would fight to the end and in Tom Potter, Mark Burch and Jake Steward they certainly had some battlers. Indeed Steward had fought a running battle with Niall Clifford, Kye Holloway and Henry Bird all afterrnoon. So it was only fitting that towards the end of the match that a Thurrock player was penalised for pulling Steward's shirt over his head in what Clifford described as "The funniest 15 seconds I have seen in rugby""
Typical of the enduring camaraderie of rugby that such moments are priceless!
On Saturday Thurrock are at home to Stowmarket where they hope to consolidate their recent good form.