Setting a new standard and taking taxi service to a higher level as part of entrepreneur's commitment to borough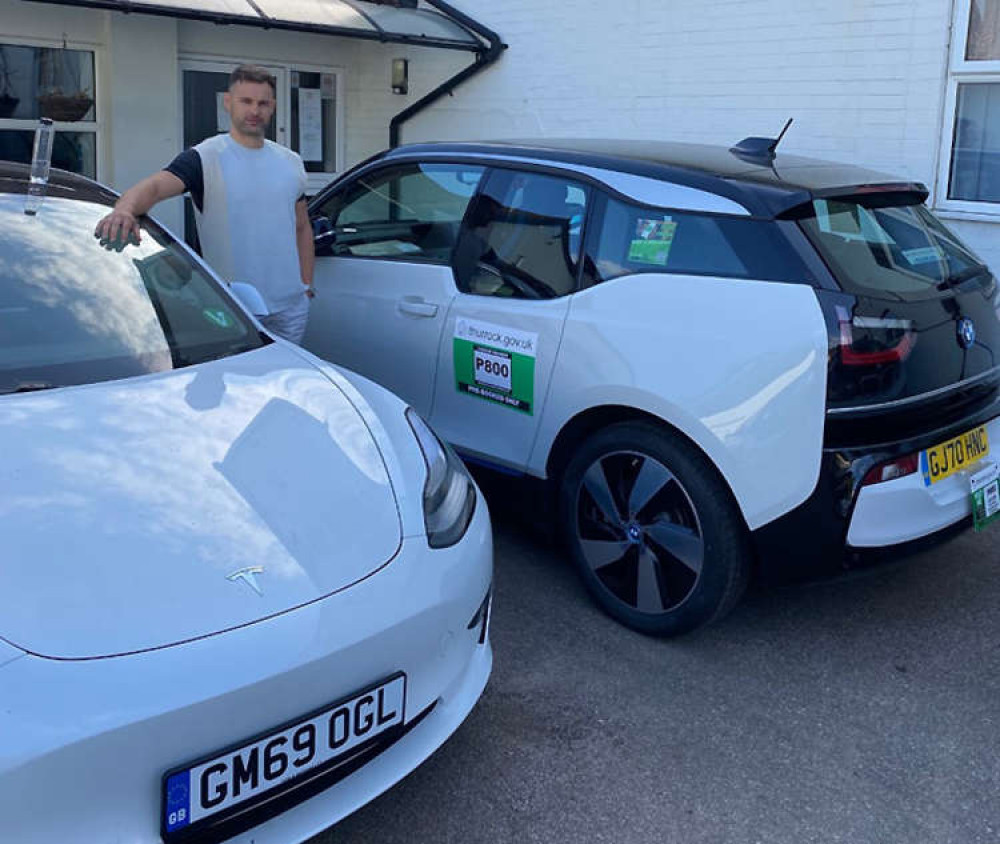 Dacian Keran with two vehicles from the BMW and Tesla fleet based at the company's HQ in Grays.
A PIONEERING businessman based in Grays is backing his belief in the town with a series of business ventures and - after taking a bite out of the local catering market - is poised to revolutionise local transport options.
In August last year, just before Covid-19 struck hard and a lockdown was imposed that shut down the entertainment industry, Thurrock Nub News reported on the launch of a new restaurant in Grays.
Despite the huge problems caused to a fledgling business, entrepreneur Dacian Keran and his business partners and supporters kept their heads up and as things have eased the business has moved from strength to strength.
And throw into the mix the launch of LuLu Cakes and Bakes in the premises next door and it's clear to see the ambition to help revive the local High Street.
Now the attention has turned to transport and a significant investment in a new business that is not only offering high levels of comfort and quality, but is rubber-stamped through and through with green credentials.
'Vert' isn't just a taxi company, it is an innovation with a bespoke phone application that rivals the Uber network and is offering a fleet of electric, high quality vehicles to get passengers to destinations near and far.
The borough's first all-electric private hire and executive chauffer service is hall-marked with quality.
It is currently offering an introductory £5 a ride service within the borough, which is winning new friends and fans and also repaying them with offers for sharing the company's message. Vert is promising a new high standard in courtesy, efficiency and safety.
Together with its sister chauffeur service which offers a fleet of Tesla vehicles, Vert's local service is exclusively using electric BMW vehicles, offering an unprecedented level of luxury in the local transport market. All the vehicles are registered and approved by Thurrock Council's licensing service.
Using Vert is simple. All you need to do is download the Vert app, set up an account, and then use the application on your phone to summon a ride – and pay for it.
Nub News will shortly be featuring this growing company in detail, but for the moment – if you want to find out more or download the app, simply click here.