Another plan submitted for homes on controversial site in Badgers Dene just months after councillors celebrated 'victory for common sense' as previous bid was rejected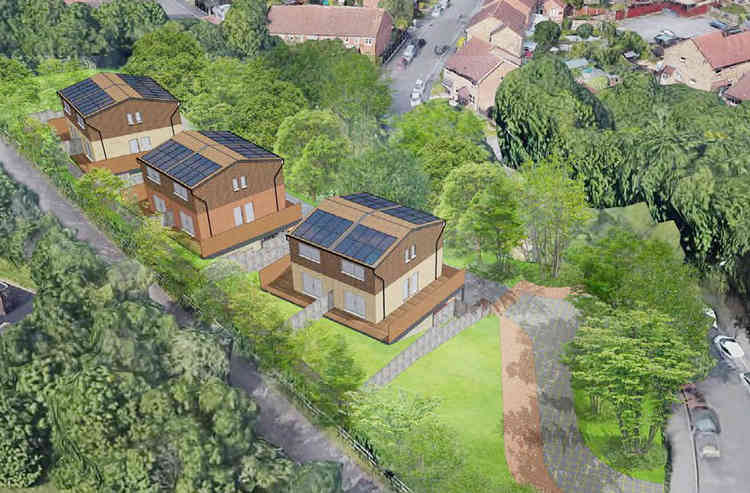 DEVELOPERS have come back to Thurrock Council with new plans for a controversial housing development - despite having been refused permission previously after a concerted public campaign by residents and local councillors.
The original plan was rejected on 14 February this year when councillors voted 7-1 against it – despite officers recommending approval. The decision was welcomed by ward councillors as a victory for common sense.
However, a revised proposal for six two bedroom homes on the site in Badgers Dene has now been submitted.
The new scheme is of a different design but it is likely residents will seize on their former arguments to object. They believe the area is a haven for wildlife and a precious open space and should not be developed.
Submitting the new scheme, the applicants say: "Access will be via Helleborine for all vehicles with a hammer head cul-de-sac at the end of the development. A one-way entry is proposed from Helleborine nearby the existing bollards to create a drop-off and pick-up point, whereas a road priority entry and exit is proposed for the residents.
"A shared surface with pedestrian and cyclist connection only (non vehicular) is proposed to connect Hellebornie and Meeson's Lane; with extra bollards on the Meeson's Lane junction.
"The proposal creates a new entrance to access the site from Helleborine, close to the junction with Meeson's Lane, through a proposed 'roundabout'. Subject to detail engineering design and approved road standards, this would help regulate the traffic both accessing and leaving the site.
"The development consists of six two bed semi-detached houses, with GIFA's above the National Space Standard, built on top of a steel or concrete base. The structure for the houses has been designed to accommodating existing site levels, and provides a platform which has a dual purpose.
"On one side it keeps the ground level free to reduce the building footprint and allow the use of the ground floor as parking. On the other side, spanning towards Meeson's Lane higher ground level offers garden area accessible from first floor level. This strategy helps in retaining the existing levels to form the back gardens, minimising the cut and fill and maintaining the existing tree line.
"Two car parking spaces are provided for each house (with potential to provide electric car charging points)."
The full application - and the opportunity to comment - can be found via this link.