Art mirrors life in more ways that one. The latest Courts Players production is Strictly on cue!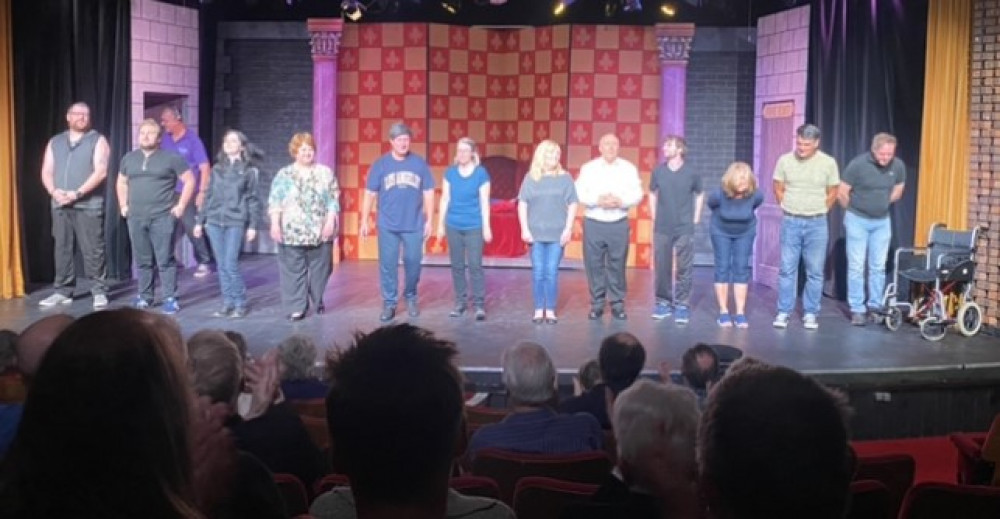 Curtain call for the cast and crew.
THERE are many parallels in life and reality between Thurrock Courts Players' latest production at the Thameside Theatre which opened tonight (Thursday, 22 September).
The most obvious is the juxtaposition of the play's plot – about a theatre threatened with closure from its local council – and the Thameside and Thurrock Council. 'A Bunch of Amateurs', written by Nick Newman and Ian Hislop, could not have arrived at the Thameside at a timelier moment.
But there was, at least for part of the evening, another quandary. It is the dilemma facing a local reporter asked to review a play featuring amateurs on stage and contrasting it with the many highly, professional productions the writer has viewed over the years.
To be honest, midway through the first half this writer was poised on the edge of uncertainty. Should I be kind, but not honest, or should I feign the insincerity portrayed by the play's leading character Jefferson Steel?
Looking around me during the interval break I could see a similar scenario of thought as members of the audience sipped their drinks and discussed the merits of what they had seen. It wasn't bad, far from it, but it was - when balancing the sum of all its parts - at that point a trifle disappointing.
There were clear stars already shining, not least Victoria Grayling who seized the stage and was in total command of her role as Dorothy Nettle – the imaginary theatre company's director, clearly wearing her genuine Thameside heart on her theatrical sleeve.
And cameos from Jill Snelling as the sensually soft-hearted Mary Plunket and Michael Southgate playing daft as a brush Denis Dobbins enriched the performance.
But I don't believe it would be unfair at that point to say that Trevor Povey, as lead character Jefferson Steel, was struggling to find his feet. When everything in a show pivots around your performance, it's easy to get distracted and worry about others rather than yourself and I believe his unselfishness in doing that took the edge off his performance.
However, come the second half – which I suspect some disheartened attendees missed by slipping away disappointedly into the night – the whole cast hit their straps.
None more so than Trevor, who I suspect will grow and grow into the lead role over the next two nights and who definitely won the hearts of the audience. And the increased polish in performance also came from Jim Wilkinson as the pompous Nigel Dewbury, part villain of the piece and yet somehow gaining our sympathy as a man with a dream that looked increasingly likely to slip beyond his grasp. The main cast also comprised Michelle Gouldie who again grew in confidence as the plot unravelled and the youngest member of the cast, Lily Grayling, who was everything a disenfranchised, seemingly unloved teenage daughter with a heart of gold should be. Every dad in the audience will have warmed to her as I certainly did – and a few mums too!
I haven't unravelled the plot in this review, it would be wrong to do so. I was unfamiliar with the way the denouement would unfold and it would spoil it for you if I told you now.
I started by reflecting on how art mirrors life in many ways. Within the script are references to staying at home and watching Strictly rather than stepping out and supporting your local theatre and its players. The message was, 'you won't know what you are missing until it's gone'. Never were truer words spoken! You can record Strictly, which starts this weekend, but you won't see the like of this show very often.
Don't expect perfection, you will be disappointed. But you can assuredly expect to be entertained and maybe even moved.
Another memorable production from the Players, admirably directed by Vic Gray who is, I am sure, never more proud of what his company (off stage and off) has achieved and what they stand for than tonight.
You can still book tickets via this link.