Hundreds in fear of losing jobs after council finance chief confirms budget cutbacks - but leader suggests political assistants should be appointed at £50K a time!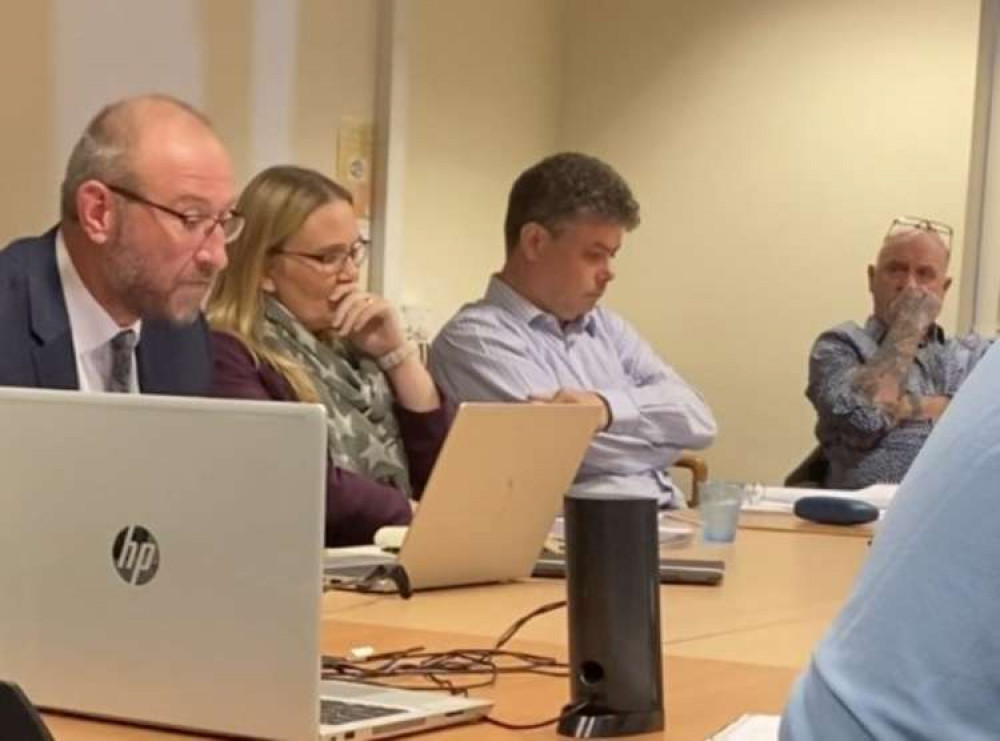 Pensive expressions as Sean Clark (left) delivers his report.
HUNDREDS of Thurrock Council workers will go into Christmas worried if they will have a job in the new year after the authority's finance chief confirmed he and fellow directors are looking at how they can slash at least 200 existing occupied posts from the council's payroll.
And he warned: "No one is safe!"
Corporate director of resources and place delivery Sean Clark, whose £130,000 plus salary and job seems unlikely to be one of those culled as the council seeks to cut more than £30 million for its budget, was speaking at this evening's meeting of the corporate overview and scrutiny committee.
Mr Clark, a hugely controversial figure in recent years as the architect of the currently cash-strapped council's troubled borrowing to invest strategy that landed the borough with a £1.4 billion debt at one point, was detailing the medium term financial strategy and budget proposals as next year's financial strategy is plotted.
With a projected budget gap of £34.3m over the next two years, Mr Clark delivered a summary of the proposed actions to deliver savings.
The key driver in bridging the huge gap is saving on wages and though Mr Clark said a significant number of the lost jobs would be by continuing to fill posts that were currently vacant, he estimated that 'between 200 and 250' currently in a job would find themselves out of work in the coming months.
And in total up to 500 full time equivalent jobs are set to be lost.
Mr Clark began his address by warning councillors on the committee that met tonight (Tuesday, 16 November) at Thurrock Resource Centre and saying: "I have got concerns over if we will have enough money" – a far cry from recent years of the council's ruling Conservative group hailing him as financial guru for his commitment to borrowing hundreds of millions to fund the council's aspirations by reinvesting it.
In the past 12 months that dream of financial security has turned into something of a nightmare with failed deals, dodgy consultants and the failure of bonds in green energy generation struggling to deliver expected dividends - and some deals resulting in likely significant losses.
Mr Clark's stature has been on the downturn and has prompted major investigations that suggest considerable impropriety in the council's financial dealings.
He is currently plotting the financial escape route but it seems it will only be at the expense of many workers' livelihoods.
Pressed by Labour group leader Cllr John Kent about how many people currently in work would be out of a job, Mr Clark said: "I have got to be careful but roughly 200 to 250 people.
Asked where the axe might fall by Cllr Kent, and how jobs to go would be identified, Mr Clark continued: "We have been holding a lot of vacant posts and we want to try and do this with minimal impact."
He suggested that new technology could be a factor, referring to 'robotisation' - literally saying people could be replaced by automation, saying: "We are looking at what jobs could be supported by a digital efficiency review.
"Each director is having to look at how his or her directorate works."
Pressed again by Cllr Kent who said: "Is nobody safe?" Mr Clark concluded: "I would say there is no safe area."
Cllr Kent then asked if the council had begun negotiations with unions over the swinging job cuts to come, pointing out that if it wants to make more than 20 people redundant, the council has by law to notify the Secretary of State, unions and employees of its intention. That is a statute known as a HR1 redundancy notification and it sets the clock running on how long the council has to sack staff.
Mr Clark said he didn't know what an HR1 notice was and he wasn't sure if negotiations had begun, though be believed the council had started talks with unions.
He did say that he and fellow directors were working on drawing up a list of which posts could be culled and that 'posts to be lost will be finalised within two or three weeks'. Asked when councillors might be told of the details, he replied: "I can't tell you how and when we can do that."
He did add that the council had earmarked up to £1.5 million from its reserves to pay for any redundancy settlements!
While the council is sharpening the axe to slash dozens of front line posts, it appears hugely incongruous that at the meeting of the full council next month Conservative leader of the council Rob Gledhill, is proposing that the council funds political assistants to help councillors.
He has produced a report calling on councillors to consider the employment of political assistants to support the Conservative and Labour groups. The assistants could be paid up to £40,000 a year, as Mr Clark adds in an addendum to the report that the overall cost would be more than £50K per new post.
Cllr Gledhill's report says: "Members have expressed, through the October 2019 report to General Services Committee that political assistants would help their political groups keep abreast of government policy better and improve their ability to engage with meetings and activities in the council more fully."
Speaking to Nub News in the wake of this evening's cost-cutting meeting, Cllr Kent rubbished Cllr Gledhill's report and said: "Whatever and whenever the origins of this idea were, now is not the time to implement it and I will be asking Labour members of the council to oppose this inappropriate suggestion at a time when people who work for the council in roles that really matter on the front line of services face losing their jobs."