Payback begins as Thurrock Council's loans become due - but finding the cash may be problematic and expensive, expert warns.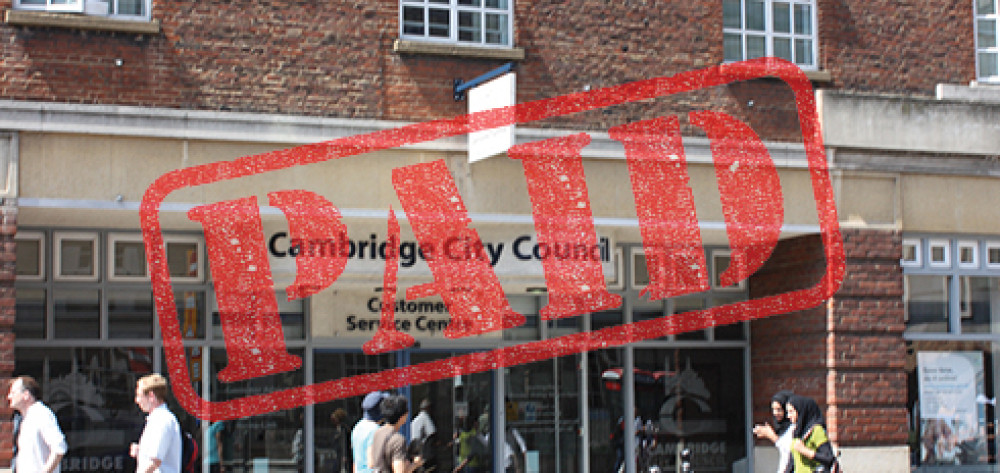 WHILE concern has been growing about long term debt that will be accrued as Thurrock Council seeks to pay off its debt mountain to other local authorities, one council has been able to report repayment of part of its loan.
Earlier this week, prompted by media enquiries, Cambridge City Council reported that its was expecting repayment of a fixed short term loan, believed to be in the region of £5 million.
A spokesperson for the council, said: "Cambridge City Council currently has loan agreements with Thurrock Council. These loans were made on a fixed short-term basis and a majority of the money owed to the council will be returned within the next two weeks when the agreement comes to term.
"All lending of money is made in line with our approved credit list, which Thurrock Council was on at the time of borrowing."
Today (Thursday, 15 September) the city authority's executive councillor leading on for finance, resources and transformation, Labour's Mike Davey, told Thurrock Nub News: "Thurrock Council, repaid the first of their loans from us, in full on 13 September."
Cambridge lent £15m to Thurrock in three short term loans, the first £5m of which was repaid on Tuesday with another £5m set to mature next Tuesday and £5m in December.
However, in what may an indicator of problems that may face Thurrock in the future as it seeks to find the finance it needs to meet its existing obligations, the spokesperson from Cambridge confirmed: "We will not be looking to place further funds with Thurrock Council until we are happy with their level of financial risk and debts."
The latest government figures for the first quarter of the financial year show Thurrock has £941m outstanding in short term loans from other councils.
Rob Whiteman, the chief executive of the Chartered Institute of Public Finance and Accountancy, has warned of the problems Thurrock may face as it seeks to borrow more cash. He believes the £941m that government figures show Thurrock owes in short term loans from other councils, will be repaid, but added: "Thurrock faces paying higher rates and the prospect that government will cap its total borrowing and force it to make asset sales. Their finances are in a highly parlous state."
He emphasised that councils which have loaned money to Thurrock will not lose their investment as the government will take steps to ensure liabilities are met as part of its intervention.
"Generally, lending money for cashflow management purposes is an effective tool for councils to reduce using banks and so pay less interest," he said. "That said, many councils have already stopped lending to Thurrock because of the concerns about its high level of all forms borrowing, and the added concern that the element of their borrowing from other councils has been used to resource investments and not just for short-term cashflow management."
The Local Government Chricle has slisted the amounts that Thurrock oes to other authorities.
Aside from Cambridge City, the list includes:
Cornwall Council
Cornwall has a £20m loan to Thurrock which started November 2021 and is currently due to mature in November 2023.
The council described it as "a rollover of previous loans to Thurrock, who have always repaid to the council in line with the agreements made".
Cambridge City Council
Cambridge lent £15m to Thurrock in three short term loans, the first £5m of which was repaid on Tuesday with another £5m set to mature next Tuesday and £5m in December.
Derbyshire
The county council has lent £30m to Thurrock in three £10m tranches transferred in April and due to provide returns in April 2023.
Meanwhile, the Derbyshire Pension Fund, has also transferred £30m to Thurrock this year in six £5m loans, one as recently as August 31, with some due to mature later this year and into early 2023.
Derbyshire Pension Fund's July 2022 investment portfolio valuation shows it was worth £6bn, meaning £30m would represent 0.5% of its value. Derbyshire has also lent £30m to cash-strapped Croydon LBC and £20m to Eastleigh BC.
The pension investments in Thurrock have sparked anger from the GMB union calling it "irresponsible at best" and calling on the council to "publicly guarantee workers' pension funds right now".
A spokesperson for Derbyshire County Council said: "As the administering authority for Derbyshire Pension Fund we continue to monitor the situation at Thurrock Council as part of our ongoing treasury management activities. We'd like to reassure all pension scheme members that their pensions are at no risk regarding these loans."
Furthermore, LGC can reveal Thurrock also has a loan out from Derbyshire police of £6m.
The constabulary said: "We have noted the Government's appointment of Essex County Council to the role of Commissioner and Best Value Inspector at Thurrock Council, and we will continue to monitor the situation at Thurrock Council as part of our ongoing treasury management activities."
Guildford BC
Guildford invested £10m with Thurrock in March 2022 at a rate of 1.35%, with the loan maturing next March.
Exeter City Council
Exeter lent Thurrock £5m in a six month loan repayable in November 2022 at a rate of 1.2%.
Peterborough City Council
Peterborough has a £5m investment loan with Thurrock maturing on Monday 19 September.
Islington LBC
Islington's £15m investment with Thurrock is also due to be returned in November. It said in a statement that "inter-authority loans are common practice in local government."
Waverley BC
Waverley loaned Thurrock £10m in two tranches this year, both due in 2024.
Halton MBC
Halton has loaned Thurrock £30m, which according to investigative reporter Gareth Davies represents more than half of its local authority investments.
West Sussex CC
West Sussex loaned Thurrock £20m, half of which is due back at the end of this month, with the other loan maturing in August 2023.
The council told LGC: "We do not have details from Thurrock regarding what the loans are covering but it is anticipated that the borrowing would be to cover spend in their capital programme."
Leeds City Council
Leeds invested £15m with Thurrock in March, with the debt maturing tomorrow (Friday 16 September).
Newcastle City Council
Newcastle lent Thurrock £15m in two loans, both due back later this year.
Buckinghamshire Council
Buckinghamshire provided a one year, £10m loan to Thurrock in January.
Spelthorne BC
Spelthorne has lent Thurrock £10m in two £5m tranches, both due to be repaid in January 2023.
Tendring DC
Tendring has £6m invested in two loans to Thurrock, each of £3m and repayable in the next five months
Castle Point BC
Castle Point has lent Thurrock £3m, repayable May 2023
Maldon DC
Maldon has lent £2m to Thurrock, repayable in October 2022
Cambridgeshire & Peterborough CA
The combined authority has an outstanding loan to Thurrock of £5m, due to be repaid in March 2023
Somerset CC
Somerset loaned Thurrock £15m in three loans, all taken out this year and most recently in July
Wigan MBC
Wigan provided a £5m loan to Thurrock Council this July which is due to mature in January
Brighton & Hove
Brighton & Hove has two outstanding £5m loans to Thurrock, one to be repaid in October and the other in May 2023
Derby City Council
Derby City Council lent £7m to Thurrock in February with the money due to be repaid in January 2023. But it said in a statement that "The council's chief finance officer withdrew Thurrock from the list of approved local authorities to make new investments on the 18 July 2022".
South Derbyshire DC
The council has £5m invested in a loan to Thurrock set to mature in April 2023.
Sutton LBC
Sutton currently has a £5m loan investment in Thurrock due to be paid back in November.
Herefordshire Council
Herefordshire has a £5m loan out to Thurrock with a maturity date of October 2022.
West Suffolk Council
West Suffolk has lent £5m to Thurrock in a loan due to be paid back in December 2022.
Horsham DC
Horsham has two loans outstanding to Thurrock, one for £2m and one for £3m, with both to be paid back next year.