Plans for new West Thurrock logistics centre include major new community building. Developers pledge strong consultation with local residents

The planned new logistics centre.
PLANS are being developed for a new logistics centre close to M25 motorway Junction 31 in West Thurrock which the applicants say will provide 700 new jobs if approved.
And they say they are committed to surmounting local opposition based on the fear of more HGVs using nearby Aveley's roads. The scheme includes a new roundabout that will be funded by developers which they say will provide a solution to the problem of HGVs accessing the village.
The search for a 'silver bullet' solution for Aveley's traffic issues has been allied to historic planning applications, including plans to redevelop the Thurrock FC ground on Ship Lane. To date, they have fallen foul of local residents' wishes.
However, this latest application suggests a commitment to working with the local community to find a workable solution and a consultation process has already been set up.
And the commitment to providing better facilites for the local community is underpinned by a relationship with a charity that has strong links to young people in the region.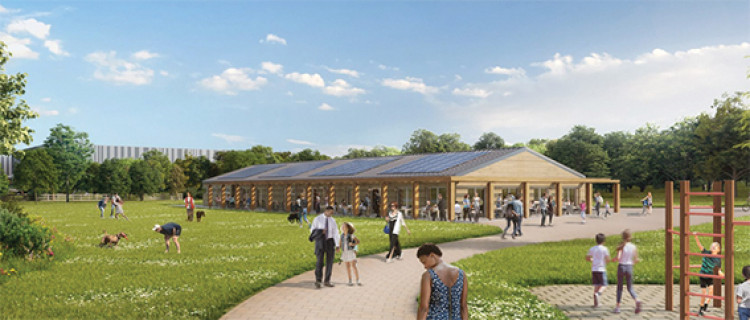 The proposed new community facility to be operated by Essex Boys and Girls Club.
The scheme has the support of the Essex Association of Boys and Girls Clubs as it includes a new community hub building that will be available to the wider community. The proposals also provide outdoor recreational facilities, including a dog adventure playground, outdoor gym equipment and educational woodland walkway.
Some artist's impressions of the scheme have been shared by the applicant's planning consultants, Iceni Projects, which show what the new logistics centre, Mardyke Valley walkway and community hub will look like when constructed.
The applicant has this week undertaken a leaflet drop to residents in both Purfleet and Aveley. Those wishing to comment on the proposals can either complete the freepost questionnaire or visit the website www.mardykepark.com.
A consultation event with local residents will take place at Aveley FC on Park lane on Wednesday, 28 September, from 4 pm to 8pm.
The planning application is expected to be submitted to Thurrock Council next month (October 2022) and it is likely to be determined by Thurrock Council in early 2023.