Policing decision put on hold after Nub News editor explains why, in his view, a decision to change town cop deployment in secret would be an affront to democracy
THURROCK councillors have deferred a decision on changes – or possible cuts – to town centre policing in Tilbury and Purfleet after the intervention of Nub News editor Neil Speight.
As reported exclusively on Nub News last week, members of the borough council's Cleaner, Greener and Safer Overview and Scrutiny Committee were asked to consider – in secret - the funding of a contract with Essex Police, due to end in April, of town centre police officers.
They were given options which included cancelling the agreement with Essex Police to fund the officers or redeploying officers in other ways across the borough.
A report before councillors not only suggested changes to the deployment of the four officers allocated to Tilbury and Purfleet, but that seven officers in Grays, South Ockendon and Stanford-le-Hope might also find their roles changed or the funding axed next year.
Confidential papers were leaked to Mr Speight, who brought the matter into the public domain, saying it was a showcase policy of the ruling administration that should not be discussed behind closed doors.
When it came to a vote on whether to go into exempt session or not this evening (Tuesday, 24 January), members of the committee were split 3-3 – following a spat between Tory Paul Arnold and independent councillor Gary Byrne, who was accused of 'appalling behaviour' and 'grandstanding' by his political arrival.
Labour councillor Sara Muldowney shared her concerns about why the discussion had to be in secret, a view shared by her colleague Cllr Daniel Chukwu.
Cllr Byrne had challenged committee chair, Conservative veteran councillor and former mayor Joy Redsell about the reasons why the debate was scheduled in secret when it was a matter of genuine public interest.
Cllr Arnold took exception to the challenge – which smacked of irony on the day when a government minister had damned his group for trying to bend the rules, ignore the council's constitution and act unlawfully to further their own political position.
Local government minister Lee Rowley said Thurrock Conservatives had 'erred heavily on the side of non-disclosure which has hindered the ability of members to receive the information they need'.
He said they sanctioned restrictive measures on the democratic process and the suspension of council procedure rules did not align with requirements of the law.
It seemed the need for secrecy was again stopping debate again this evening, despite repeated statement by the council's Conservative leader Cllr Mark Coxshall that openness and transparency were now the driving forces behind his administration.
When a vote resulted in a 3-3 split, Cllr Redsell appeared ready to vote to go into exempt session but following a request from Mr Speight prior to his possible exclusion, she allowed him to address the meeting.
Mr Speight said: "I have had many, many years of covering council meetings, probably far more than anybody in this room.
"There is no reason (to go secret), and you clearly know I have read the item that is on the paper. There is nothing in that paper that related to individual people, their business affairs and their situation in life.
"There are four police posts under discussion, which are 'posts'. They are not people, they are posts. The people who are serving in those posts are deployed on the behest of the divisional police commander.
"There is no suggestion at any point in this paper that those people will be damaged financially by whatever you decide to do. No individuals are named.
"There have been many instances where pink papers are there, members are allowed to debate it and are warned by the chair that they need to be careful about what they say, and if there are any aspects of the conversation which clearly are confidential they can be left to the end of the meeting and the press may then be asked to leave, but the debate should be held in public.
"That is my understanding of the situation.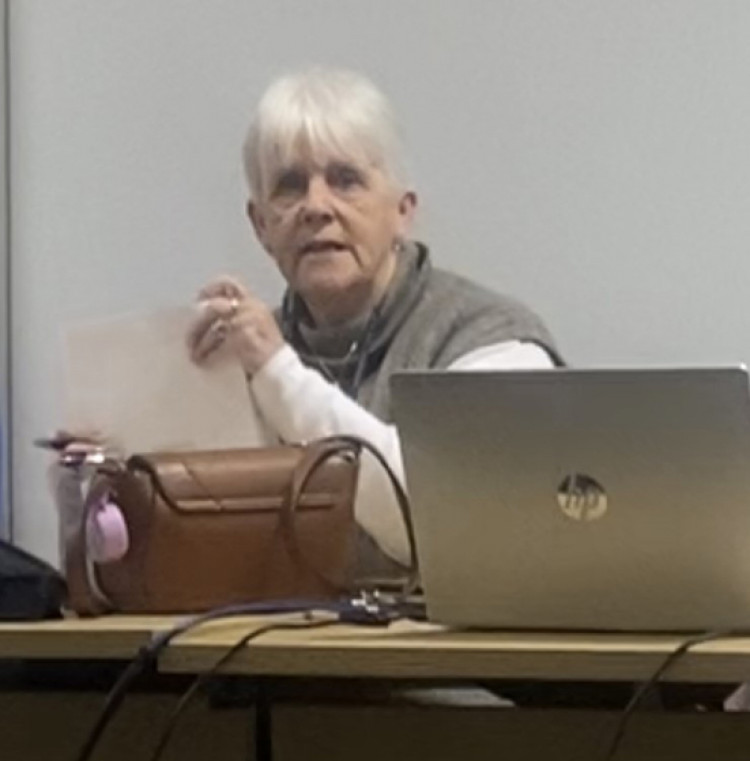 Committee chair Cllr Joy Redsell refused to put her casting vote in favour of secrecy after listening to comments from Nub News editor Neil Speight
"Forgive me for politicising it but this is a showcase policy of the Conservative administration that you have banged on about for a long, long time.
"It's been an absolute flag waver for you that this administration, to its immense credit, has funded extra policing in this borough. You (Cllr Redsell) have been a particular champion of that, which is marvellous and has been successful.
"There is a very real possibility, through circumstances not of your making, that that flag waving may have to stop and those police officers may be removed.
"The only reason why you wouldn't want it in the public domain, as a group; as an authority, is because it embarrasses you.
"Embarrassment alone is no reason to go into exempt session.
"At the end of the day chair, you have a casting vote. If you would like me to stay, I will stay. If you would like me to go, I will go."
Cllr Redsell said that she had read the background to the decisions she had to make in the same way and that she couldn't see any way why the debate was scheduled to be held in private.
She referred the matter to her colleagues on the committee and it was unanimously agreed it would be inappropriate to debate the decision without taking further legal advice.
"Thank you for your input Neil, it is much appreciated", she said before drawing the debate to a close.