Remembrance returns to Coalhouse Fort
THURROCK's season of Remembrance ended in traditional fashion today (Sunday, 27 November) with a one-off opening of Coalhouse Fort.
For two years the Fort has been closed for all but ocassional public access while its future is in limbo, but as a mark of future intent and commitment to the Fort, the Council cleared the southern parade ground inside its walls and spruced up the memorial there for a short service.
It was taken by Rev Michèle Marshall from neighbouring St Catherine's Church and a parade to and from the fort was led by the Corringham-based Sutherland Pipes and Drums. After an opening prayer South Basildon and East Thurrock MP Stephen Metcalfe read verses from 'In Flanders Fields' by Lieutenant-Colonel John McCrae.
The Royal British Legion Exhortation was said by Second World War veteran Jim Gooding and the Kohima Epitaph read by Mike Ostler, representing the Far East Veterans Association. Last Post and Reveille was played by Sarah White of Tilbury Band.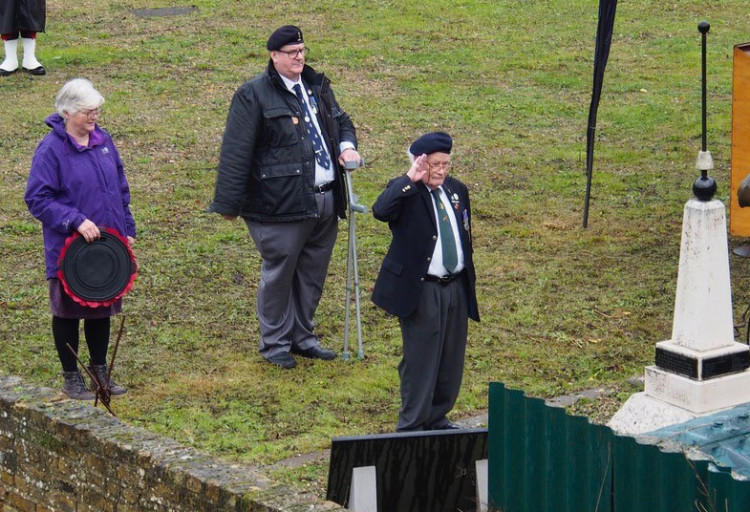 Mike Oster and Rod and Sabine Oakley laid wreaths.
Wreaths were laid by borough mayor Cllr James Halden, Mr Metcalfe, ward councillors Sue Sammons and Fraser Massey, Cllr Qaisar Abbas, Thurrock's Council's portfolio holder for communities, Cllr Steve Liddiard (representing Labour) and representatives of Tilbury and Grays Thurrock Royal British Legions. Mr Ostler also laid a wreath on behalf of the Far East Veterans. Standard bearer was Jack Webb of Grays Thurrock RBL.
Cllr Massey concluded the service with a reading of the Lochnagar Promise: "We promise to honour all those who fell, and to strive each day, to make the world around us a place of more compassion and kindness; respect and tolerance; forgiveness and reconciliation. Let us now, in their honour, wage peace."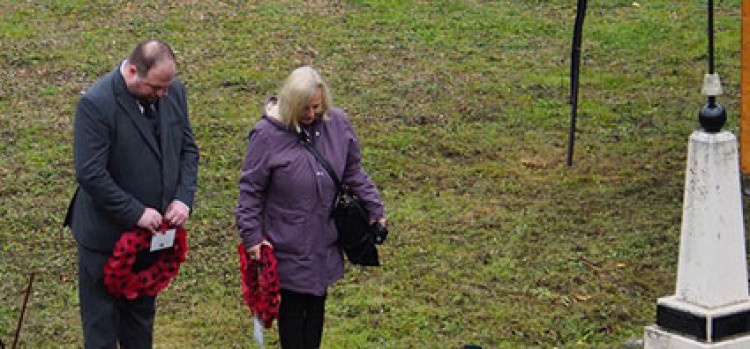 Cllrs Fraser Massey and Sue Sammons.
After the event guests retired to the Ship Inn in East Tilbury village.
The event was organised on a non-political, non-partisan basis by Thurrock Nub News editor Neil Speight who said: "Today's service was able to take place thanks to a commitment by Thurrock Council to recognise the importance of this historic venue to the borough community and to pay tribute to the fallen from Thurrock who gave their lives in the service of others.
"I asked the authority if it might be possible to restore, albeit briefly, a part of the fort which has lain fallow for several years while its future is decided. Today's service came with no promises, no prior commitment and with no intent other than to respect this place's history and those who served here and on battlefields around the globe. I hope though, it is something of a catalyst in bringing a planned future for the fort to fruition.
"My grateful thanks to HPE (Hendersonperryentertainment.com) for provision of the PA system and recorded music and to Advanced Building and Maintenance Services for covering incidental expenses. And to East Tilbury Coummunity Forum (Welcome) for providing insurance.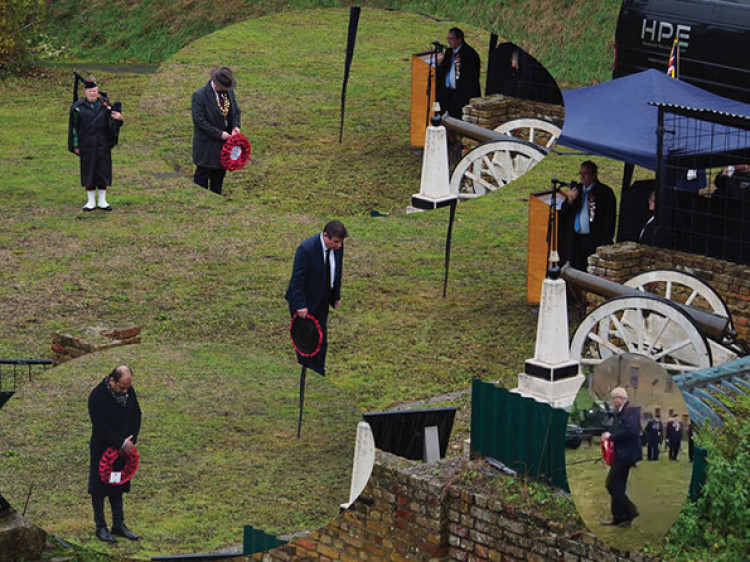 MP Stephen Metcalfe (centre) and Cllrs James Halden, Qaisar Abbas and Steve Liddiard laid wreaths.
"Mention must also be made of acting Thurrock Council CEO Ian Wake, council leader Cllr Mark Coxshall, Coalhouse Ranger Ray Reeves and Recreational and Leisure Services manager Juhar Ali and their colleagues for making this happen, despite extraordinarily tight deadlines, and for supporting this idea.
"And to those participants in the service - particularly all connected with the Sutherland Pipes and Drums. It was a memorable morning."