Top council officer tight-lipped and tells councillors it would not be appropriate to tell them how much the A13 widening project is overspent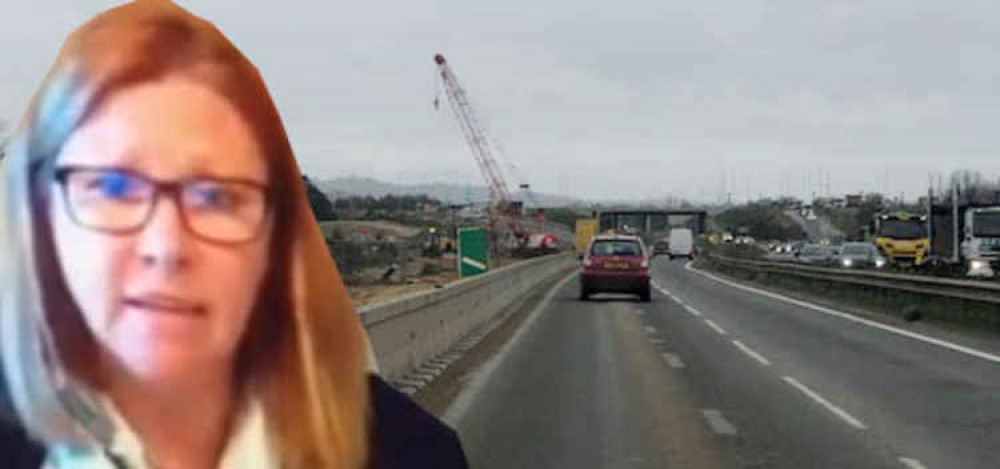 Anna Eastgate could not give councillors details of how much the A13 road widening project is over budget
THE Thurrock Council officer responsible for the A13 widening project declined to tell councillors how much the programme has bust its budget.
Assistant Director of Infrastructure Projects Anna Eastgate was tight-lipped as she faced up to members of the council's standards and audit committee.
She was quizzed by committee chair Cllr Gerard Rice about how much the project has overspent but she responded by saying: "The budget is being reviewed, we are undertaking a detailed review, it wouldn't be appropriate for me to comment."
The budget for the widening of the A13 between Stanford-le-Hope and the Orsett Cock roundabout has ballooned from an initial £79 million to the most recent estimate earlier this year of £114.67 million - a gap of almost £35 million.
However, the council's official position is that as the project was rebudgeted after it started, the starting point should not be £79 million and the project is 'just' £27 million short!
Councillors had wanted more clarity but were told they will have to wait until the latest budget review is completed.
Cllr Cathy Kent wanted to know what progress the council has made towards finding the missing finance - so that council taxpayers in Thurrock didn't have to pick up the tab.
She asked: "Is there a timetable of dates towards any extra funding we might get.
"We are told there are lots of conversations going on about putting money in and not losing the money we have been promised. But can you give us any information?"
Ms Eastgate responded: "I think we are on pretty safe ground with the funding we have secured. We are on programme to spend the budget we have identified up to the end of this financial year and it will be spent in the timeframes we have to spend it.
"The work on the funding gap is ongoing across various different departments to come up with how we will bridge that funding gap. When there is further information available we will report back."
Cllr Luke Spillman said he was 'suspicious' because Ms Eastgate's report was short and did not contain any further bad news about the project and he asked her what was 'missing'?
And he added:" "Since you last briefed us what is the worst thing that has happened on this project?" He was told: "We have lost a little bit of continuity on the project. "The project is a challenging one and we will work as hard as we possibly can. We are working incredibly hard." Cllr Gary Collins noted that Tarmac was being laid on parts of the project but he was concerned it appeared a bit 'thin'. He asked how long it was expected to last and was told five years! Ms Eastgate also told councillors that the project remained on track to be open for traffic for autumn/winter 2021.