Thurrock-based Jikishin Ju-jitsu return from Spain with top European awards
---
A THURROCK-based martial arts club, which meets at Stanford-le-Hope and East Tilbury, is celebrating success at a recent European Championships in Spain.
Youngsters who represent the Jikishin Ju-jitsu club at a wide number of age ranges returned with a host of medals and titles from the event in Vegadeo.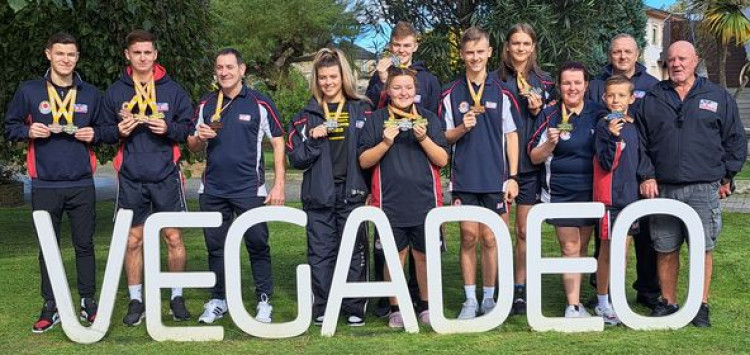 The club's winning competitors.
Club members meet and train on Mondays at the Welcome Club in Stanford and on Wednesdays at East Tilbury Village Hall.
One of the club's stalwarts is Sarah Bull who travelled and competed in spain and said: "We are tremendously proud of all the young people in the club, our coaches and all the parents and families who support them.
"If anyone would like to learn more about the club visit our Facebook page. We would be delighted to see you at one of our evenings."
The medal winners were:
Youth Boys - Ollie & Max Bronze
Youth Boys - Enzo & George Silver Medal
Junior Boys Matthew & Kristos Gold Medal
Junior Boys - George & Olivia Silver Medal
Junior Boys Kristos & Matthew - Bronze Medal
Masters Men - Eddie & Matthew Bronze Medal
Junior women - Olivia & George Gold Medal
Junior women - Katie & Max Silver Medal
Masters Women Sarah & Olivia Gold Medal