Rocks lead the way, Dockers delight their travelling fans but it's frustration for Millers and disappointment for Grays
---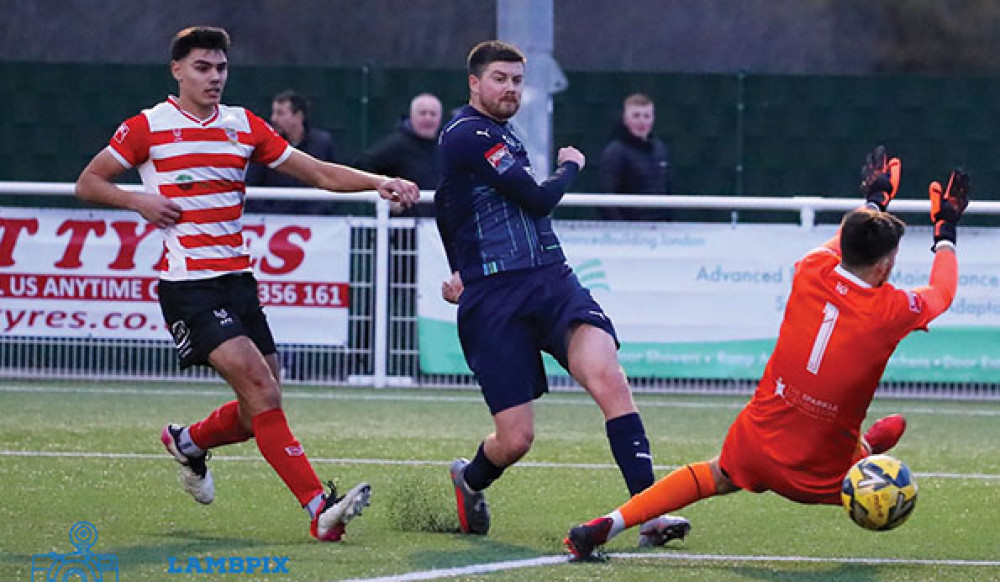 This Aveley effort by George Sykes, captured by photographer Kevin Lamb (Lambpix) looked goalbound but on a day of frustration for the Millers it failed to break the deadlock.
AFTER an atrocious opening to the season which saw them pointless after four matches and they remained in the bottom six until the second week of October, East Thurrock United are heading the borough triumvirate of clubs in the Isthmian North division and Marc Harrison's team are starting to look like promotion contenders after today's (Saturday, 26 November) win against long time league leaders Lowestoft.
Admittedly the Trawlerboys' star is not as much in the ascendancy as it was when they romped through the first couple of months of the season with a 100 per cent record but they remain a side to beat - and Rocks did just that today at Rookery Hill in a thoroughly entertaining match played out in front of a marginally disappointing crowd of just 229.
The match was evenly contested throughout. The sides shared nine yellow cards and Lowestoft suffered a straight red when John Harvey got his marching orders in the 73rd minute.
By then the decisive goal had already been scored, Roman Michael-Percil netting for Rocks on 63 minutes.
Rocks ended the day in eighth place, two slots above Grays Athletic - who suffered a disappointing 2-0 defeat at lowly Hullbridge Sports.
Blues supporters struggled to find words to come up with an evaluation of the performance, making one comment that they were 'nondescript' totally valid.
Over the 90 minutes Grays enjoyed the better of possession but were unable to convert any of a number of chances. In contrast Hullbridge had fewer opportunities, but took two of them
Darius Guinea opened the scoring on 29 minutes and George Smith wrapped the result up with Sports' second with 16 minutes remaining.
Tilbury knew anything other than a win at struggling Gorleston would be a pivotal moment in an inconsistent season to date.
But the Dockers stepped up to the challenge and won emphatically in Suffolk.
The match was wrapped up just after the hour, when Tom Salter's goal put Tilbury four up.
The visitors were then possibly guilty of taking their foot off the pedal and Gorleston grabbed two goals back through Ross Gilfedder (77) and George Keys (86) but the final word remained with the visitors as sub Darnell Kithambo converted a 90th minute penalty.
Kithambo had come on as a 71st minute replacement for Martin Tuohy, who had put Tilbury ahead on 14 minutes and added a third on 34 minutes. In between Charlie Morris scored on 34 minutes.
So ten goals came in the three Isthmian North matches involving borough sides, but there were none in the Premier Division clash at Parkside where Kingstonian were Aveley's visitors.
The point was enough to ensure Millers ended the day third, behind leaders Potters Bar and second-placed Hornchurch who clashed at Bar's Lantern Stadium where Hornchurch won 5-2 thanks to a hat-trick from Liam Nash and two from Sam Higgins.
The match at Parkside flattered to deceive.
There was plenty of bright play and lots of possession for both sides, but real chances were few and far between and, when they came, they were spurned.