It's a numbers game - and they didn't add up for Thurrock in the end
---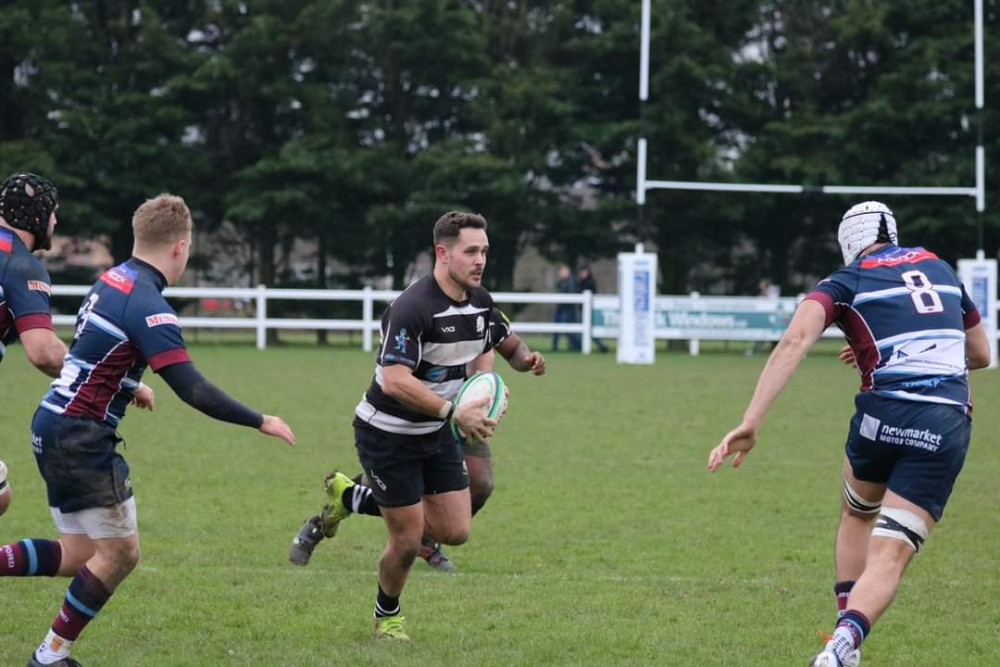 Thurrock lost out in the end.
Thurrock 12, H.A.C. 29
THURROCK entertained the Honourable Artillery Company at Oakfield on Saturday with high expectations after their return to form and a win the previous week.
H.A.C. is one of the world's most famous amateur clubs, formed in 1896 from the oldest serving regiment in the British Army. Today there are few servicemen in the team and their players are more likely to be bankers, civil servants or insurance brokers.
H.A.C.'s ground in the City at Moorgate is one of the most valuable in the world, but when they arrived at Oakfield, the league leaders were in awe of the world class facilities available in the splendid "hub of sport" which is being created in the heart of Thurrock.
Although looking down from the lofty position at the apex of the table, H.A.C were soon under pressure from this galvanised Thurrock team led by Ben Timson.
Wave after wave of attacks were expedited by some outstanding work from the pack, where Tani Loka, Timson, Holloway and Watts Adams led the way. James Rodger was prominent in the loose, while the front-row of Aaron Antrobus, Lawrence Brown and Tom Wileman scrummaged with authority and had a purple patch in continuous carrying!
A clever grubber from impressive full-back Rhys Cotter was superbly gathered by Niall Clifford with Harry Reynolds almost in at the corner. Thurrock were not to be denied though and, after a splendid passage of play, a fine 'miss pass' from the versatile Alex Jones found Rhys Cotter with Kye Holloway on the wide outside. Cotter threw the most subtle of dummies before his power carried him over the line to open the scoring near the soon to be completed new scoreboard!
Thurrock were clearly in the ascendanvy and continued to threaten. From a dominant line-out, the home team produced a magical period which threatened to put them out of sight of the City team.
Henry Bird is having a magnificent season and he accelerated though Floyd and Gannon as he took up a great angle from Eddie Stevens' short pass. Unstoppable, he converted his own try to put his team into a 12 point lead after just 17 minutes.
Inevitably H.A.C. would have their opportunities and a powerful break out by James Factor on half an hour allowed the centre Tom Gannon the luxury of ignoring a three man overlap to open his team's account. Scrum-half, Harry Bassett stroked over the conversion.
What was to follow altered the course of the game. Another fine exit led by Walsh, Archer and Factor (a City manager) meant that Rhys Cotter was left isolated as he tried to prevent a score. The referee deemed that the young man had been guilty of a high tackle in "The Red Zone" and gave a yellow card.
This seemed a little harsh but, inexplicably, his period in the bin seemed to exceed almost double the statutory penalty! Excuse the military symbolism, but this gave Captain Anfo- White the signal to rally his troops and they were not about to surrender the numerical advantage they had gained so fortuitously.
Now Thurrock were under siege and, although there was some courageous defence, this H.A.C. are unbeaten for a reason.
Bassett kicked the resultant penalty, before Jordan Slack started to control proceedings with Factor and Sam Dowell-Bennett to the fore and Bassett kicking astutely.
An injury to Antrobus, meant Denes' captain, Sam Jennings had a longer period of service than expected. Rob Murphy came on to replace the injured Jones before Jay Jennings made a welcome return from injury.
As Thurrock fought to get back into the contest, they were struck another mortal blow as brilliant young open-side, Kodie Holloway was sent from the field for what appeared an unfortunate decision. With Thurrock playing almost half the game with 14 players, this was now an uphill task. Nevertheless they fought valiantly and there were some tremendous last-ditch tackles as they strove to stay in the contest Harry Reynolds and Kye Holloway saved a couple of tries and Wileman had one of his best games.
The difference between these teams was purely numerical and the Oakfielders were unlucky to come away without a point.
In a week when the country appointed its 57th Prime Minister, Thurrock had found its 57th variety to lose a match This was another one which had got away.
On a brighter note, Thurrock Ladies had an excellent weekend with the First Team recording their first win away to high-flying Richmond and the A Team showing their potential by scoring more than a hundred points!
The Third team were overwhelming victors, too.