Thurrock lose to old rivals as injuries and absences take their toll
By Ralph Henderson - Nub News contributor
---
Ahmed Aminu scorching onto a pass, burst through the middle of the defence to dive under the posts for Thurrock's second try.
Southend 37, Thurrock 19
SOUTHEND RFC was formed in 1870 by Admiral Charles Barstow Theobald and that was even before the formation of the Rugby Union in 1871!
As one of the world's oldest clubs they boasted a fixture list that included Harlequins, Saracens and Wasps as well as Welsh giants, Pontypool and Pontypridd.
Therefore it was hardly surprising that local Essex teams were excluded from their fixture lists.
However, with the advent of the English Cup, fate threw Thurrock and Southend together and, after a victory for Thurrock in the 1975 Essex Final these teams were engaged in enduring rivalry which remains to this day.
Saturday's match was preceded by a luncheon where it was great to meet up with old friends such as legendary fly- half Billy Adams and to reminisce about former players and matches. So, the scene seemed to be set for another full- blooded encounter!
Thurrock's demise was always going to be likely after the loss of so many key players prior to this game, but the loss of fly-half, Dan Stone, with a pulled hamstring just before kick-off was one step too many.
Nevertheless, debutant Andy MacAllister will have a lot to be proud of. He chased down Niall Clifford's kick off and regathered at full tilt to put the visitors in a fine attacking position. Thurrock almost capitalised with Henry Bird and Dritan Loka going close.
After the opening salvo, Southend flanker, Steve Walker was gifted a soft try from a line-out that Tom Ramsey converted with aplomb.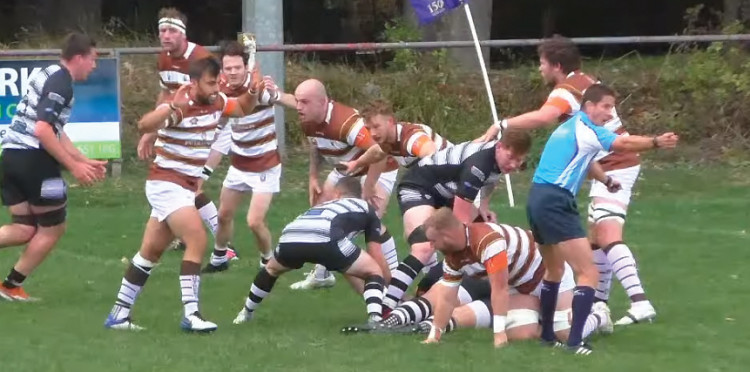 The build-up to Thurrock's opening try.
Ramsey then converted a straightforward penalty before Thurrock launched a thunderous attack. A midfield switch saw Henry Bird and Clifford penetrating the home defence and although the attack faltered momentarily some powerful drives from Aaron Antrobus, Lawrence Brown and Jack Cowman maintained a strong attacking position. Just as it seemed as if the attack would peter out, alert winger, Ahmed Aminu, surreptitiously swept to the blindside of a ruck and shot over the line untouched.
Southend came hurtling back with a quick riposte from Alfie Justice as Southend created an overlap.
Thurrock responded immediately as another splendid back movement involving Bird, Clifford and Rob Murphy set up good field position. Then it was that man again, Aminu!
Scrum-half, Eddie Stevens was having a fine game and he got the ball away with real speed and accuracy. Aminu came scorching on to the pass, burst through the middle of the defence to dive under the posts with more than a little bit of ostentation! Harry Reynolds converted to put the visitors in touching distance.
Southend reverted to type and went for set- piece superiority through their front row and dynamic No.8 Stuart Whatling and from a wheeling scrum Whatling picked up and drove over the line à la Derek Quinnell!
However, with the score at 20 points to 12, with the wind in their favour, Thurrock looked to be favourites as the half- time whistle sounded, particularly after an injury to scrum- half Rory Inwood.
Just as it seemed that the Oakfielders were in the ascendancy, more bad luck turned the tide as Dritan Loka seemed to be the innocent victim of an offence, but was sent off for alleged retaliation. This changed the course of events as Southend regained the initiative and stampeded around the paddock like a " Crash of Rhinoceroses". The main beneficiary being the blind-side Steve Walker who went on to complete a brace of tries and put Southend in an uncatchable lead.
Thurrock did get another try from the irrepressible Henry Bird, but the completer disruption caused by the loss of Loka was too much for Thurrock to overcome and Southend completed their third successive victory and sit at the top end of the table, with their opponents ruing a " tough day at the office" and wishing the likes of Jay Jennings and Joss Nunn speedy recoveries.
This weekend, Thurrock entertain Norwich at Oakfield with a 3pm kick off and a Vice Presidents' Lunch.