Belt up and be seen is message to borough drivers after police crackdown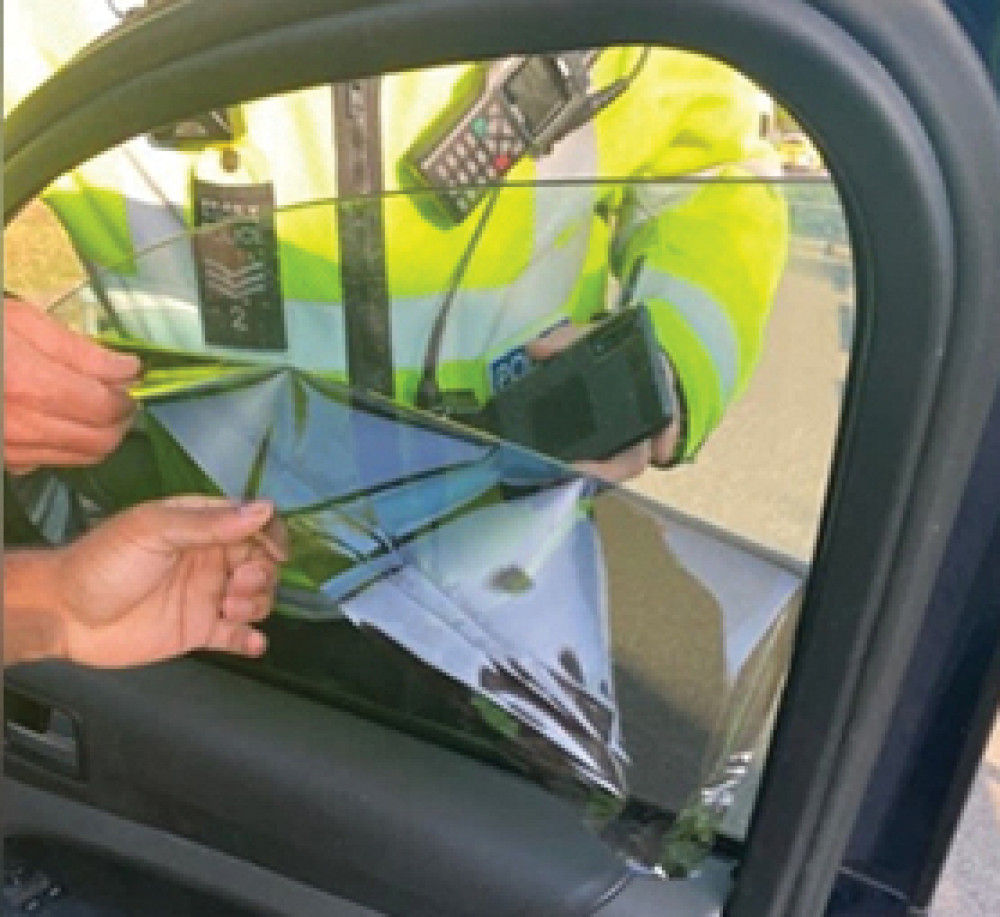 Window covering is removed after police deemed it unsafe
A CRACKDOWN by road policing officers in Thurrock saw 35 people reported for not wearing seatbelts.
A further five drivers were netted for mobile phone offences in the latest 'Operation Vision Zero' day.
A statement from essex Police says: "Last week (Wednesday, 31 August), officers from our Roads Policing Unit worked with volunteers from the Road Safety Team at Thurrock as part of the initiative to stop poor and dangerous driving on our roads in Essex.
"Fifty-one drivers were stopped and reported for motoring-related offences.
"Operation Vision Zero focusses on a geographical area on a day, using a combination of enforcement and engagement, to highlight the importance of safe and legal driving."
Road crime operational co-ordinator Samantha Wright said: "We all aspire for Vision Zero, the ambition that no one dies or is seriously injured on roads in Essex.
"We want to highlight that making good driving decisions can have a positive impact on our roads. Everyone has the opportunity to join us in keeping our roads as safe as they can be by playing their part.
"We stopped 35 people for not wearing a seatbelt and the Road Safety Team engaged with 20 of those drivers to point out the dangers of not wearing one and to explain how they could be impacted if they were involved in a collision.
"It's the law to wear your seatbelt, but some people choose not to wear one that day. We want to put that right.
"It's the same with mobile phones. It's the law not to use one whilst driving, but some drivers think that they can use it safely. It's just not true. We were able to explain the dangers that distraction caused by mobile phone use whilst driving poses to three of the five drivers stopped for using one."
Operation Vision Zero focussed on Lodge Lane, Thurrock, and drivers were reported for the following offences:
• 35 not wearing seatbelts
• 5 using mobile phones whilst driving
• 2 for no insurance
• 1 speeding
• 8 other traffic offences
Ms Wright added: "One driver had blackout film on his window, which is illegal. It could restrict your view and heighten the chances of being involved in a road collision."
The front windscreen must let at least 75% of light through and the front side windows must let at least 70% of light through, it's illegal to fit or sell glass (or a vehicle already fitted with glass) that breaks the rules on tinted windows.
It was removed before he was allowed to continue his journey.