Councillors quit working group claiming breach of trust over bins decision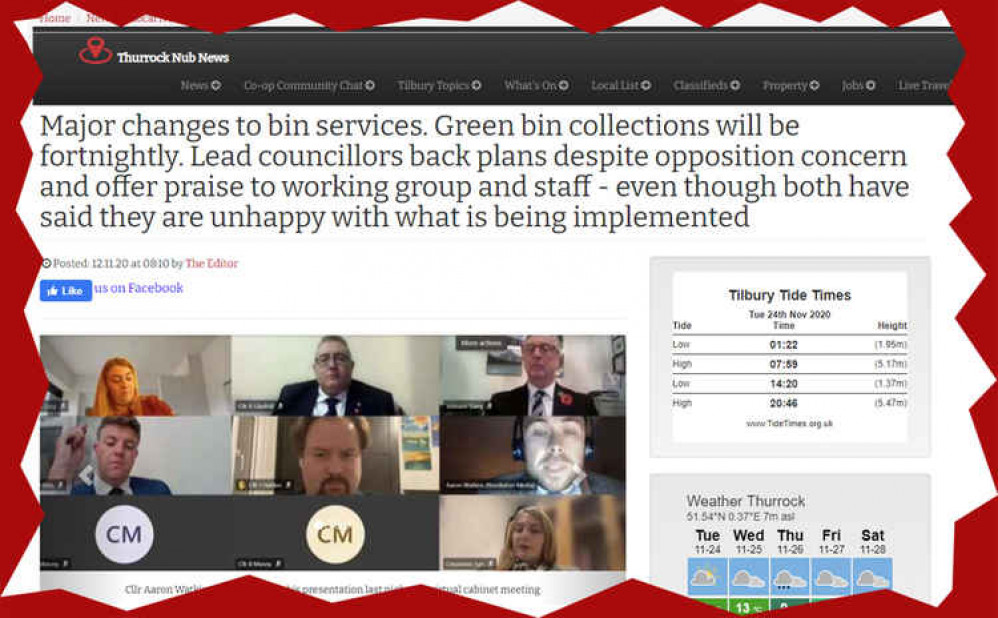 MEMBERS of a Thurrock Council working group charged with helping bring credibility back to the authority's waste recycling service have quit in protest after claiming the ruling Conservative group has broken trust with them and misrepresented their findings.
The reshaping of Thurrock's waste collection strategy has been big news recently, with the council electing to move to fortnightly general waste and garden waste collection system.
In making that decision members of the council's Tory cabinet have said they are following the guidance of the cross-party Waste Management Working Group, a decision hotly disputed by a number of its members who today (Tuesday, 24 November) quit!
A statement issued today on behalf of a number of members of the group says: "In the wake of the Conservative Cabinet's recent decision on waste management strategy, the Labour and Thurrock Independent members of the waste strategy working group have decided to resign.
"We worked hard for a year with our Conservative colleagues to address Thurrock's recycling crisis before the Government does it for us.
"We made a series of recommendations in good faith, to address these problems. The Conservative administration opted to introduce costs we had specifically rejected as of no benefit to residents and pass them off as our recommendations.
"This, in our view, is a breach of trust.
"It is the administration's right to implement our recommendations as it wishes (and indeed to ignore the scrutiny committee's recommendation for fresh consultation) but it does not have the right to justify its changes in our name.
"The Labour and independent members of the working group have therefore decided to resign from the waste working group from today."
Among those who have quit the group is Stifford Clays independent councillor Jennifer Smith who told Thurrock Nub news: "During my time in the working group I stated that, the main contact residents have with the council is regarding their bin collection.
"I asked for a public consultation to put the proposals to the people who pay for these services.
"The way the council has ploughed ahead without the committee's recommendations, or engaging the public at scale, is unacceptable and I am resigning from the Waste Management Committee in protest of their actions."
Chairman of the working group was Labour's South Ockendon councillor, Mike Fletcher, who added: "We've decided to step down from the group, effective today. Having made some tough choices to address Thurrock's recycling crisis we've since been used to justify unacceptable measures that we expressly rejected."
"There is no guarantee this won't happen again, hence there is no longer any basis for trust."