Crew member in hospital after falling from cruise ship moored up at Port of Tilbury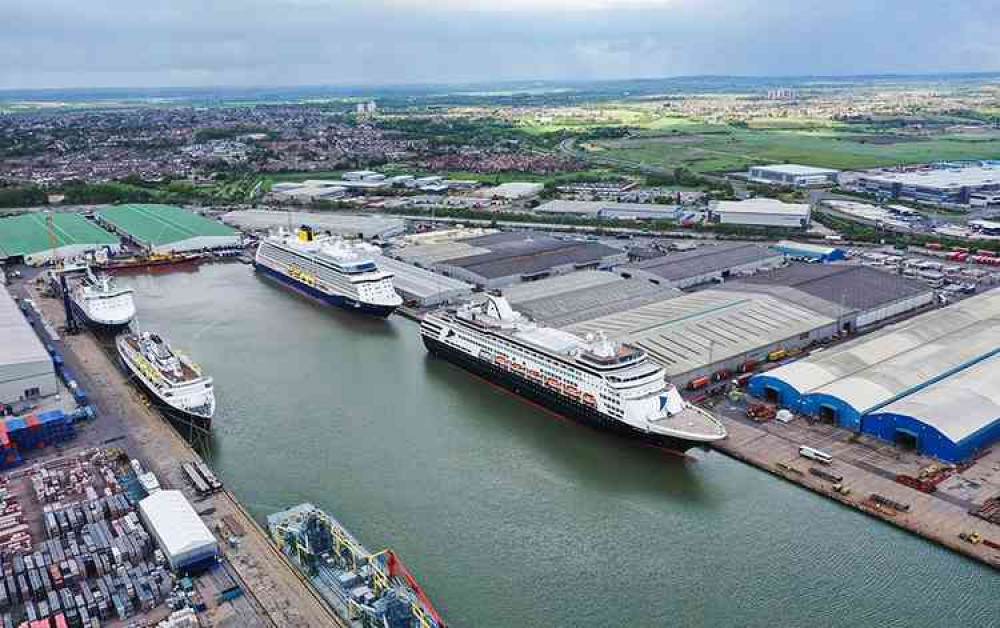 The Vasco Da Gama moored with other cruise ships at Tilbury.
A SEAFARER is being treated in hospital after a fall from a cruise ship moored at the Port of Tilbury.
The incident happened yesterday (Tuesday. 20 May) when a male crew member the Vasco Da Gama fell from its deck.
The full circumstances of the incident are yet to be established.
The crew member was taken by ambulance from the Port of Tilbury and is being treated at a London Hospital for his injuries. A thorough investigation of the incident is now taking place and the ship operator, Purfleet-based Cruise and Maritime Voyages (CMV), is assisting the local police and port authorities with their enquiries.
The ship is one of a number of CMV vessels, together with two ships from the Saga fleet, who are laid up at the post because of the coronavirus pandemic. The vast majority of the crew members on board the ships are foreign nationals and the cruise operators are looking at ways to repatriot them fior the duration of the pandemic lockdown.
There are currently 486 crew members on board Vasco da Gama at Tilbury. The Vasco da Gama has been docked there since 1 May when she returned from repatriating passengers to Australia.
A statement from CMV said: "Our thoughts and prayers are with the crew member and his family. CMV is doing everything possible to assist the crew member and his family at this distressing time.
"CMV continues to endeavour to repatriate as many of their remaining crew members as possible. Many ports and airports around the world remain closed due to the Covid-19 coronavirus global pandemic, making repatriation of all crew members extremely difficult.
"Crew onboard CMV ships in the UK are cared for by CMV with comprehensive medical, catering, entertainment, complimentary internet and wellbeing provision on board."
A spokesperson from the Port of Tilbury said: "We confirm that there was an incident in the Port of Tilbury yesterday involving one of the seafarers on board a cruise vessel currently berthed at the port. The person remains in hospital and our thoughts are with their family and colleagues at this time. We cannot comment any further at this point."