Three arrested after finally leaving fuel protest tunnel close to Thurrock petrol terminals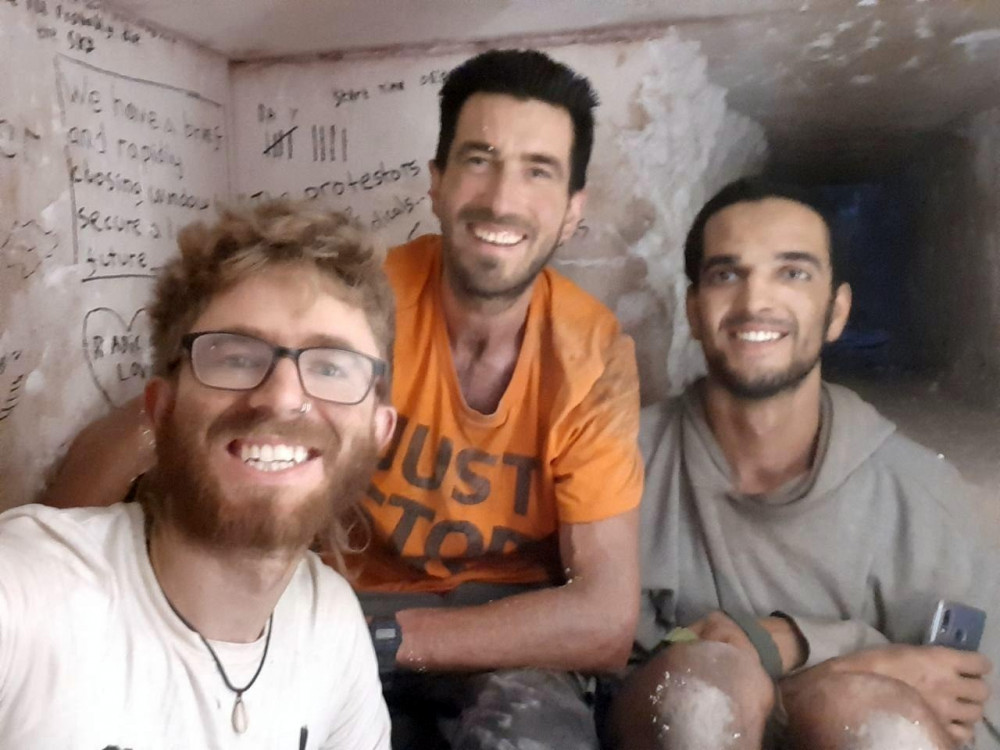 The three protest tunnellers before their arrest today.
THREE men have been arrested after ending their 13 day protest in support of an eco campaign, digging a tunnel under a busy Thurrock road.
Over the past two weeks the JustStopOil campaign group has targeted sites in Thurrock for its latest demonstrations against government policy over new investment in fossil fuel projects - and that included digging tunnels under access roads to borough fuel terminals.
Today (Sunday, 4 September) the final tunnel on St Clement's Way in West Thurrock was vacated by its remaining three occupants.
Xavier Gonzalez Trimmer, 21; Joe Howlett, 32 and Sam Johnson, 39, were the last remaining campaigners on site. After emerging from the tunnel, which they had dug with centimetres of the Tarmac on the road above, they were arrested.
Immediately work began to fill in the tunnel.
A statement from Essex Police says: "Three men have been arrested in connection with disruption in Thurrock. It's after three men left a tunnel under St Clements Way this afternoon.
"The arrested men are currently in custody having been arrested on suspicion of causing a public nuisance and criminal damage.
"We can also confirm the tunnel is now empty. A cordon will be in place overnight and work to fill the remaining tunnel will commence shortly."
Chief Superintendent Simon Anslow said: "I'm pleased this situation has now been concluded. Over the course of the last fortnight we have made more than 60 arrests and worked hard with our partners to keep disruption to our local community and businesses to a minimum and keep Essex moving.
"This work has required a huge amount of resources and has diverted officers from other duties such as the prevention and investigation of burglary, robbery, sexual, and violent crime.
"We are not anti-protest but will take action where the law is broken or people's safety is put at risk.
"I want to thank all those involved in helping to resolve this situation and the businesses and organisations impacted for the patience and understanding."
A statement issued today by JustStopOil says: "The tunnellers voluntarily left the tunnel at approximately 3.45pm and were immediately arrested by Essex Police. "Earlier, they had revealed the true extent of their tunnel by breaking upwards through the road surface some 52 feet (16m) from the tunnel entrance.
"The tunnel under St Clement's Way was one of two tunnels in Essex which, along "with actions by Just Stop Oil supporters including roadblocks and "tanker-surfing", succeeded in disrupting deliveries from the Navigator oil terminal during the past 13 days."
The full statement from JustStopOil, including comments from the arrested men, can be found via this link.