Vulnerable child's transport allowance cut over 126 yards. As it axes funding for disadvantaged children with learning difficulties Thurrock Council says she has to walk almost three miles through busy town centre alongside lorries, cars and strangers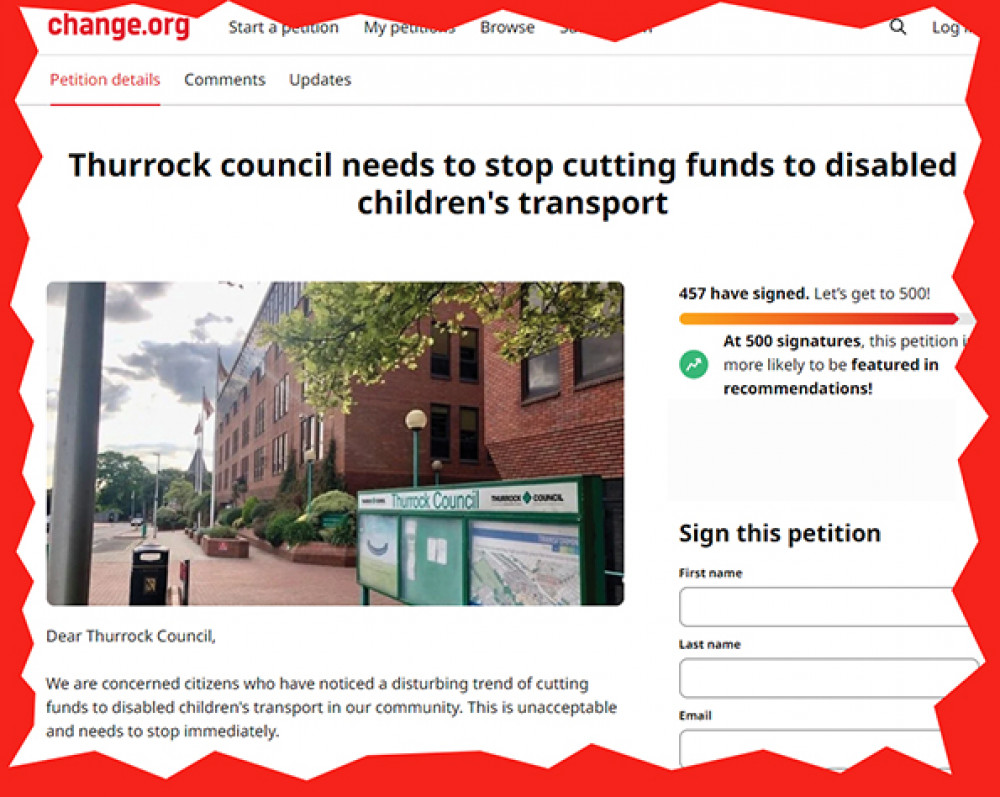 A DECISION by Thurrock Council to cut the personal transport allowance of an 11-year-old pupil at Treetops School has sparked another petition campaigning against the raft of financial cuts imposed by the cash-strapped authority.
The youngster, who has learning, walking and general health difficulties, has attended Treetops as a primary school pupil but because she will step up to secondary education level in September, the council says her transport allowance will go.
She lives less than 126 yards under the three mile direct secondary school walking route set by the council and now her mum, a lone parent who herself has a disability that hampers mobility, says she will have to take her child out of Treetops.
The alternative, set by the council, is for the vulnerable 11-year-old to walk from her home off busy London Road in South Stifford to Treetops – twice a day.
The suggested route by the council takes the youngster along London Road, through Grays Morrisons car park, along and up the Orsett Road Hill and then sees her weaving through roads and houses in Little Thurrock to ensure she reaches the school entrance in under three miles. Ironically, it is more than 100 yards from the gate to the school entrance!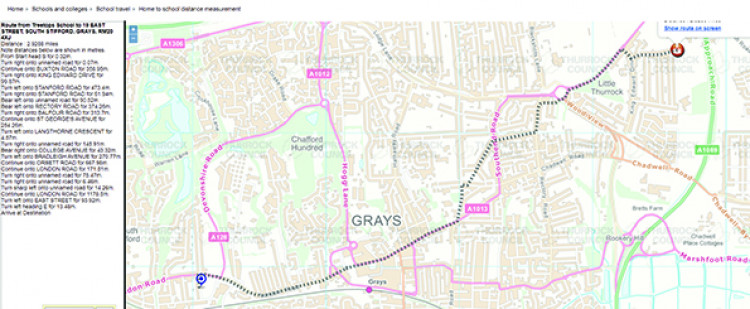 The route the council says the vulnerable 11-year-old has to walk twice a day to and from home and Treetops
The shortest route by car, set by the AA, is 3.6 miles and two faster alternatives are more than four miles. For her early years education the youngster had been able to claim the allowance to pay for transport by those routes.
Now it has been cut despite the Education and Health Care Assessment for the child provided by Treetops clearly indicating she has walking disabilities and has a fear of other people.
Because of all that information, the council has, to date, adjudged she meets all the criteria to get the allowance. Now, say critics of the council, it seems saving cash comes first.
The angry mum, together with other parents who have been similarly affected by the cuts to transport allowances in September, have launched a petition on the council's Change.org platform. It can be accessed via this link.
The petition asks signatories to support the statement:
"We are concerned citizens who have noticed a disturbing trend of cutting funds to disabled children's transport in our community. This is unacceptable and needs to stop immediately.
"Disabled children rely heavily on transportation services provided by the council to access education, healthcare, and social activities. These services are essential for their well-being and development. However, recent budget cuts have resulted in reduced funding for these services, leaving many families struggling to find alternative means of transportation.
"We urge Thurrock Council to reconsider its decision regarding funding cuts for disabled children's transport services. It is imperative that we prioritize the needs of our most vulnerable citizens and ensure they have access to essential services that will enable them to lead fulfilling lives."
Thurrock Nub News informed Thurrock Council of all the facts surrounding the child, including the Education and Health Care Assessment provided the school.
The council, which in its submission to the mother had mistakenly measured the distance between home and school as 2.29 miles, responded by saying it needed further information including the child's medical records – even though it has previously approved an allowance based on her condition.
A statement said: "All parents are required to reapply for home to school transport every academic year with the deadline for applications being 31 May. This information and links to the policy are included in all award letters sent to parents.
"Awards are made in line with the policy, no award should be made for longer than a single academic year. Parents of children who are not automatically eligible for home to school transport can apply for a Discretionary transport award. If a medical condition is a contributory factor in that application the parent will need to supply medical evidence to support their application."
The council says the mother has not submitted requisite medical evidence. She says she has.
The council denied it had changed its implementation of grant policy because of its catastrophic financial situation and said: "More information on the application process can be found in chapter 22 of the Thurrock Council Home to School Travel and Transport Policy 2021, which has not changed."
When we pointed the apparent justifiable reasons why the child should get the allowance, and the mistake in measuring, the council spokesperson said: "I will need to speak with colleagues and get back to you on this tomorrow."
That was on Thursday, 18 May. We have had no further response.
New thurrock Jobs Section Launched!!
Vacancies updated hourly!!
Click here: thurrock jobs