A fond farewell ahead for Rob as he sets off for France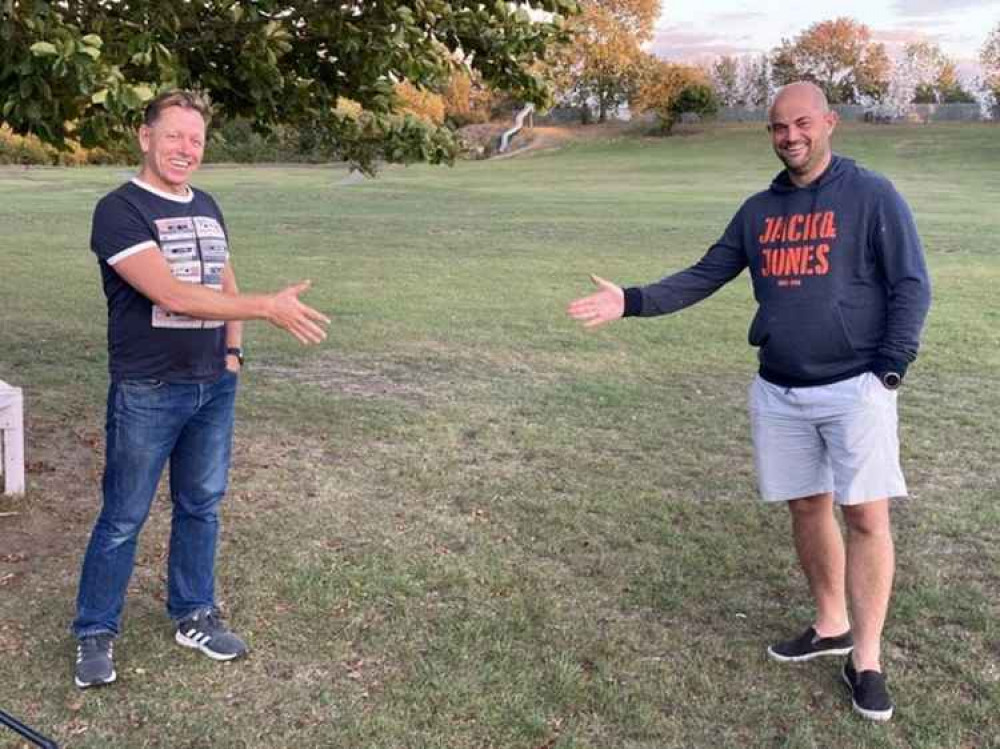 Rob Groves (left) and Matt Adams
THURROCK community advocate Rob Groves, CEO of Friends of Hardie Park in Stanford-le-hope is handing over the reins this week to their Board of Trustees to oversee the future development of Hardie Park.
From a local resident picking rubbish before work in 2009 to now, Rob has taken action, empowered local residents, recruited volunteers and encouraged similar groups around the borough to start doing the same. The park is now enjoyed by all generations.
Matt Adams, Chair of Trustees said: "After 11 years 'looking after' Hardie Park, we will soon be saying a warm goodbye to Rob Groves. Hardie Park has been transformed under Rob's leadership, and he leaves us with an amazing legacy.
"New park equipment, a brilliant cafe, an amazing team of staff and volunteers and our newest addition, the Hardie Cycle Hub which has managed to thrive in these difficult times. Many fantastic community groups meet regularly (preCovid19 restrictions) at Hardie Park and more recently Rob has branched further afield gathering like -minded community members as part of The Friends of Thurrock Parks initiative, launched to share ideas across the borough.
"With new challenges already on the horizon, on behalf of the Trustees and those who have been involved with the park, we wish Rob all the best and every success in his future endeavours."
Rob will be spending time in the coming months by travelling around Europe by cycle.
He spoke recently about the coming trip, saying: "Planning it at this time has been difficult for obvious reasons but as it stands I am booked on a ferry from Portsmouth to Caen on 6 October.
"Some have asked about my reasons for leaving work and taking the trip; others have enquired about the family and wife Mandie, what they think and how they will cope without me. 'Admirably' is my usual response. There are many reasons for the trip so I want to share a bit more deeply my motivations, some of my intended outcomes and what it means for the future.
"Firstly, it's worth saying, that as it stands my trip will involve at least 2500km of cycling so the first thing I hope to gain is the accomplishment of such a physical challenge. When I am between hosts (more on this in a moment) I will be camping and living out of four panniers.
"My failed attempts to learn French beforehand, having not committed myself to enough sessions with my good friend Diane, has left me with the opportunity, nay necessity, of learning the lingo en route.
"So, the physical challenge and to learn a new language are two motivations, but why now? The answer, 46. "Are you having a mid-life crisis?" some have been bold enough to ask directly. Yes, I think I am.
"The truth is, my life is pretty cushy. Through hard work, good choices and lots of support, Mandie and I have managed to create a comfortable existence and with so many aspects of this, I am satisfied and grateful for them.
"However, I'm very conscious of the big wide world that is beyond the boundaries of Thurrock, the place that I have lived my whole life and even more so, the consumer bubble that we live in, which depends upon activities that are completely unsustainable and are bringing ruin to our beautiful planet at an incredible rate.
"My hope is that I will find people who can teach me a little about 'living with a lighter footprint' in France, and so with the help of a website that connects travellers with hosts I will be visiting my first couple in Northern Brittany, called Eric and Magali, who are renovating an old farmhouse and reviving the land next to a river.
"I will be departing early on Monday, 5 October, crossing the Thames at Tilbury by ferry and then cycling to within 25 miles of Portsmouth, where I will camp overnight. I am booked on the 8.15am ferry so will need to get an early start. Once in Ouistreham, the port near Caen, I will have about 320km, a little under 200 miles, to reach my first destination, this should take three days and I will hopefully, arrive on the Friday. I guess if anyone wants to come and wave me off, it would be lovely to see you!"