Champion of controversial council borrowing gets the keys to the cash cupboard in cabinet reshuffle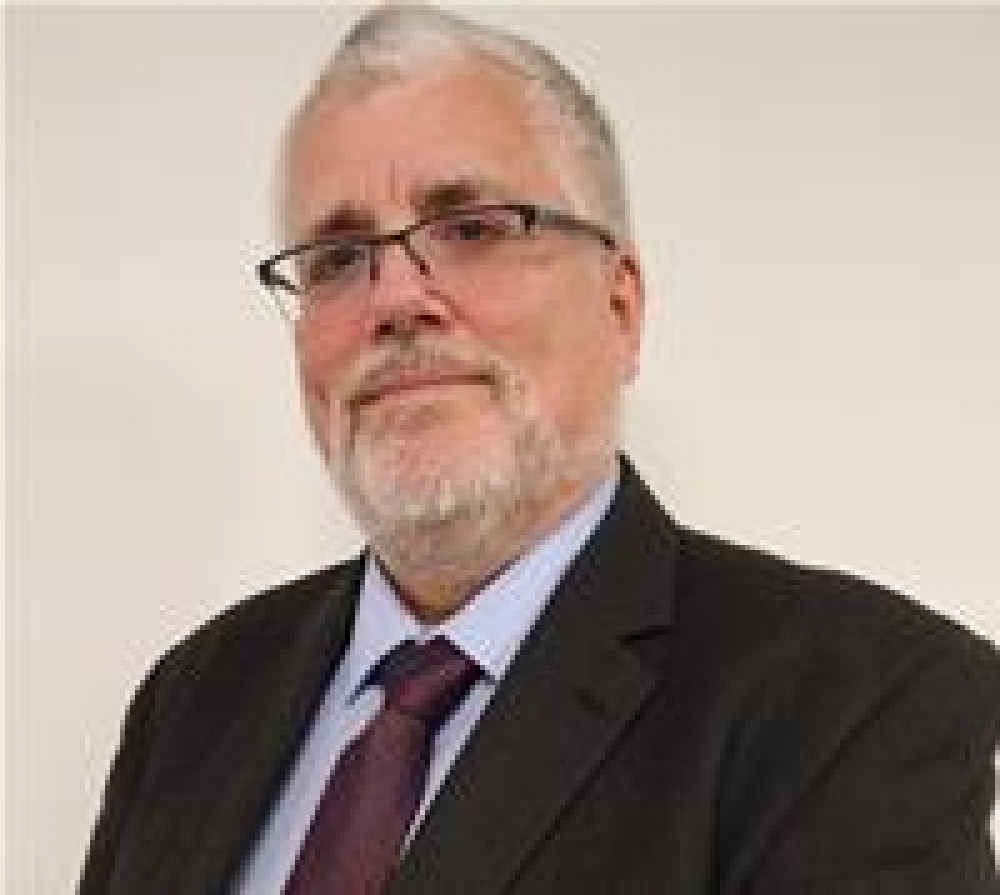 A TURNCOAT Thurrock councillor who twice switched his party allegiance and who has championed the authority's calamitous and controversial 'borrow to invest' strategy that has brought it to the precipice of collapse has been given charge of its finances.
Cllr Graham Snell, once leader of the UKIP and Thurrock Independent groups before switching to Conservative colours, has been included in a new cabinet of nine members announced today by acting council leader, Cllr Mark Coxshall. With the post comes an additional council allowance of £11,730.
Cllr Snell, once an ardent critic of the Conservative administration, has been stalwart in his support for the council's failed borrowing scheme and has spoken up about his belief that the council operates a policy of openness and transparency.
He has been openly critical of opposition members who, for the past two years, have tried to prise details of the council's financial misdemeanours out of its secretive grasp.
On a day when the council's chief financial officer's future comes under intense discussion in a bid to track down the root cause of missing tens of millions, Cllr Snell becomes the third Tory this year to carry the poison chalice.
He replaces Cllr Jack Duffin, who was only appointed in May, and before that the portfolio holder was Cllr Shane Hebb – who, it was also announced today – is stepping back from a frontline role. Cllr Hebb is another who has damned opposition for challenging officers and the Conservative administration as it tried to cover up a catalogue of catastrophic investments.
Cllr Snell, who was elected as Conservative ward councillor for Corringham and Fobbing in May last year, Snell was succeeded as Independent group leader by another former UKIPer Cllr Luke Spillman, who himself defected and joined the Tories.
The two are now back working together in a reduced cabinet where Cllr Spillman is portfolio holder for housing.
In the past, both men have poured scorn on Labour for pursuing financial questioning and have denied there are any secrets to be exposed!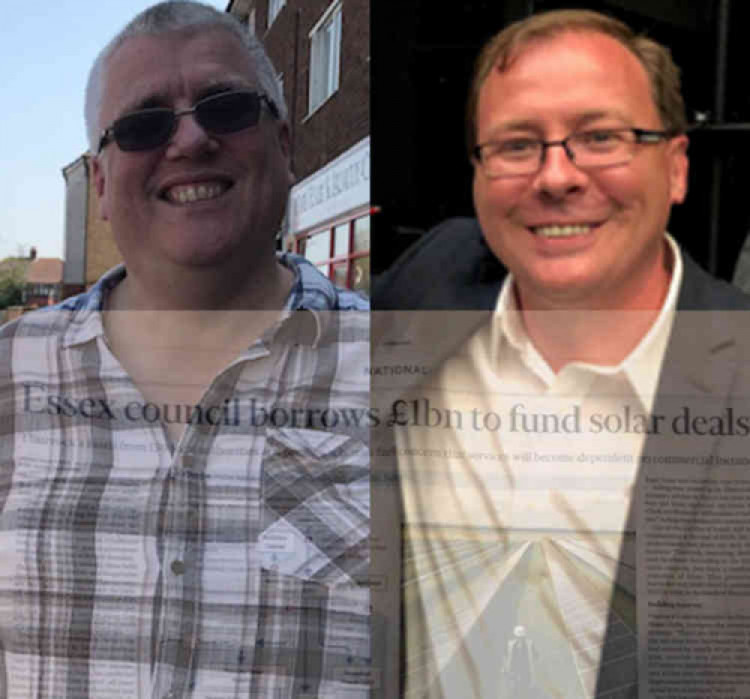 Cllrs Graham Snell and Luke Spillman.
In 2020 Cllr Snell and Cllr Spillman turned on Labour and defended the controversial borrowing. Cllr Snell told Thurrock Nub News: "I was always appreciative of was how open the council and leadership were when it came to financial matters.
"Frankly, I am surprised at the Labour response to Thurrock Council's investment strategy, it's not as if any of it was secret!
"One of the things I was always appreciative of was how open the council and leadership were when it came to financial matters."
While Conservatives now appear to be claiming they have been misinformed by officers, in particular finance director Sean Clark, there is evidence of Cllr Snell's knowledge of the borrowing process.
In the 2018 budget setting meeting, he wanted to take some of the credit for the borrowing and investment strategy, supporting part of the local spending package by saying: "I do support this spending.
"Indeed, it is possible that none of it would have been possible without the support of UKIP during all of the many discussions and meetings that took place regarding investment strategy over the last year.
"While the Tories are quite keen to crow about their success with having a budget surplus, they should be reminded that, in a council with no overall control, they couldn't do it on their own."
Today, in a press release, Cllr Coxshall announced his new top team and, commenting on Cllr Snell he said: "Councillors across all parties have spoken positively about Cllr Snell's impact on Thurrock politics. He will now focus his proven track record of forensic analysis to get the council's finances back on track."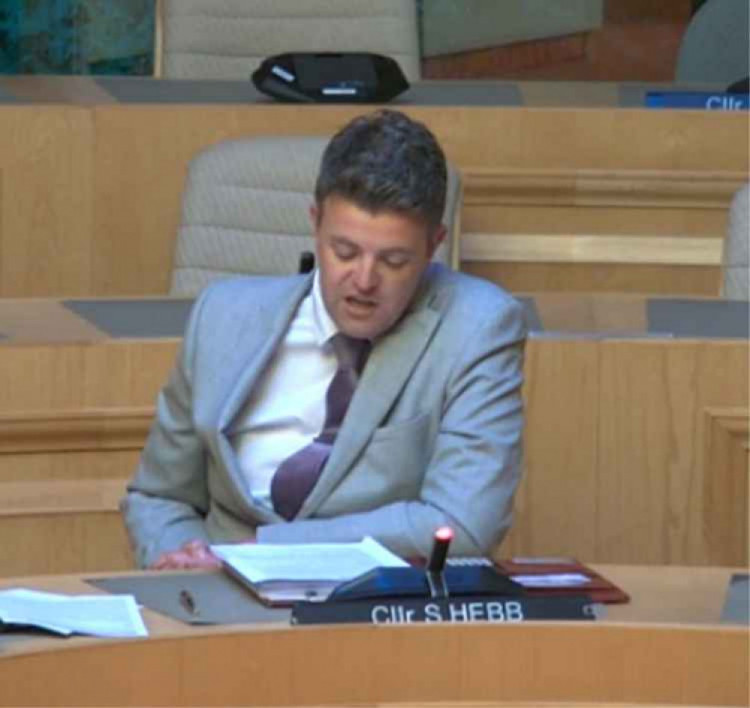 As well as Cllr Hebb stepping down from is role within the hierarchy, former leader Cllr Rob Gledhill also relinquishes a cabinet position.
Cllr Coxshall, said: "In light of Cllrs Gledhill and Shane Hebb choosing to step down from Cabinet, I have asked Cllr Snell to push forwards with our plan to bring power at the council back into the hands of elected councillors. I look forward to working with all members of this new Cabinet and know that each of them is firmly committed to making Thurrock the best it can be.
"Reducing the cabinet to nine members will achieve a more streamlined approach. I would like to now offer the vacant chairmanship of the corporate overview & scrutiny committee to the leader of the Labour group."
At 4pm this afternoon the Labour leader Cllr John Kent told Thurrock Nub News he had not received any offer from Cllr Coxshall.
The new cabinet will comprise
Cllr Mark Coxshall (Acting leader & cabinet member for growth)
Cllr Deborah Arnold (nee Huelin) (Acting deputy leader & cabinet member for adults & health)
Cllr Graham Snell (Cabinet member for finance)
Cllr Andrew Jefferies (Cabinet member for the environment)
Cllr Barry Johnson (Cabinet member for children & education)
Cllr Luke Spillman (Cabinet member for housing)
Cllr Ben Maney (Cabinet member for transport & public safety)
Cllr Qaisar Abbas (Cabinet member for culture & communities)
Cllr Jack Duffin (Cabinet member for central services)
In a letter to Cllr Coxshall dated yesterday (28 September), Cllr Hebb said: "I greatly appreciated the confidence you showed in me when you asked me to remain in cabinet when you became acting leader.
"When Thurrock Council's intervention was announced, it was clear that the new leader of the council would need a cabinet team full of people who can dedicate an increasing amount time to work with all elected members, the commissioners, and the staff at the council, over the coming months - on top of the daily responsibilities of a cabinet brief.
"I am sure you may be thinking of completing a Cabinet reshuffle, but I need to be fair to you, and tell you that I am not currently in the position to give both focus on recovery, as well as serving as a full member of the Cabinet with departmental duties.
"Therefore, I will continue to offer and provide you (as Leader), and our commissioner colleagues, my full services, and inputs into the next few months recovery work - but without assuming wider Cabinet responsibilities and duties.
"I know you share my own concerns that what has happened could happen at other councils - and I want to play a full part in pursuing and assisting colleagues for the need for greater safeguards, here and elsewhere."