Council damned over lost £200m and its links with questionable financial advisor as national spotlight turns on its failings. Call for government probe into 'huge scandal'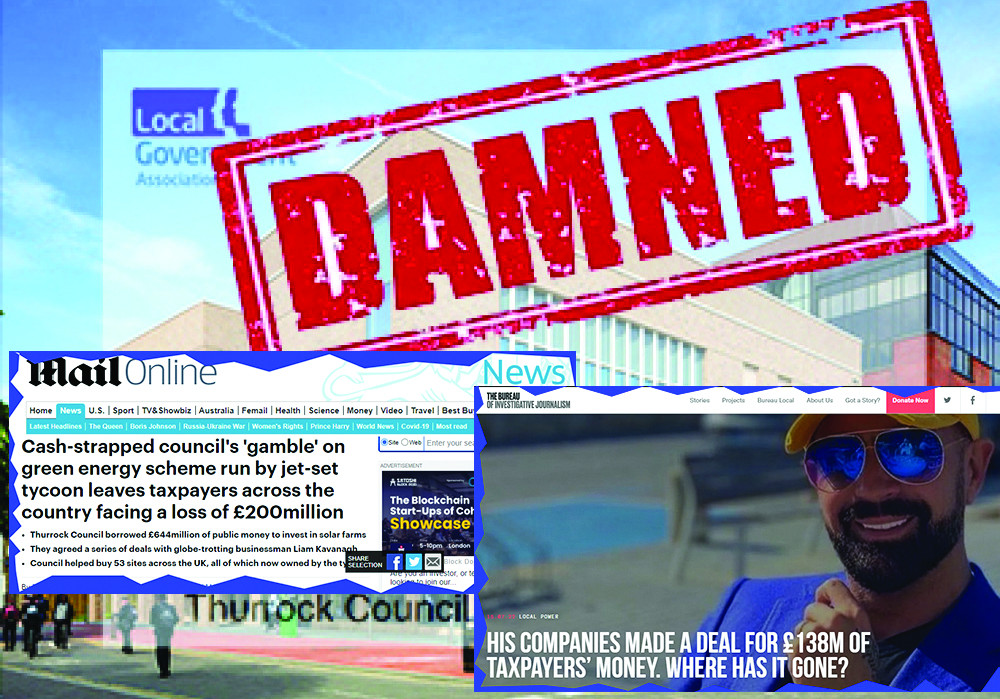 THURROCK council tax payers could have to pay up to £200 million to cover shortfalls in the authority's budget caused by the ruling Conservative group's flagship 'borrow to invest policy' which has been damned in a major new report which highlights the council's ill-fated association with a multi-millionaire dodgy dealer!
In January 2020 Thurrock Nub News exclusively broke news of Thurrock Council's investment policy where it borrowed money at low rates to invest in commercial ventures. The policy led to a debt mountain that at one point topped £1.5 billion.
Championed by senior Tories, including leader Rob Gledhill and former finance portfolio holder Shane Hebb, the council and local Conservative media machine consistently trumpeted the policy and played down the risks highlighted by Nub News, opposition councillors, financial experts and other news media.
The vendetta against Nub News and editor Neil Speight for consistently highlighting the risks and fallibilities of the project – not to mention the unscrupulous nature of the financial players it was jumping into bed with – led to the council blacklisting Nub News last year and refusing to answer any of our questions.
Ironically, that ban was removed only last week when Cllr Gledhill posed a motion to council recognising the validity of Nub News and saying it played an important role in reporting the transparency of the council. Too late, it appears, the penny had dropped with senior Tories that they are in serious trouble and aggression as a defence wasn't working.
And this evening (Friday, 15 July) that trouble was highlighted by two major media reports.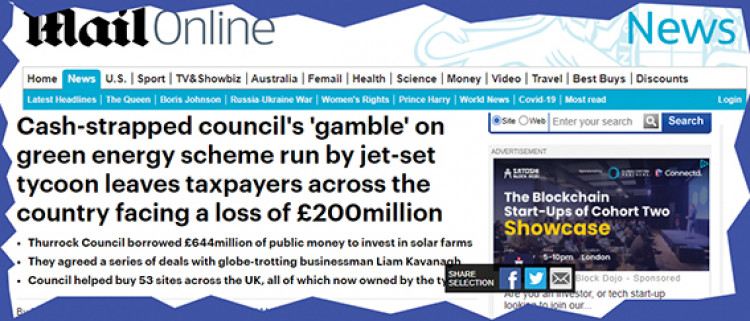 The Daily Mail, iconic flagship newspaper of the Conservative party, has published a lengthy and detailed article which highlights the potential loss of £200 million in investments that have gone wrong and tells of tens of millions of pounds paid to flamboyant, globe-trotting businessman Liam Kavanagh – a man whose relationship with Thurrock Council has frequently been highlighted by Nub News.
The impact of the flawed investment process is already becoming clear on the ground in Thurrock where council jobs are being cut, essential services decimated and borough residents paying the hard penalty for the council's lack of diligence and investment folly.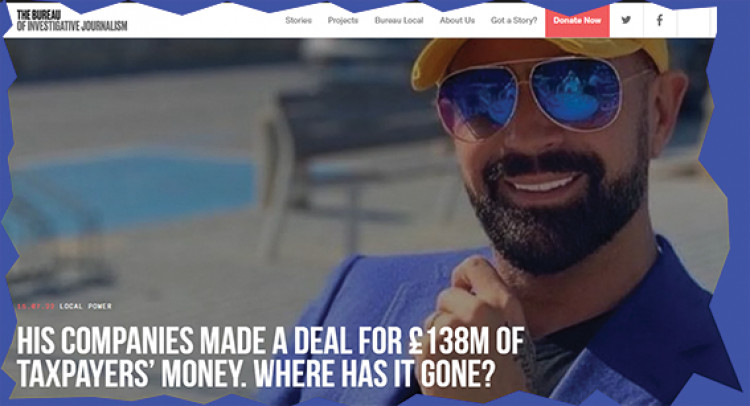 A second report by the award-winning and highly-rated independent Bureau of Investigative Journalism goes even further and damningly details the relationship between Mr Kavanagh and the council. And in particular his relationship with the council's senior financial officer Sean Clark.
The report says Mr Clark "repeatedly went to London to discuss deals with Kavanagh; these trips were so frequent that, when asked about them, members of the finance team allegedly joked that their boss was 'off to see the City boys to play with our money'.
"The pair had met at the five-star MayFair hotel several times. There is no public record of the meetings. But it was after them, between late 2018 and early 2019, that Thurrock injected a further £138m into Kavanagh's companies.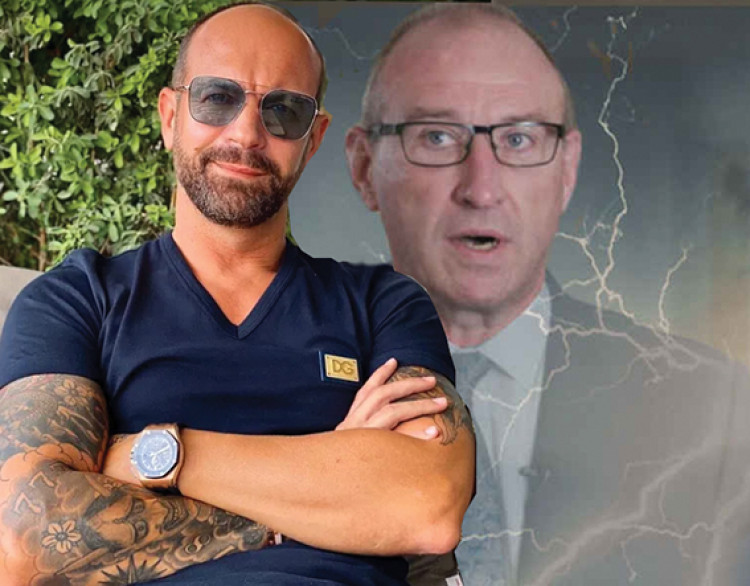 Liam Kavanagh (left) and Sean Clark.
"Nearly four years later the council has little idea where all of this additional investment ended up."
Publication of the report by the bureau today is the result of years of investigation which has been fought tooth and nail all the way in the courts and financial tribunals by the council, which has cost local council taxpayers tens of thousands of pounds as it sought to maintain its secrets.
Today, with the shocking and damning allegations against the council exposed on a national level, there still appears little shame or apology from senior councillors in the ruling administration.
Earlier this month Thurrock Nub News reported on a damning review of the council's capability by a peer review group. Experienced councillors and officers from other authorities were extremely critical of Thurrock's ability to manage its affairs, and particularly its major projects. Its financial management capability was questioned.
Our report was dismissed by senior Tories in Thurrock, including communications and financial portfolio holder Cllr Jack Duffin, who rejected an opportunity to discuss all the issues on the council's radar and the impending media spotlight about to shine on the borough.
As has been the council's policy over the past two years, political arrogance dominated decision-making as heads were buried in the sand and denials issued all round.
Even with a perfect storm gathering all around them, Thurrock's leading Conservative councillors refused to recognise legitimate public concern and instead vilified the media, particularly Nub News. Only yesterday (Thursday, 14 July) one of the council's most senior politicians damned Nub News as 'always trying to find a bad story' about the council.
Nub News understands that Labour opposition leader John Kent is now calling on the Department for Levelling up, Housing and Communities to request an urgent government-led investigation in Thurrock Council's affairs.
He said: "Thanks to the Bureau of Investigative Journalism's dogged determination to get to the truth, we now know the financial situation of Thurrock Council is very grave and far worse than we could ever have imagined.
"This is a scandal of huge proportions, and we need to know what has gone so disastrously wrong."
The Department of Levelling Up, Housing and Communities has said: "We are monitoring the situation in Thurrock closely and will not hesitate to take action if required."
Related stories:
Council plays down concerns: https://thurrock.nub.news/news/local-news/finance-councillor-downplays-concerns-and-says-council39s-borrowing-strategy-that-contributed-to-14-billion-debt-has-been-a-force-for-good-in-the-borough
Press gets the blame: https://thurrock.nub.news/news/local-news/media-coverage-has-not-helped-council39s-financial-position-says-thurrock39s-financial-guru-who-has-borrowed-hundreds-of-millions
Borrowing spress continues apace: https://thurrock.nub.news/news/local-news/new-125-million-loan-raises-more-concern-as-borough-borrowing-continues-apace
Borrowing soars: https://thurrock.nub.news/news/local-news/thurrock-council39s-debt-is-now-1459-billion
Council fights to keep its financial secrets: https://thurrock.nub.news/news/local-news/council-battles-on-to-keep-its-controversial-financial-dealings-a-secret
New thurrock Jobs Section Launched!!
Vacancies updated hourly!!
Click here: thurrock jobs